Dr. Suzuki's dream of the ILC Caravan has taken its first step forward with an event held in March in Morioka City in Iwate. It was a small gathering, with around 7 members of both the Morioka city government and the local neighborhood association. Sitting comfortably on Japanese tatami mat floors, Anna Thomas (Oshu City) and I chatted with our guests about the ILC and some what-ifs:
・What if the ILC is built, and a large number of foreign researchers visit the area?
・What if there are communication difficulties?
・What if they throw out their glass bottles with their plastic bottles!?
You may laugh, but people living in Japan will feel me on this one. To reiterate from Anna's article a few weeks ago, municipal governments will collect the garbage from designated spots in the neighborhood, but it has to be properly separated and bagged, or else it won't be taken away. Also, animals that make a real mess of these areas (well, crows. It's mainly crows. Crows as big as housecats.) …and the municipality doesn't clean that up. Who has to clean up that mess? You and your neighbors. Which means garbage separation is a place where relationships between neighbors might break down!
The public spaces within a neighborhood may be the property of the municipality, but the expectation is that they will be maintained by the people living there. Even if a garbage collection spot is placed in front of someone's house, it's not just their responsibility to clean it up – it's everyone in the neighborhood. Ergo, you learn to be more respectful of the area because it's your responsibility as well as everyone else's. I feel like this is a very interesting and unique aspect of Japanese culture – and could be a reason that the country as a whole is so clean.
To facilitate the spirit of communication and responsibility, Japan has neighborhood associations, or "chonaikai". A local neighborhood association may take care of some or all of the following:
・Spreading announcements and news from the municipal government. This is done through a kairanban, which is a clipboard with announcements. After you read the announcements, you sign or stamp your name, and pass it to your neighbors.
・Clearing out weeds and sweeping common areas like parks and public halls
・Collecting recyclables
・Disaster drills/evacuation drills
・Collecting funds for and installing traffic signs, lights, and nets for garbage collection spots (to keep out the dang crows)
・Crime prevention through volunteer patrols
・Cultural activities like local festivals, enrichment classes, and physical activities
Neighborhood associations are meant to be a link with the local government, as well as a place to get to know your neighbors. A fee is collected every year from every household in a neighborhood for their activities, so a president, treasurer and other officers are usually chosen/elected to manage the group and its finances. Neighborhood associations are usually hurting for active members, and this can be a good place to make contact with your surrounding area, especially if you weren't born and raised there.
Like most things in Japan, the language barrier can be a huge hurdle to entry. However, most activities require just a smile and the will to help out. Plus, there are a lot of fun experiences to be had. By helping set up a local festival, you might get a chance to learn a folk dance (or in Morioka's case, a Sansa odori dance). Get up early in the morning to help clear out weeds from the playground, and maybe your kindly old neighbor will bring you some delicious rice balls. Participate in the "Respect the Aged Day" festivities, and sing karaoke in front of dozens of senior citizens. It's a two-way street. You could teach people your native language or lead a small class on your country's cooking. There are many ways to give back to the community.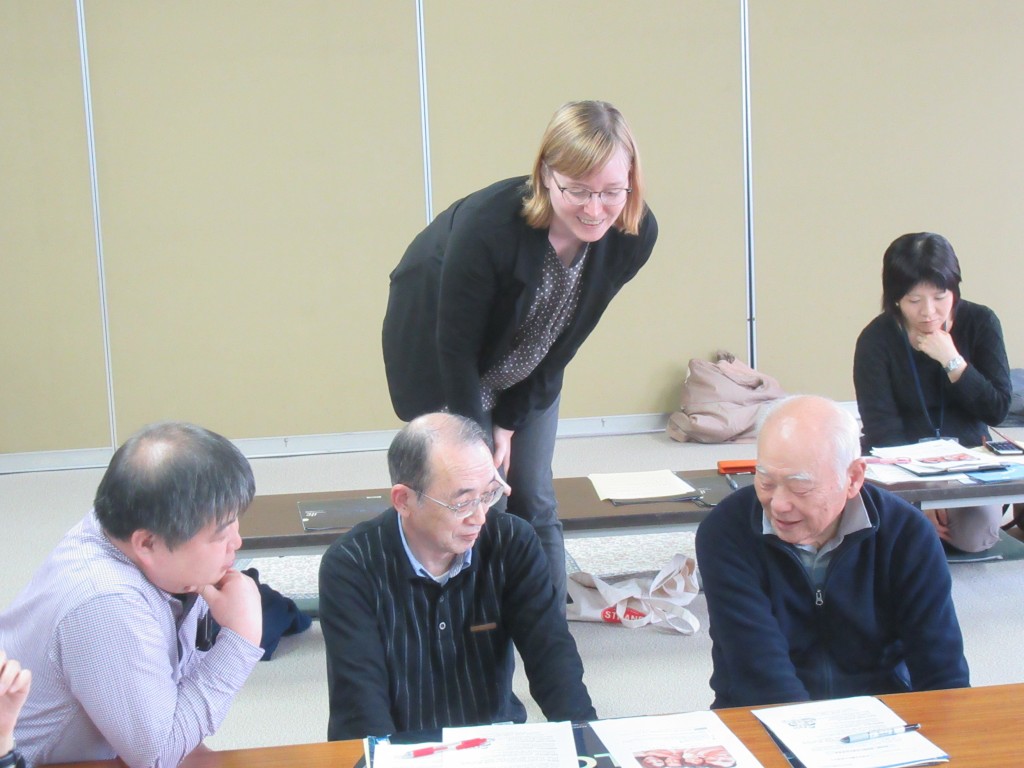 Are chonaikai welcome to the idea of foreign residents joining their ranks? The attendees of the ILC Caravan seemed excited by the idea. One man even said that he'd like to show a foreign neighbor to a local izakaya (Japanese-style pub) and have them try all the tasty food and sake Iwate has to offer. I think it was best put by one of the local leaders: "If you join a neighborhood association, we can tell you how to do things right so that all neighbors can get along."
Japanese
ILCキャラバンの取組 ~町内会でILC研究者の受入れを支援~ [15号]

和山アマンダ(岩手県)

平成28年3月、岩手県盛岡市で岩手県立大学の鈴木厚人学長が考案した「ILCキャラバン(地域住民の参画を促すセミナー)」の第一歩が踏み出されました。キャラバンはILCの小さな集会で、盛岡市役所と会場を運営する町内会から7名が出席。奥州市のアンナ・トマスさんと私が講師を務め、畳に座りながら、ILCや国際化について参加者と話しました。

・ ILCが建設され、岩手に海外から研究者が訪れると、岩手はどう変わりますか?
・ 外国人住民と地元住民の人間関係がうまくいかなかった場合にはどう解決しますか?
・ 外国人住民が資源ゴミで瓶とPETボトルを一緒に捨ててしまったらどうしますか!?

(海外から読んでいるあなたが)資源ゴミでもめるなんてと笑うかもしれませんが、日本に住んでいる人はよく分かるはずです。(アンナさんが数週間前に「ゴミの分別」について書いた記事はこちら)市町村は、近所にゴミ置き場を指定し、(業者に委託し)ゴミを回収しますが、住民がきちんとゴミを分別し適切なゴミ袋で捨てないと、回収してもらえないかもしれません。動物がゴミ置き場を荒らしに来ることもあります。(「動物」とは、大まかな言い方ですが、主にカラスです。猫ほど大きいカラス。*)また、散らかったゴミの片付けは、市町村や業者ではなく、近所の皆さんで行う必要があります。つまり、ゴミの分別で近所との付き合いに影響が出る場合があります。

*外国のカラスのサイズはツバメと同じぐらいなので、日本のカラスの大きさにびっくりしました。

近所の公共の場は、市町村の所有かもしれませんが、簡単な美化・清掃活動はそこに住む住民で行っています。また、たとえゴミ置き場が誰かの家の前にあっても、清掃の責任はその家の住民だけではなく、近所の住民全員にあります。それ故、全員が責任を持って、公共の場をきれいに利用しましょう、というのが日本の興味深い独特な文化だと思います。海外では日本は「(掃除されているという意味で)非常にきれいな国」というイメージがありますが、この文化によって誤解があるのかもしれません。

さらに、日本では住民間のコミュニケーションや責任を促すため、「町内会」という組織があります。町内会にもよりますが、主に次のような活動を行っています。

・ 市町村からのお知らせを回覧版で住民に伝えます。回覧版とは、チラシやお知らせをま
とめたクリップボードであり、読んだ後にハンコやサインをして、隣の住民に渡します。
・ 公園や公民館などの公共の場の草取りや掃除
・ 資源ゴミの回収
・ 防災訓練・避難訓練の実施
・ 道路標識、照明、カラスを抑止するゴミ置き場用ネット等の設置へ向けた募金活動
・ ボランティアパトロールなどの防犯活動
・ 近所のお祭り、生涯教育、体操などの文化的行事の開催

町内会は、地方行政と住民をつなぐ役割のほか、近所の人と顔を合わせる場になります。町内会の会費は、町内活動のため毎年全世帯から集金され、会長や会計が選任され、町内会や予算等を運営しています。町内会には積極的なメンバーが少ないため、もしあなたがその地域の出身でなくても地域との関わりが深まる良い場所です。

日本では、外国人が町内会に入るうえで、言語の壁は高いハードルです。しかし、大半の活動は笑顔とやる気があれば十分です。また、町内会に入ると楽しい体験ができると思います。例えば、地域のお祭りの手伝いをすると、盆踊り(盛岡の場合はさんさ踊り)を習うチャンスがあるかもしれません。朝早くから子供の遊び場での草取り活動に参加すると、近所の優しいおばあさんがおにぎりをくれるかもしれません。私は、町内会の敬老の日の行事に参加し、数十人のご年配の方の前でカラオケを歌う機会があり、大変楽しかったです。そして、町内会では双方向で活動できます。あなたの母国語を町内会の皆さんに教えたり、料理教室で郷土料理の紹介ができます。様々な方法で、地域社会に貢献ができます。

外国人が町内会に入っても本当に歓迎してもらえるのでしょうか。ILCキャラバンの参加者は、全員が歓迎している様子でした。一人の男性から、岩手の美味しい食べ物とお酒を紹介するため、外国の方々を地元の居酒屋に連れて行きたいという話がありました。私は、町内会長が「もし(外国の方々が)町内会に入ってくれれば、ルールをきちんと伝えることができ、近所のつながりが良くなります。」と話したのが大変印象的でした。