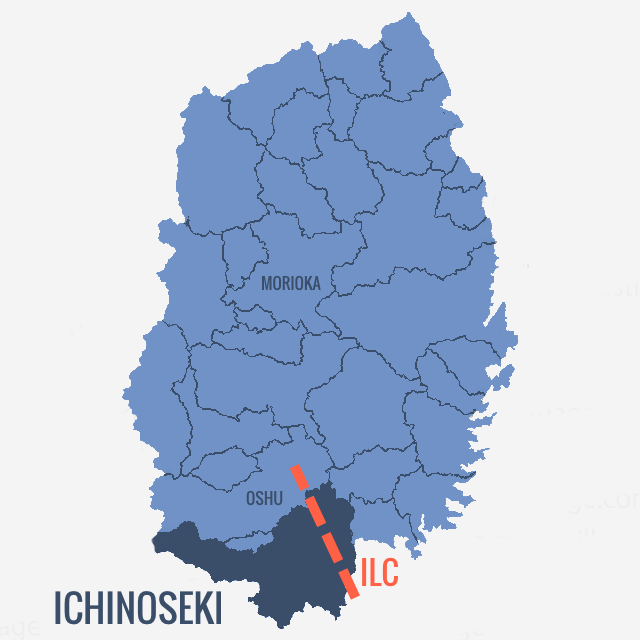 (Note: This edition of the ILC Relay was written by Kazunori Oikawa of Ichinoseki City, and translated by Amanda Wayama) 
Welcome to the next edition of the ILC Relay, where we interview local Iwate residents who support the ILC in order to show you just how excited all of Iwate is for the project. Around two hours away from Tokyo Station on the Tohoku Shinkansen bullet train is the entrance to Iwate Prefecture: Ichinoseki Station. Many people use this station as a waypoint to our World Heritage Site, historic Hiraizumi in southern Iwate. (Read more about Hiraizumi in this guide to southern Iwate)
Ichinoseki Station has given us a lot of support for the ILC: there are banners, dioramas, posters, and flags for the ILC set up throughout the station. For this ILC Relay, we interviewed the Station Master of Ichinoseki Station, Mr. Hitoshi Hosokawa.
Profile
Mr. Hitoshi Hosokawa
Station Master
Ichinoseki Station (JR East)
Favorite word: Ciao!!
Ichinoseki Station – From a regional waypoint to an international waypoint
Ichinoseki City is located roughly in the middle of the entire Tohoku region, so I feel it plays an important role in strategic transportation development. Ichinoseki Station is used by many as a waypoint for the World Heritage Site, Hiraizumi, located in southern Iwate. Plus, the trains that arrive and depart from Ichinoseki Station are used by many of the local city residents for commuting to work and school. JR Ichinoseki Station would like to join together with the people of this region to help develop it further.
Tohoku is suffering from a decreasing population, which has become a huge societal issue for Japan. Because we are facing this issue, it means that if this international facility of science and research – the ILC – is realized, many visitors from not only Japan but the rest of the world will come here. Tohoku's tourism will boom, and this region will further develop.
After the ILC is realized, we are hoping that Ichinoseki Station will become a transport hub that will connect the ILC with the rest of the world for foreign researchers and tourists. We will continue to brainstorm about ways to improve the station so that it will be welcoming and easy-to-use for people from around the world.
Ciao!!
The world's eyes on our trains
The Tohoku earthquake and tsunami happened in 2011, but JR East (the rail company that oversees Tokyo, Tohoku, and Hokkaido) has been running some unique trains in order to help with the reconstruction from the disaster.
One of those is the "Pokemon With You" train that runs on the JR Ofunato Line between Ichinoseki Station and Kesennuma Station (both incidentally part of the ILC candidate site). The world-famous Pikachu graces the design of this train, which is also popular with our foreign guests.
Another of those unique trains is the "SL Ginga" that runs on the JR Kamaishi Line between Hanamaki Station and Kamaishi Station. This steam locomotive is designed with galaxy-themed guest rooms, and also has a planetarium you can enjoy. Recently, we worked with Iwate Prefecture and other local governments to host guests from Vietnam and Thailand, who had a great time. We would like to continue to share information throughout the world so that many people can enjoy our trains.
In 2017, a new train was born, called "TRAIN SUITE Shiki-shima." Up until now, trains have just been stolid affairs where you travel from point A to point B. But this train is different. Shiki-shima is the first "cruising train" in Japan, where guests can ride to enjoy seeing the sights of the country. The train leaves from Ueno Station in Tokyo, and spend a few days touring Japan before returning to Ueno. The route changes every season, and with this train you can enjoy the beautiful four seasons of Japan.
JR East has been working its utmost to bring our guests amazing and unique tours.
For the winter route, the Shiki-shima will stop in Iwate at Ichinoseki Station. We at Ichinoseki Station would like to work with the people of the area to show our guests a great time. The Shiki-shima has been advertised in London, Paris, and New York, where we have had great reception.
We aim for the TRAIN SUITE Shiki-shima to be the best cruising train in the world.
Ciao!!
Japanese
ILCリレーでは、ILC実現のためにオール岩手で取り組んでいる姿を発信するために、ILCを応援してくれる岩手県民の方々にインタビューし、海外までお届けします。

東京駅から東北新幹線で約2時間。
岩手県の玄関口である一ノ関駅。
世界遺産平泉を訪れるたくさんの観光客の交通の拠点となっている駅です。

一ノ関駅では、ILC実現に向けた活動を応援するため、駅舎への横断幕設置や駅構内へのジオラマ設置やポスター・のぼり旗の掲出にご協力いただいております。今回はJR東日本一ノ関駅の細川斉(ほそかわ ひとし)駅長にインタビューしました。

プロフィール:JR東日本 一ノ関駅長 細川 斉(ほそかわ ひとし) さん
駅長の合言葉:チャオ!!

【世界の交通の拠点へ「一ノ関駅」】

一関市は東北のほぼ中心に位置することから、交通の要衝としての役割は重要なものと感じています。そして、一ノ関駅は、世界遺産平泉の観光客の交通の拠点として皆様にご利用いただいております。また、一ノ関駅を発着する列車は、市民の皆様の通勤・通学の重要な移動手段としてご利用いただいております。JR一ノ関駅は、この地域の皆様と一緒になって、この地域をさらに発展させたいと考えています。

東北地方は、今後、人口が減少することが想定されており、それが社会的な課題になっています。そのような状況の中で、国際的な科学研究施設であるILCが実現すれば、国内だけでなく、海外からもたくさんのお客様にお越しいただき、東北の観光地が賑わい、この地域がさらに発展することが期待できます。

ILC実現後は、一ノ関駅が海外から研究者や観光客がたくさん訪れる世界と研究施設を繋ぐ交通の拠点になることを想像しています。今後は、国内外の多くの皆様がこの地域を訪れてみたいと思っていただけるよう、また、快適に利用していただける環境づくりを検討し、実施していきたいと考えております。

チャオ!!

【世界から注目される列車】
 
2011年に東日本大震災がありました。JR東日本では、東北地方の震災復興、沿岸地域の震災復興の一助になりたいとの想いから、ユニークな列車を運行しております。

ひとつは、JR大船渡線(一ノ関駅~気仙沼駅)で運行している「ポケモン ウィズ ユー トレイン」です。世界的にも有名なポケモンのピカチュウをデザインした列車であるため、海外のお客様からも人気です。

もうひとつは、JR釜石線(花巻駅~釜石駅)で運行している「SL銀河」です。蒸気機関車で走行しており、銀河をデザインした客室ではプラネタリウムが楽しめます。最近では、岩手県や地元自治体と協力し、ベトナムやタイからのお客様にも楽しんでいただきました。今後も世界へ積極的に情報を発信し、たくさんの方々に楽しんでいただきたいです。

2017年、新たな列車が誕生しました。「TRAIN SUITE 四季島」です。目的地から目的地へ移動するためのこれまでの列車とは異なり、列車に乗って観光を楽しむことを目的に運行する日本初のクルージングトレインです。首都東京の上野駅を出発し、数日間日本を周遊して、上野駅に戻ってくるコースは、季節によって異なり、日本の素晴らしい四季を満喫できます。

JR東日本が全力をあげて、素晴らしい特別な旅を皆様にご提供いたします。冬のコースでは、岩手県で唯一、一ノ関駅に停車することになっており、地域の皆様と一緒にご乗車いただくお客様をおもてなししたいと思っております。ロンドン、パリ、ニューヨークでも積極的に広報活動を行なっており、海外からの反響もたくさんあります。

「TRAIN SUITE 四季島」は、世界一のクルージングトレインを目指しております。

チャオ!!