I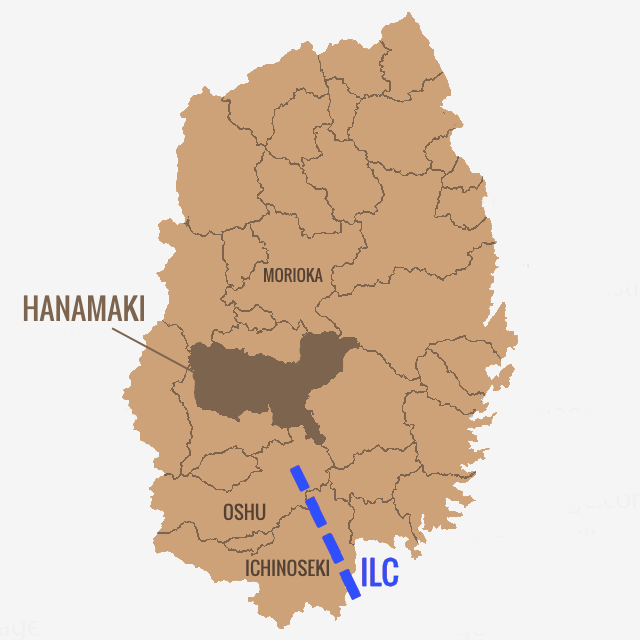 wate Prefectural Hanamaki Agricultural High School should be a familiar name to those who came to the LCWS 2016 in Morioka – these are the students who created the ILC Apples that were such a big hit with attendees! This year, Hanamaki Agricultural HS has been designated an ILC Promotion Model School by the Iwate Prefectural Government to foster students who will be able to get involved with the ILC through a number of different fields. As part of that project, ILC Office Executive Director Jun Sasaki spoke to all 350 students about the ILC on September 12th. The biggest takeaway? The ILC would be a huge project that would affect their lives – if successfully realized, the ILC would be up and running by the time these students are in the prime of their careers!
Afterwards, I sat with two students and asked them about their interest in the ILC and how they'd like to be involved in the future.
PROFILES
Ms. Ayu Sato
3rd year student in the Food and Agricultural Science course
Hanamaki Agricultural High School
Originally from the Ohasama area of Hanamaki City
Hobbies: Listening to music (particular J-POP)
Mr. Shota Kato
2nd year student in the Biological Science course
Hanamaki Agricultural High School
Originally from the Waga area of Kitakami City
Hobbies: Drawing
What were your impressions of today's lecture about the ILC?
Ayu) I had thought that the ILC was this really difficult science-y kind of thing (that I wouldn't have anything to do with), but I saw that the particle accelerator will be doing experiments right in our backyards! I learned that bringing the ILC to the region would lead to the development of industry, and I think Iwate would prosper even further.
Shota) I first learned about the ILC when my classmates in the fruit-growing course did the ILC Apple project last year. I had never heard of it before then. At first, I thought it would just be scientists coming and doing research, but I learned that Iwate will grow through that research. I'm not sure what I will be doing in the future, but I want to help out with the ILC if it will develop Iwate.
How do you two want to be involved with the ILC in the future?
Ayu) I'm hoping to become a registered dietician, but unfortunately my university is outside of Iwate. I hope to use what I learn at university when I become a dietician, and when I return to Iwate, I'd like to think about how to use any new food products that might be developed in relation to the ILC. I'd also like to get the foreign researchers to try some of my hometown's delicious food: ganzuki* and hittsumi**.
*Ganzuki:
A dense and chewy steamed cake traditionally made in Iwate, Miyagi, and other parts of Tohoku. Eaten as a snack while out farming in the fields.
**Hittsumi:
A flour mixture is flattened and torn into bite-size pieces by hand, and simmered in a vegetable stew. One of Iwate's traditional dishes.
Shota) My work will not have much to do with the ILC, but I actually am in a Shishi Odori group for my extracurricular activities. Shishi Odori is the name of a traditional folk performance in Iwate, and by getting the researchers to see it, I hope they will learn more about Iwate. I was invited to join by an upperclassman who was also part of the group. He was wearing the costume, and just looked so cool.
(Watch a performance of the Shishi Odori dance in this episode of Oshu For You)
What are your hopes and dreams for an international Iwate through the ILC?

Shota) I'm a little nervous to have so many different people come to Iwate, but lots of people means lots of energy. That would lead to the growth of Iwate, so I'm looking forward to that.
Ayu) There will be lots of foreign people coming not just to do research but to tour all of Iwate. However, people from different countries will have different tastes, different religions, and many other aspects that will differ from Japanese culture. In order to best handle their needs, we have to try to understand as much as possible their countries' cultures.
Do you have any messages for the researchers?
Ayu) Iwate is blessed with abundant nature and has a big harvest of fruits, vegetables, meat, and fish. The seafood from the Sanriku Coast is just so delicious, so I really want the researchers to try it. There's also a lot of traditional folk arts performances that were developed in the region. Iwate is a place where you can really be at one with nature. After you spend a hard day doing research, I know you'll be able to relax in Iwate, enjoying our nature and food.
Shota) I think that the researchers will be hard at work most of the time, but Iwate has so many fun things like festivals to enjoy. I hope you'll take part in our festivals – you'll feel refreshed and energized!
Japanese
ILCリレー ④
岩手県立花巻農業高等学校の生徒がILCへの感想を語る

和山アマンダ

「岩手県立花巻農業高等学校(以下、花巻農業高校)」は、去年、盛岡市で開催された国際会議「LCWS2016in盛岡」に来場された方は覚えていると思いますが、「ILCリンゴ」を作った高校です。

今年度、ILCに関わる幅広い分野で活躍できる人材を育成するため、花巻農業高校は岩手県から「国際リニアコライダー(ILC)」推進モデル校」に指定されました。その事業の一環として、9月12日にILC講演会が開催され、全校生徒に向けて、佐々木淳岩手県科学ILC推進室長がILCの現状を説明しました。

ILCが実現されれば、本格的な稼働が始まる頃に、花巻農業高校の生徒は30代前半となっており、ILCに大きく関わっていくでしょう。

講演の後、ILCについて二人の生徒に話を聞きました。

プロフィール

佐藤彩結さん
花巻農業高等学校食農科学科3年生
出身:花巻市大迫
趣味:音楽を聴くこと(特にJPOP)

加藤尚大さん
花巻農業高等学校生物科学科2年生
出身:北上市和賀町
趣味:絵を描くこと

Q)今日のILCセミナーの感想は?

彩結さん)ILCというものは、科学的なもので、すごく難しいものだと思っていたのですが、今回の話を聞いて、ILCに使われている加速器が身近なところで使われていることが分かりました。そして、ILCが実現することで、産業の振興などもできるということを知り、ILCを取り入れることで岩手県が更に発展していくのではないかと思いました。

尚大さん)私は、ILCについては、果汁班のILCリンゴプロジェクトで初めて知って、それまで全然聞いたこともありませんでした。科学者が来て研究するだけだと思っていましたが、研究を通して岩手が発展していくということを今回の講演会で知りました。将来、自分がどうしていくか分かりませんが、自分も岩手県が発展していくことに協力していこうと思っています。

Q)将来、お二人はどのようにILCと関わっていくと思いますか。

彩結さん)私は、将来は管理栄養士を目指していますが、志望している大学は岩手県外にあります。大学で学んだことを管理栄養士になって生かして、岩手県に戻ってきて、ILCのために開発された食べ物があったら、そういうものを使った料理を考えていければと思っています。また、私の地域で"がんづき(※1)"や"ひっつみ(※2)"がよく食べられているので、外国人の方にも美味しいと伝えたいと思います。

※1:岩手県や宮城県を中心とした東北地方で、農作業の合間のおやつとして食べられていたという郷土料理。 しっとり、もちもちっとした食感。
※2:麦粉をこねて薄く伸ばしたものを手でひきちぎって(ひっつむ)、野菜と一緒に煮込んだ鍋料理で、岩手県の郷土料理。
ひっつみ

尚大さん)仕事とは関係ないのですが、今は部活動で鹿踊りをしています。鹿踊りとは、岩手県の郷土芸能の一つであり、それを研究者に見せることによって岩手県をもっと知ってもらえたらなと思います。ちなみに、鹿踊りを始めたきっかけは、鹿の恰好をしていた部員の先輩に勧誘されて、とにかくかっこいいと思ったからです。

(鹿踊りを「OSHU FOR YOUエピソード12(えさし藤原の郷)」でご覧いただけます→https://youtu.be/qletLPywgqc?t=3m )

Q)ILCが実現すると、岩手県の国際化が加速されます。どのように期待しますか。

尚大さん)いろんな人たちが来るので、不安な面もありますが、人が来るとにぎやかになると思います。それも発展することにつながると思うので、にぎやかになる岩手を期待したいと思います。

彩結さん)研究者だけではなく、岩手を観光するために外国人がたくさん来るのではないかと思います。しかし、国が違うと、食べ物の好みや宗教など、いろいろ変わってくるので、それに合った対応をするために、私たちもその相手国の文化をちゃんと理解しなければならないと思います。

Q)研究者へのメッセージは?

彩結さん)岩手県は自然が豊かな場所で、たくさんの農産物や海産物が取れます。三陸海岸の海の幸がとても美味しいので、ぜひ食べてもらいたいです。そして、郷土芸能が盛んに行われています。岩手県はたくさんの自然が感じられる場所です。研究の疲れを自然や食べ物で癒してほしいです。

尚大さん)研究詰めで大変だと思いますが、岩手では祭りや他のにぎやかなところがありますので、そういうのに参加していただいて、疲れを癒していただきたいです。