Welcome to the next edition of the ILC Relay! We want people around the world to know how all of Iwate is working to bring about the ILC, so the ILC Relay is all about interviewing various people in Iwate who support the ILC project.
(Note: This edition of the ILC Relay was written by Kazunori Oikawa of Ichinoseki City, and translated by Amanda Wayama)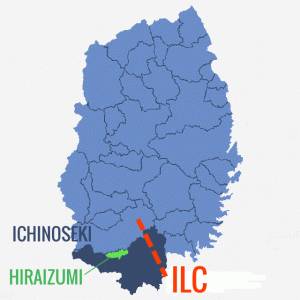 In the area around Ichinoseki City, there is…
World Heritage site Hiraizumi.
Genbikei and Geibikei gorges.
Mount Kurikoma. Mount Murone.
Delicious food and unforgettable events.
There are so many wonderful things to do and see in the Ichinoseki City and Hiraizumi Town area, and the Ichinoseki City Tourism Association (ICTA)'s role is to share information on those attractions. The ICTA also supports the movement to bring about the ILC by helping to coordinate ILC tours and through selling ILC-themed goods. For this ILC Relay, we've interviewed the director of the ICTA, Mr. Kenji Sasaki.
Profile
Kenji Sasaki
Director of the Ichinoseki City Tourism Assocation
Ichinoseki, full of wonder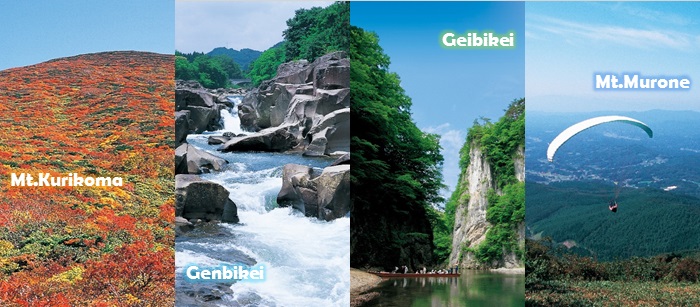 "Ichinoseki City is home to a vast expanse of nature and a number of different natural topographies. For outdoor lovers, there are a lot of virgin forests to explore, and Mount Kurikoma is famous for its awesome trekking paths as well as its secret hot springs. You can climb to the top of Mount Murone to get a great view of the entire landscape, as well as try paragliding and camping.
"Genbikei Gorge, with its emerald green river, will delight you with the little shop across the river selling sweet dango (rice balls) that they ferry across in a basket. Then there's Geibikei Gorge, where you can take a relaxing ride down a gentle river surrounded by 100 meter cliffs on either side.
"The feeling of each sightseeing spot in Ichinoseki changes with the seasons, so you'll be greeted with new delights each time you visit.
"There are also many local traditions and folk arts for you to see and interact with. This area is often most known for the World Heritage Site Hiraizumi but there is so much more to see. If you have an interest in history and culture, just ask us and we can guide you to various places.
"In the future, when researchers come to live in the area with their families, we hope they will share the charms of Ichinoseki with rest of the world, as well as show their friends and colleagues around the area. That will make it easier for other foreign visitors to plan fun trips to the area."
Information in English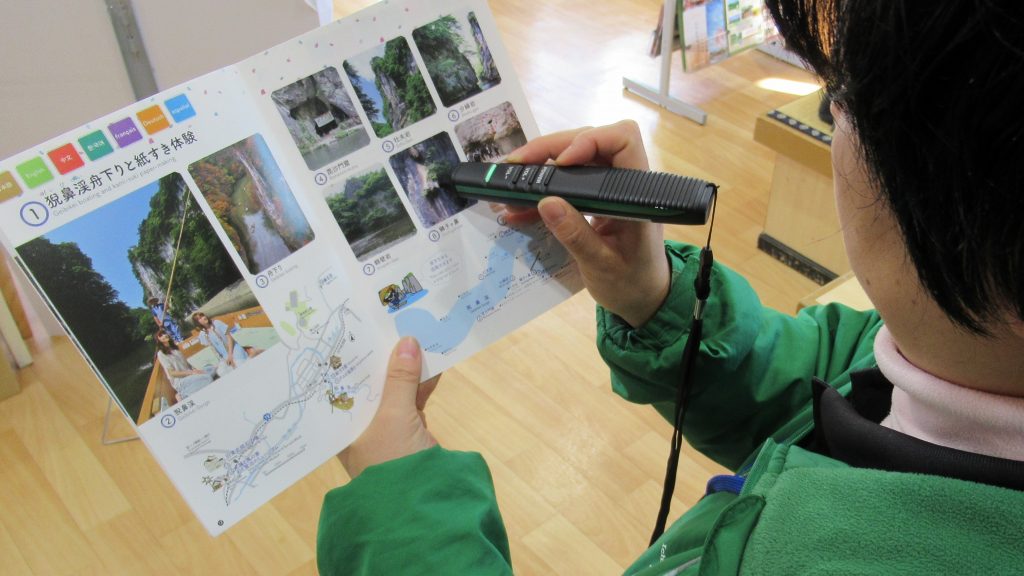 "The ICTA is able to guide English-speaking guests so we welcome you to visit. We also provide pamphlets and other materials in English, Korean, and Chinese.
"As a new project, we lend out audio tour touch-pens. Each pen has seven major world languages, and it will give you information as you touch the pen to a special pamphlet. Our guests can take this pen with them to attractions within Ichinoseki and Hiraizumi."
Tons of fun events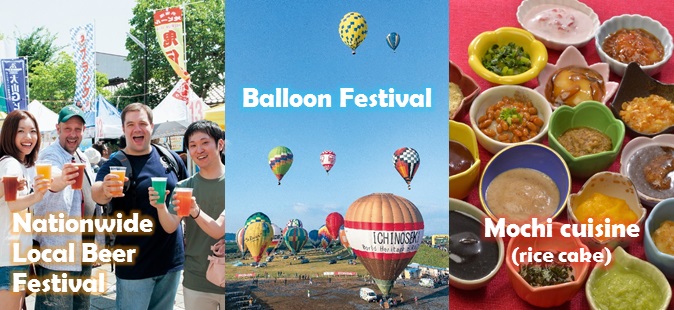 "There is so much fun to be had in Ichinoseki. Here are some events we think our foreign guests would love:
"First off is the Nationwide Local Beer Festival, with around 250 varieties of local and craft beer from around Japan. There's also food that uses local ingredients, which is very popular with our foreign visitors.
"There's also the Ichinoseki-Hiraizumi Balloon Festival, where around 30 hot air balloons of every different color decorate the skies of Ichinoseki. Our Ichinoseki original golden balloon is very popular.
"Then there's also the National Mochi Summit in Ichinoseki. Mochi is a Japanese food made from pounded rice cake, and usually topped with some sort of sauce or condiment. At the summit, mochi dishes from around Japan compete to be judged as the tastiest dish. In the Ichinoseki region, mochi is served at weddings, seasonal ceremonies, and other special events, and it has long served as one of the ways we welcome our guests. Plus, everyone loves the Mochi Pounding Group, who sing songs as they pound rice into mochi in a wooden bowl with a huge dowel.
"Every week, some sort of event is happening in Ichinoseki, ranging from big festivals to small gatherings. We strive to provide a fun experience for our guests at each and every event."
We also sell ILC Goods!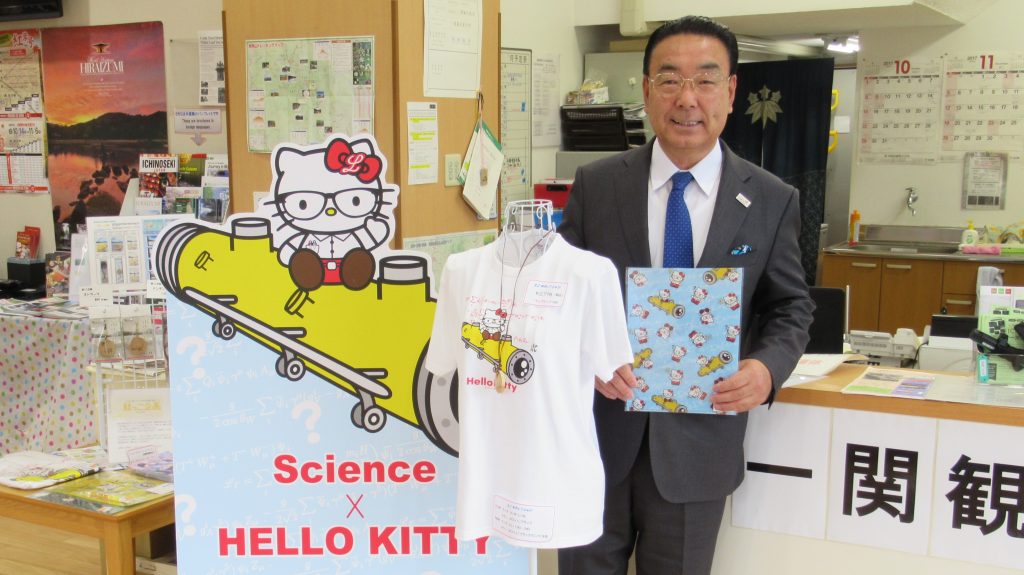 "At the ICTA, in order to support the ILC, we serve as a spot where you can buy Science Kitty, the Hello Kitty collaboration with the ILC. We also hand out pamphlets, and hope to increase interest in the ILC not just in the people of Ichinoseki, but people who visit from all over.
"If the ILC is realized, then people from around the world will come to tour the ILC facility. When they come for such tours, we hope that they will visit the other attractions and events in Ichinoseki, and enjoy our delicious food. We hope to provide the utmost in hospitality to keep our guest satisfied as they tour the area."
Japanese
ILCリレーでは、ILC実現のためにオール岩手で取り組んでいる姿を発信するために、ILCを応援してくれる岩手県民の方々にインタビューし、海外までお届けします。

世界遺産平泉、厳美渓、猊鼻渓、栗駒山、室根山・・・
一関市には見どころ満載の観光地があります!
美味しいものがたくさんあります!楽しいイベントがたくさんあります!
そんな一関・平泉の情報を紹介してくれるのが、一関市観光協会です。

一関市観光協会では、ILC実現に向けた活動を応援するため、ILCツアーへの協力やグッズ販売にご協力いただいております。
今回は一関市観光協会の佐々木賢治(ささき けんじ)会長にインタビューしました。

プロフィール:一関市観光協会 会長 佐々木 賢治(ささき けんじ) さん

【魅力がたくさん「いちのせき」】

一関市は自然が豊かで、面白い様々な地形を楽しむことができます。原生林が多く、秘湯が人気の「栗駒山」は、トレッキングに最適です。天体観測ができる「室根山」は、パラグライダーやキャンプ等のアウトドアを楽しめます。

エメラルドグリーン色の水流がダイナミックに流れる川「厳美渓」は、空を飛ぶ団子にビックリするでしょう。

高さ約100mの絶壁の間を緩やかに流れる川「猊鼻渓」は、船頭が棹一本で舟を操り、皆さんを日頃の喧騒を忘れられる場所へお連れします。

一関市の観光地は、四季によって表情を変える風景がたくさんあり、何度訪れても違う楽しみを発見することができます。

その他にも郷土芸能など地域にはたくさんの観光資源があります。世界遺産平泉や有名な観光地だけでなく、歴史や風土に興味・関心がある方もいらっしゃると思いますので、私たちに聞いていただければ様々な観光をご提案することができます。

将来的には、この地に暮らす研究者やその家族が、自分たちが感じた一関市の魅力を海外へ発信したり、この地を訪れる海外の方を案内したりすることができれば、海外からの旅行者は、さらに面白くて安心できる旅行を組み立てることができると思います。

【英語で案内しています】
一関市観光協会では、海外の方も安心して観光できるように、英語で案内することができます。また、英語、韓国語、中国語などのパンフレットもご用意しております。

新たな取り組みとして、音声タッチペンの貸出を行なっております。専用パンフレットをタッチペンで触れると音声が流れる仕組みで、主要7カ国の言語で案内を聞くことができます。このタッチペンを持ち歩いて、一関市や平泉町を観光していただきたいと思っております。

【楽しいイベントに参加しましょう】

一関市では、楽しいイベントがたくさんあります。世界各国のお客様に楽しんでいただいているイベントを紹介します。

「全国地ビールフェスティバルin一関」は、全国の地ビール約250種類を集めたイベント。地元の食材を使った料理も海外のお客様から人気があります。

熱気球の競技大会「一関・平泉バルーンフェスティバル」は、約30機の色鮮やかな熱気球が一関の上空へ飛び立ちます。一関オリジナルの黄金色の熱気球も人気があります。

「全国ご当地もちサミットin一関」は、全国のもち料理を集めグランプリを決定するイベント。この地域では、冠婚葬祭や季節の行事で餅を食べる風習があり、昔からもち料理でおもてなしする文化があります。餅つきの歌を歌いながら、臼と杵を使ってパフォーマンスする餅つき隊は、イベントで大人気です。

一関市では毎週どこかでイベントが開催されており、アットホームな小さなイベントもあります。どのようなイベントで、何を楽しんでよいかまでお客様にご提案できるようにしています。

【ILCのグッズも販売しています】

一関観光協会では、ILCの実現を応援するため、ILC応援グッズ「サイエンス×ハローキティ」の販売店になっています。
市内の方だけでなく、観光で訪れていただいたお客様も興味をもっていただき、パンフレットをお渡ししすることで、ILCを紹介しています。

ILCが実現すれば、国内外から多くの方が研究施設などの見学にやってくるでしょう。研究施設の見学にあわせて、一関市の観光地やイベントを訪れていただき、美味しい食事も堪能していただきたいと思っております。

観光地やイベントをさらに魅力ある資源にして、この地を訪れたお客様に満足していただけるよう、最大限のおもてなしをしたいと思っております。