Iwate, home to the Kitakami mountain candidate site for the ILC, is blessed with immense natural resources – mountains, lakes, and a rias coastline, along with abundant food from both land and sea.
Since Iwate is the largest prefecture on Japan's island of Honshu, it takes around 2 hours by car to traverse from its westernmost town Nishiwaga to Miyako City on the east coast.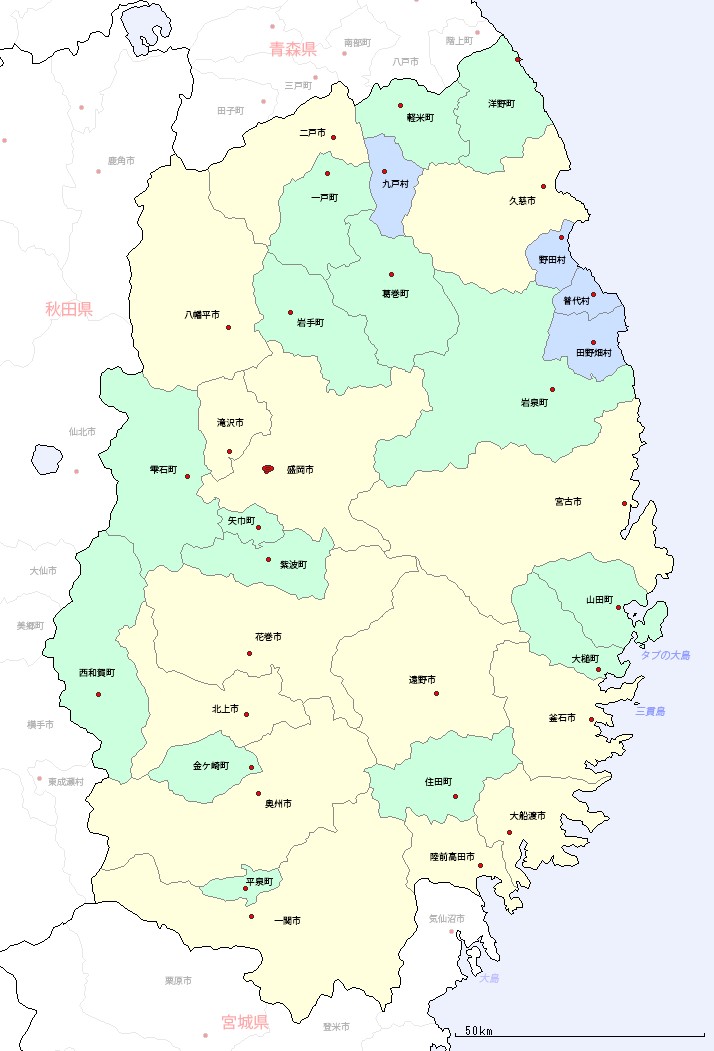 Speaking of that east-west route, we'd like to showcase a project that seeks to sustainably develop the region through increasing exchange and the trade of goods.
That project is called the Iwate Hometown Connection Bus Helper Project.
This project was started last year, and uses passenger/freight buses to deliver and sell local goods – revitalizing the local economy, aid the transportation network, and increase the exchange of people following the pandemic. *Passenger/freight buses are mixed use buses that can be used to transport both people and things in order to reduce costs and support distribution networks.
In Nishiwaga Town, COVID-19 led to a reduction in visitors to the town and even caused the closing of a major transportation route. A slowdown in the sale of local goods led to stagnation in Nishiwaga's economy. Miyako City has also seen a slowdown due to the pandemic.
In order to rev up their economies, Nishiwaga and Miyako started this project by coordinating with Northern Iwate Transportation Inc. (which already runs a passenger/freight bus on this route) and a partner company, East Japan Transportation Inc.
In Japanese, the project is called "BUS助っ人 (Bus Helper)" which is pronounced "basuketto". This sounds a lot like the English word "basket", so there is a bit of a wordplay in that it could mean a thing that can carry things and people (a basket), a goal for the region (a goal in basketball), and an ally (a basuketto (Bus-Helper)).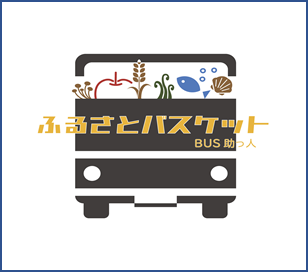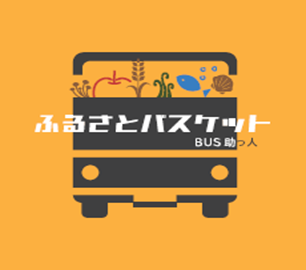 From December 2021 to March 2022, this passenger/freight bus ran every Friday to sell Nishiwaga goods at Miyako's roadside stations "Yamabiko-kan" and "Miyako." It also took Miyako goods to Nishiwaga to sell at its farmers' market "Yume Plaza."
There were also numerous commerce/exchange events held to showcase the goods of Nishiwaga and Miyako. The Nishiwaga/Miyako Hometown Bus Helper Market was held at Morioka Station in Iwate's capital, and even Kerohira, the frog mascot of our world heritage site Hiraizumi, was there to bring the party.
It was so nice to be able to make a quick stop in Morioka and be able to buy special goods from both ends of Iwate.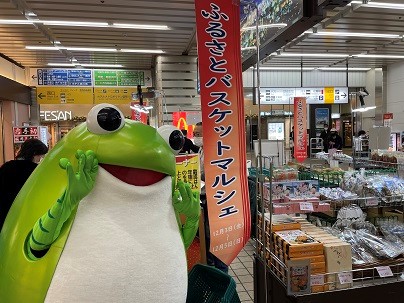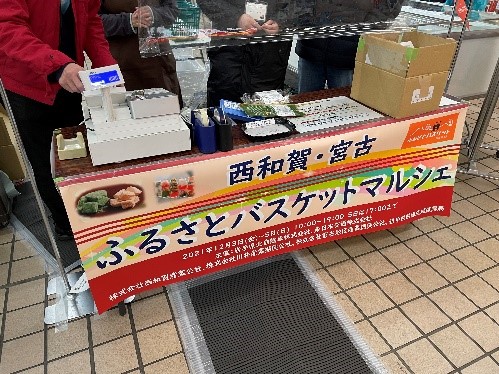 Miyako and Nishiwaga also worked together to develop and sell new products, and came up with two collaborations.
The first was a sweet black bean danish filled with warabi mochi – this is a type of gelatinous dumpling made from warabi, a type of wild vegetable. This particular warabi is sourced from Nishiwaga, with the sweet black beans from Miyako. It's a nice little collaboration with fun variations in taste and texture.
The second is a parfait made with the same ingredients – a great treat for the summer.
We hope you get a chance to try it!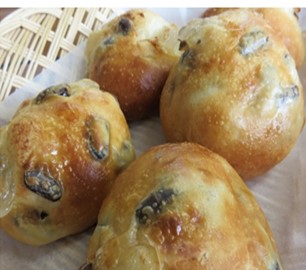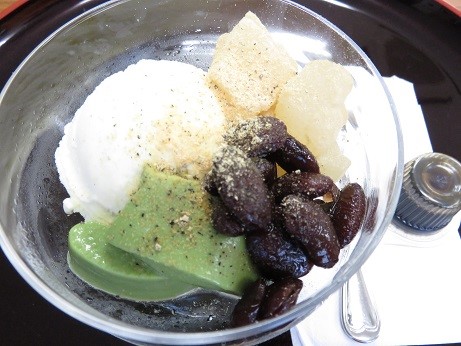 As you can see, this Hometown Bus Helper Project was a chance for people to rediscover the things that make their own regions so special as well as find successes in product development and expanding sales channels. Through this, there was an increase of visitors and experiential tours, further increasing the exchange of people as well as the amount of profit and passengers on bus routes.
Tourism in the region has greatly declined due to COVID-19, but there is still so much to enjoy in Iwate. The Project will be held again this year to even further improve the local economy. We'd love it if you'd also take a chance to visit Iwate and find your own treasure.
Here's hoping you'll be a Bus Helper one day too!
Japanese
コロナ禍による経済活動の低迷を何とか打開したい!
岩手をつなぐふるさとバスケット(ふるさと・BUS・助っ人)プロジェクト

ILCの建設候補地、北上山地が広がる岩手県は、山や湖、リアス式海岸などの風光明媚な自然に恵まれ、山の幸、海の幸が豊富な土地です。
面積も本州一を誇り、西に位置する西和賀町から、東に位置する宮古市は、車で2時間少々かかります。
今回は、広大な岩手県の西と東に位置する西和賀町と宮古市をつなげ、ヒトとモノとの交流拡大により持続可能な地域づくりをめざすプロジェクトを紹介します。
その名も「ふるさとバスケット(ふるさと・BUS・助っ人)プロジェクト」!
貨客混載バスを活用し、地場商品の納品や販売を通じて、地域経済の活性化、公共交通の維持、コロナ収束後の交流人口の拡大をめざす取組として、昨年から始まりました。貨客混載バスとは、人とモノを一緒に運ぶバスのことで、コスト削減や物流の維持が期待されています。
西和賀町では、コロナ禍による交流人口の減少や市街地からつながる主要道路の通行止めの影響により、特産品販売や地域経済が低迷しており、宮古市でも、コロナ禍により地域経済の低迷が課題となっていました。
このことから、地域経済活性化を図るために、西和賀町と宮古市は、路線バスによる貨客混載を確立している岩手県北バスとそのグループ会社東日本交通と連携し、プロジェクトをスタートさせました。
BUS助っ人(バスケット)とは、貨物や人を大切に載せるBASKET(かご)と、地域を未来のBASKET(ゴール)に導く、味方(助っ人)を意味します。
2021年12月から2022年3月にかけて、毎週金曜日に貨客混載バスを運行し、西和賀町の商品を宮古市の「道の駅やまびこ館」「道の駅みやこ」で、宮古市の商品を西和賀町の産直「湯夢プラザ」にて販売しました。
また、西和賀町と宮古市の商品を紹介する物産・交流イベントを複数回開催しました。県庁所在地にある盛岡駅で開催した「西和賀・宮古 ふるさとバスケットマルシェ」には、世界遺産平泉をPRするキャラクター「ケロ平」も飛び入り参加し、会場を盛り上げました。
ふらっと盛岡に立ち寄って、岩手の両端にある特産品を買えるのは嬉しいですよね!
また、宮古市と西和賀町の2市町が連携し、商品の開発や販売に取り組んだことで、コラボ商品が2つ誕生しました。
1つ目は、「西わらび餅黒豆パン(デニッシュ)」です。宮古市産の黒平豆を入れた黒豆パンに、西和賀町産の西わらび餅を練り込みました。食感と風味の変化が楽しいコラボパンです。 
2つ目は、宮古市産の黒平豆、西和賀町産の西わらび餅を使用した「西わらび餅パフェ」です。夏や甘党の皆様におすすめです。
ぜひご賞味あれ!
ふるさとバスケットプロジェクトは、各地域ならではの強みを生かした素材の掘り起こしや、商品の開発、販路拡大に一定の成果を上げました。また、産地の訪問や体験を通じた交流人口の増大や、路線収益の向上・バス利用者の向上など、地域を活性化させる取組となりました。
新型コロナウイルス感染症拡大の影響により、観光客は大きく減少していますが、岩手には魅力のあるモノがたくさんあります。さらなる地域経済活性化のため、今年もプロジェクトが進行しています。いつかあなたも、まだ触れていない岩手の魅力を探す旅に、出かけてみませんか?
未来をつなぐ、BUS助っ人はあなたかもしれません。