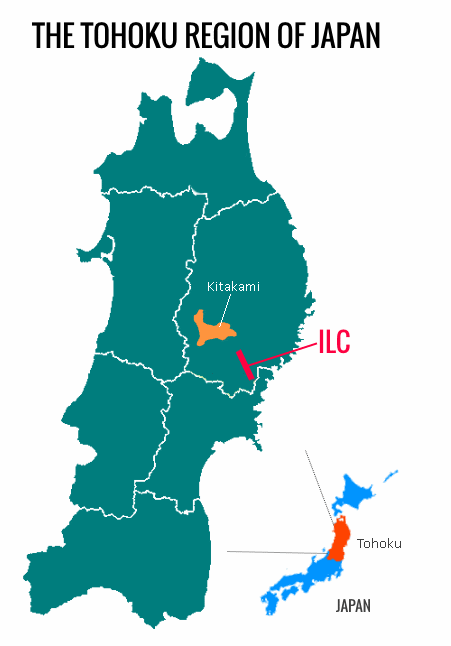 Today we're going to talk about Kitakami. Not the Kitakami mountains (the ILC candidate site), nor the Kitakami river. The OTHER Kitakami: Kitakami City!
Kitakami is a small city about an hour north of the ILC candidate site, with a large manufacturing base and a shinkansen station. It also has something super cool – a museum dedicated to ONI.
The Oni in Japan
An oni is a figure in Japanese folklore that resembles a supernatural ogre or demon. Legends of these human-like hulks abound throughout the country, and each region has their own kinds of oni and oni legends. Typically, oni are depicted as angry red ogres with horns on their heads (and maybe a loincloth with tiger stripes). These demons come from the underworld to torment humans, along with other Japanese folk monsters like yokai and mamono.
Oni have actually been in the news recently as the Raiho-shin (Visiting Deities) were recognized by UNESCO as Intangible Cultural Heritage in 2018. People dress up as these oni and visit houses around the neighborhood, to bring good luck to families. They also tend to scare the children into being good little boys and girls, which is perhaps analogous to Krampus scaring naughty children during the Christmas season in central Europe.
Oni are particularly celebrated in Kitakami. The city has long been home to a type of folk performance called "Onikenbai" consisting of flutes, drums, and people dancing in red demon masks. Onikenbai, or Devil's Sword Dance, has been designated an Important Intangible Folk Cultural Property by the national government, and has deep roots in the community. Because of this tradition, a museum was built in Kitakami to teach about oni in all their forms around the world.
Welcome to the Oni-no-Yakata (Oni Museum)!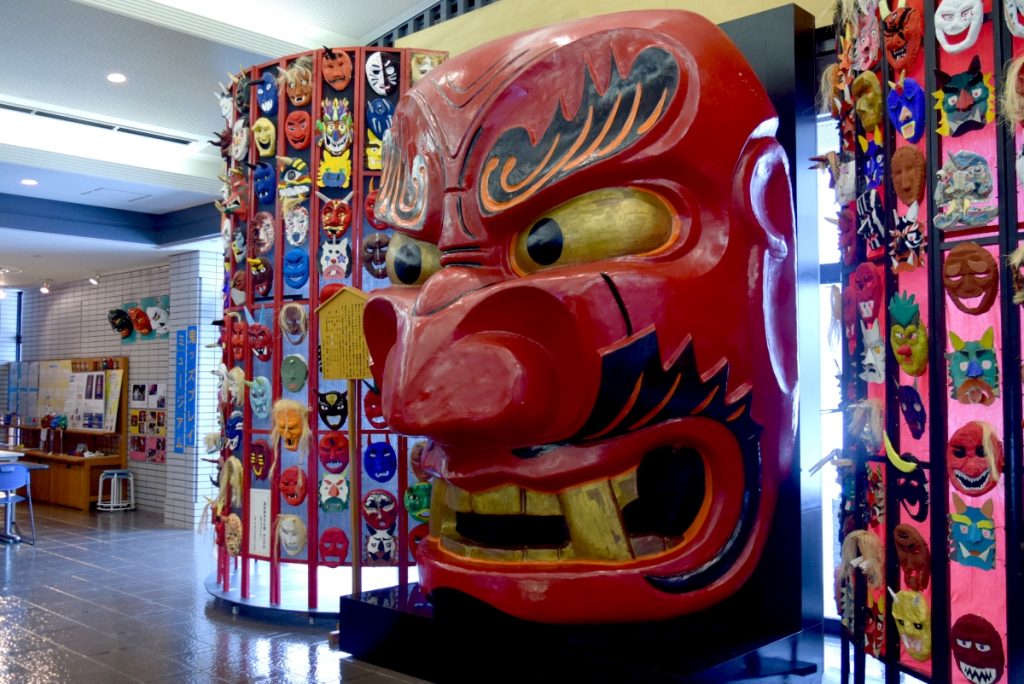 After you enter the museum, you're greeted by this guy! I basically only came up to his nose.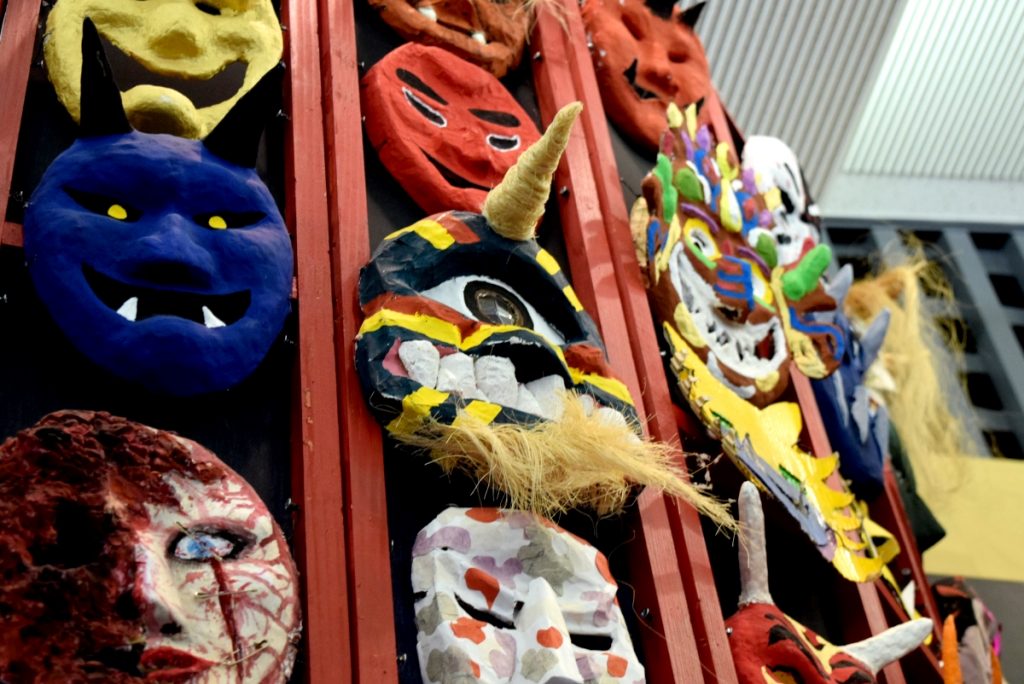 Some paper masks showing off different types of oni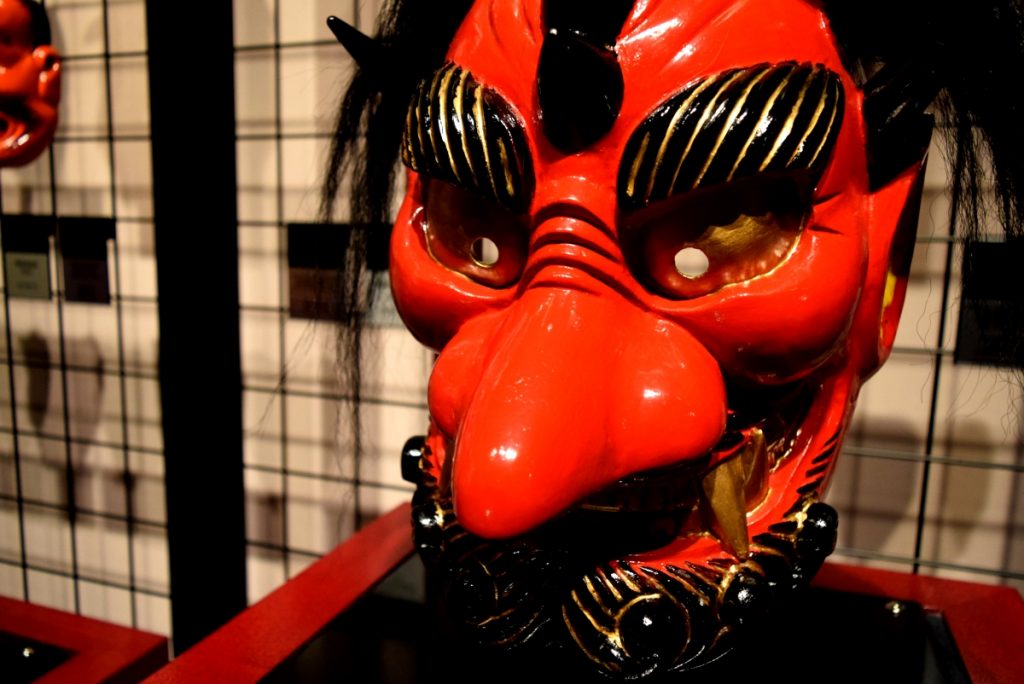 The "classic" oni figure – red skin, black beard, and horns
I love the warmth of this smooth, hand-carved surface (nice underbite, too).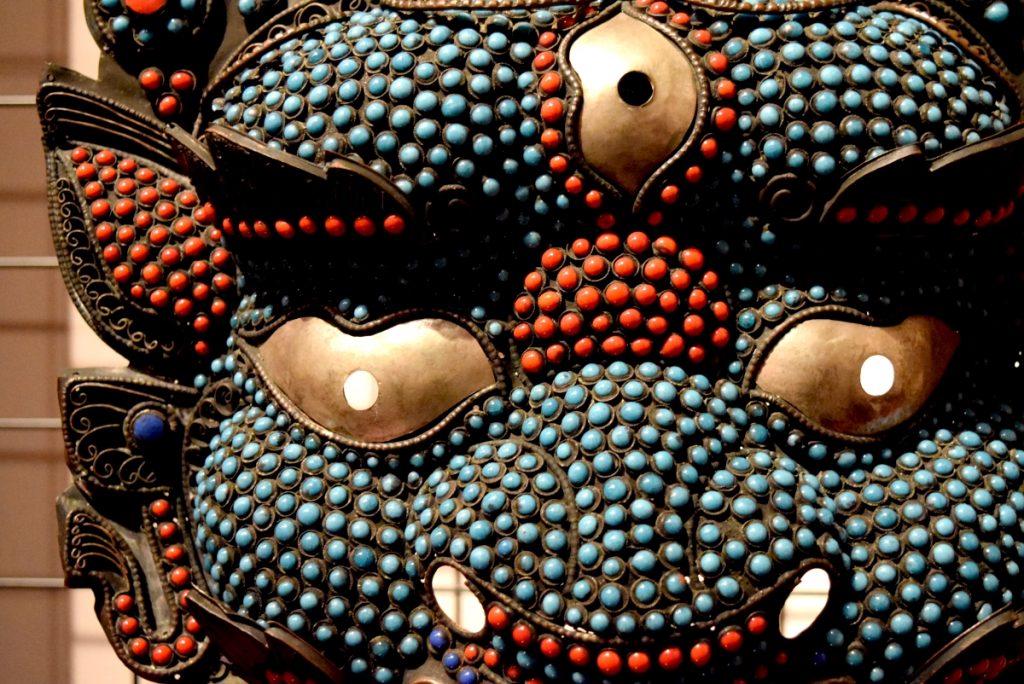 An intricately detailed mask. There are representations of not just Japanese oni, but demons from other parts of Asia and the rest of the world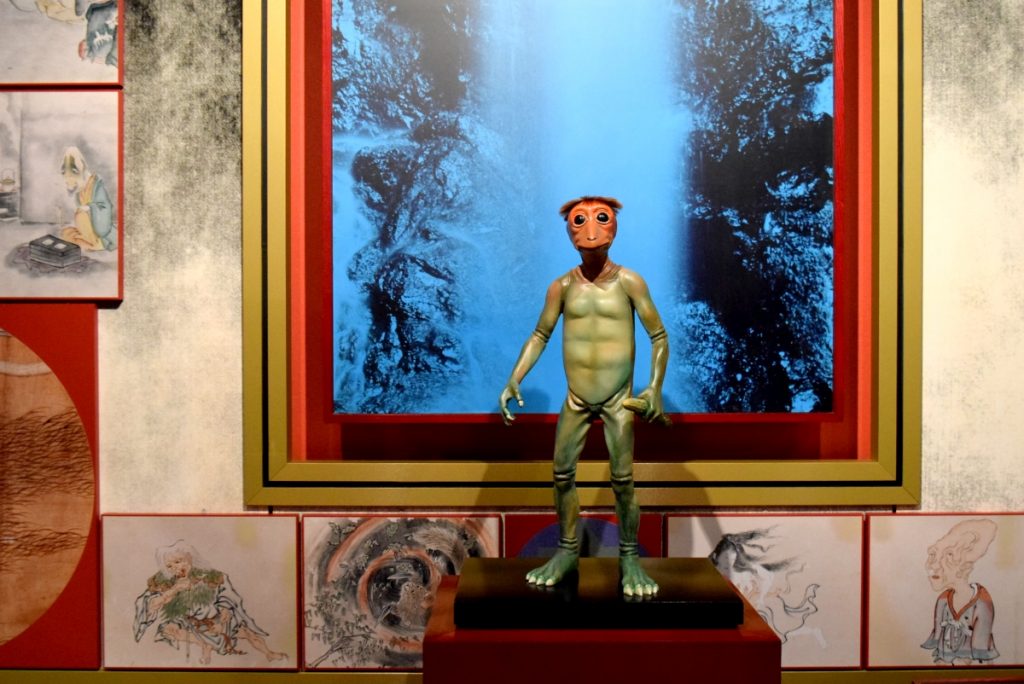 Here comes that boi!!!! A kappa demon (another famous little hobgoblin originally from Iwate)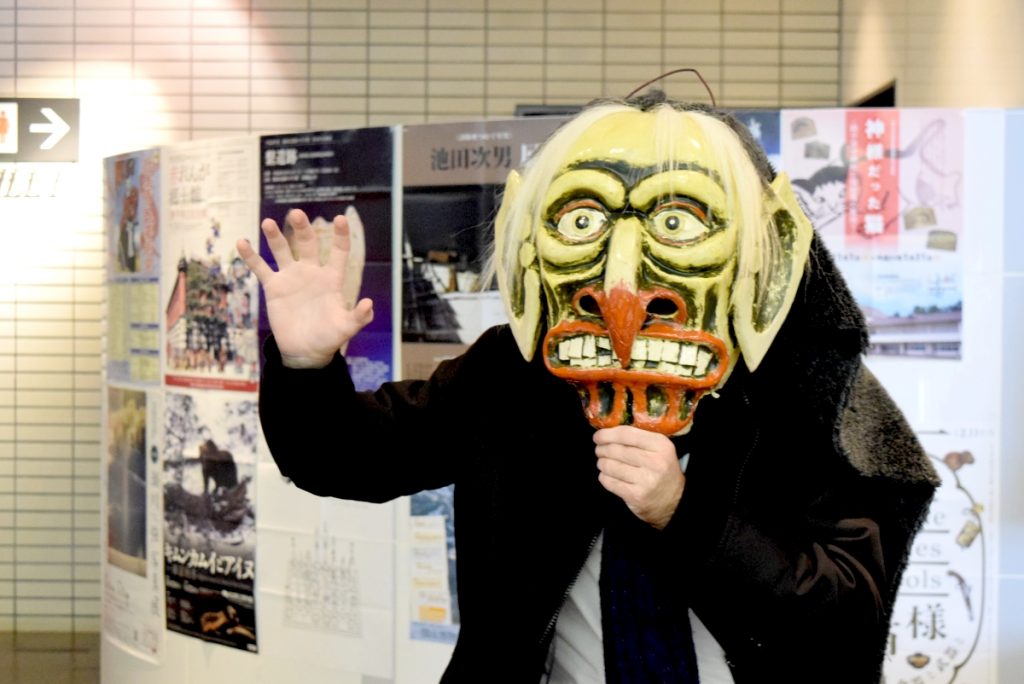 It's Krampus! Merry Christmas!!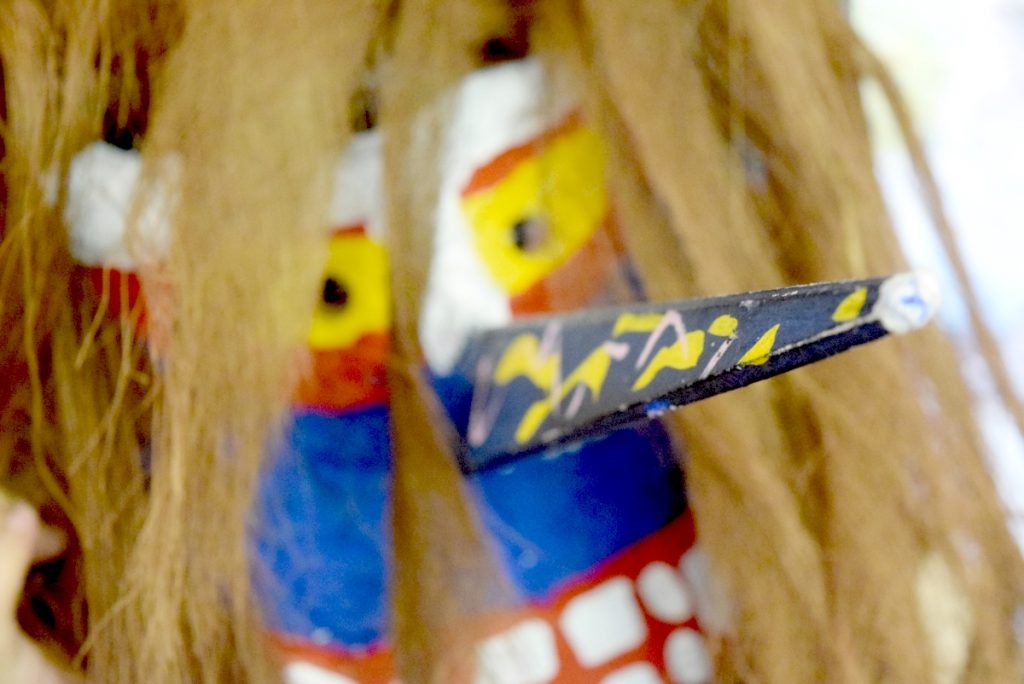 The nose was so long it messed up my camera's focus.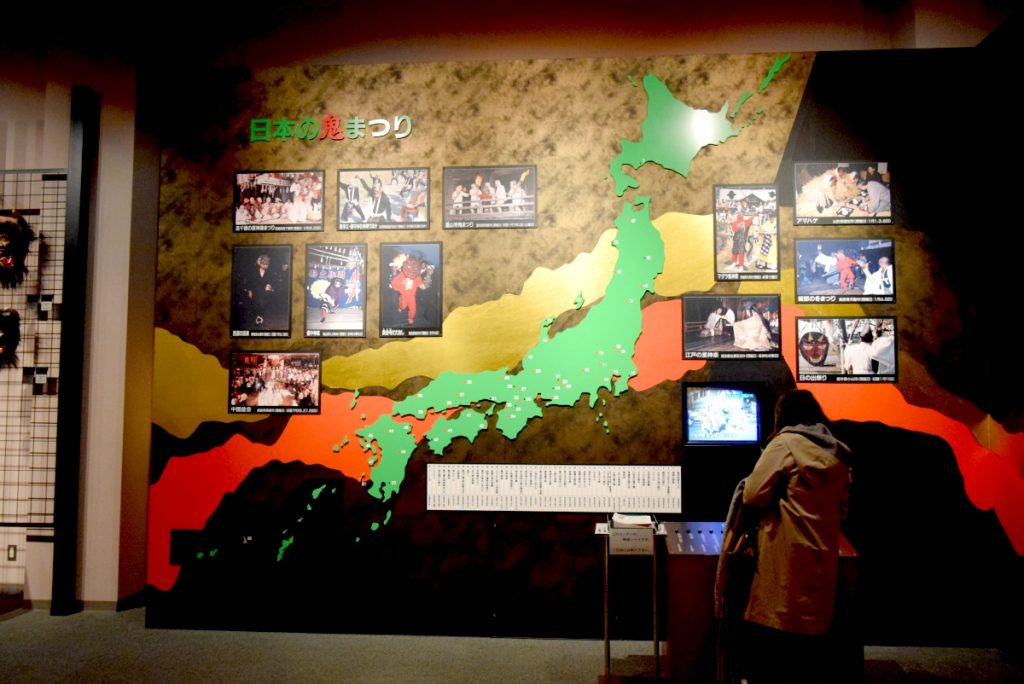 There are Oni festivals throughout Japan. Kitakami's festival is called the Michinoku Kitakami Geino Matsuri, and typically falls on the first weekend of August.
The Raiho-Shin Visiting Deities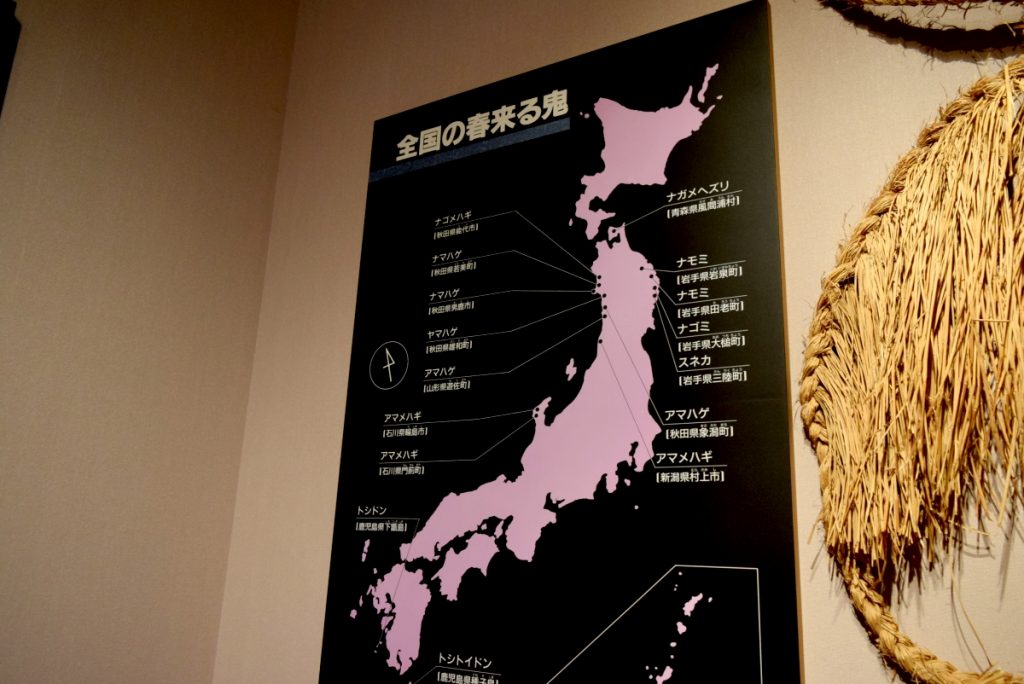 These types of oni, recently recognized by UNESCO, can be found throughout Japan as seen by this map.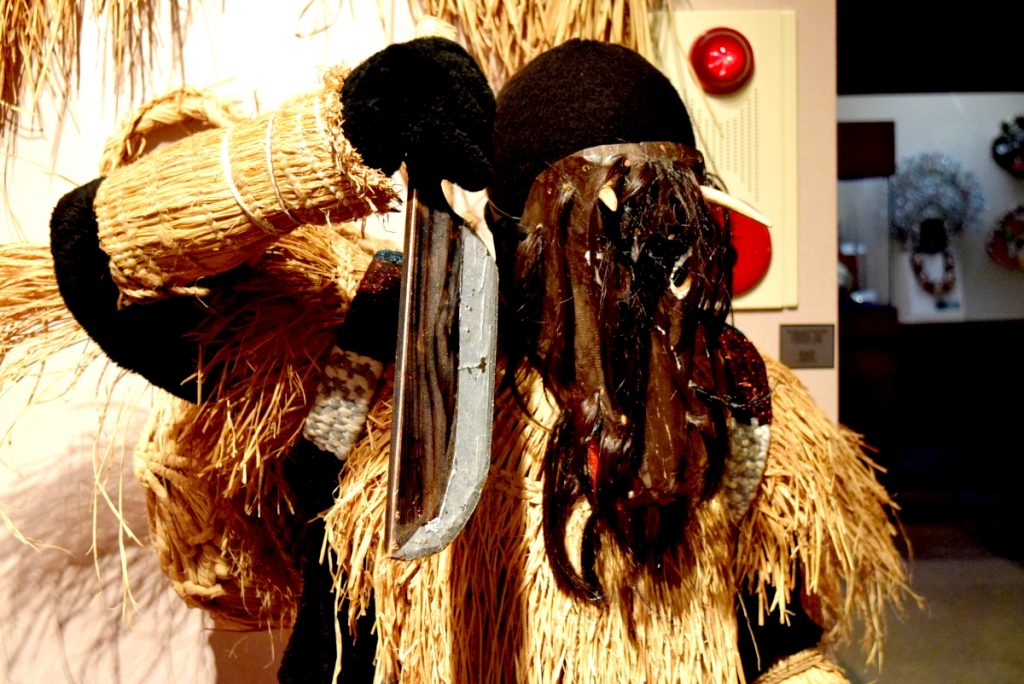 Here is a type of Raiho-shin called Suneka, from Ofunato on the southern coast of Iwate. Fun fact: The Ofunato Tourism Association Twitter likes to tag these guys with #みんなのトラウマ ("the trauma we all share").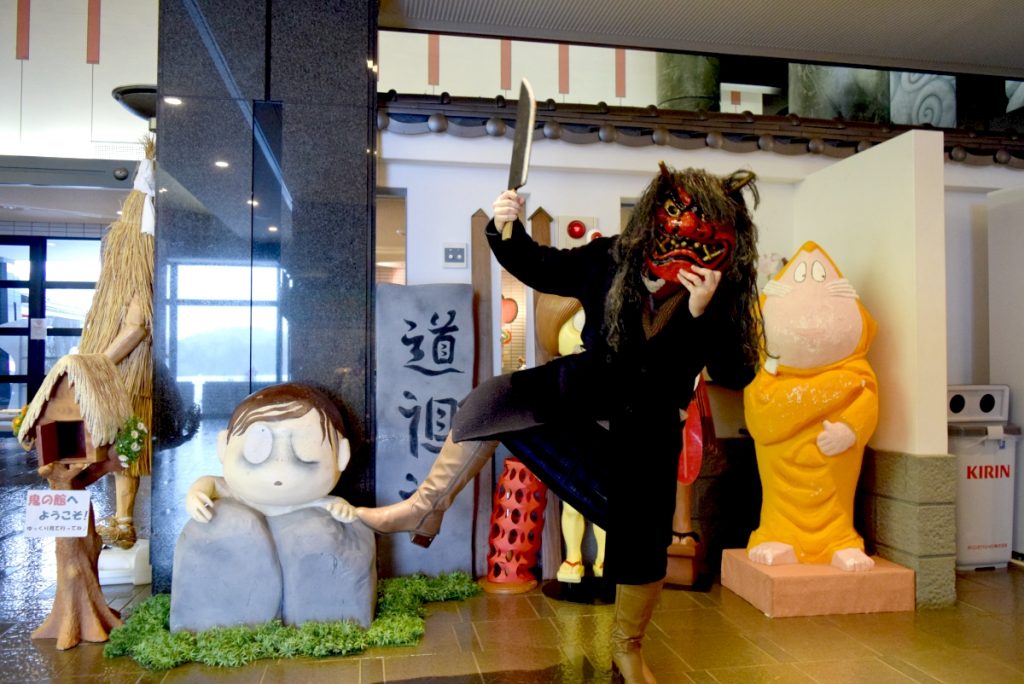 It's me! As a Namahage, the most famous type of visiting oni. These demons are found on the Oga peninsula in Akita Prefecture (next door to Iwate).
Onikenbai: DEVIL'S SWORD DANCE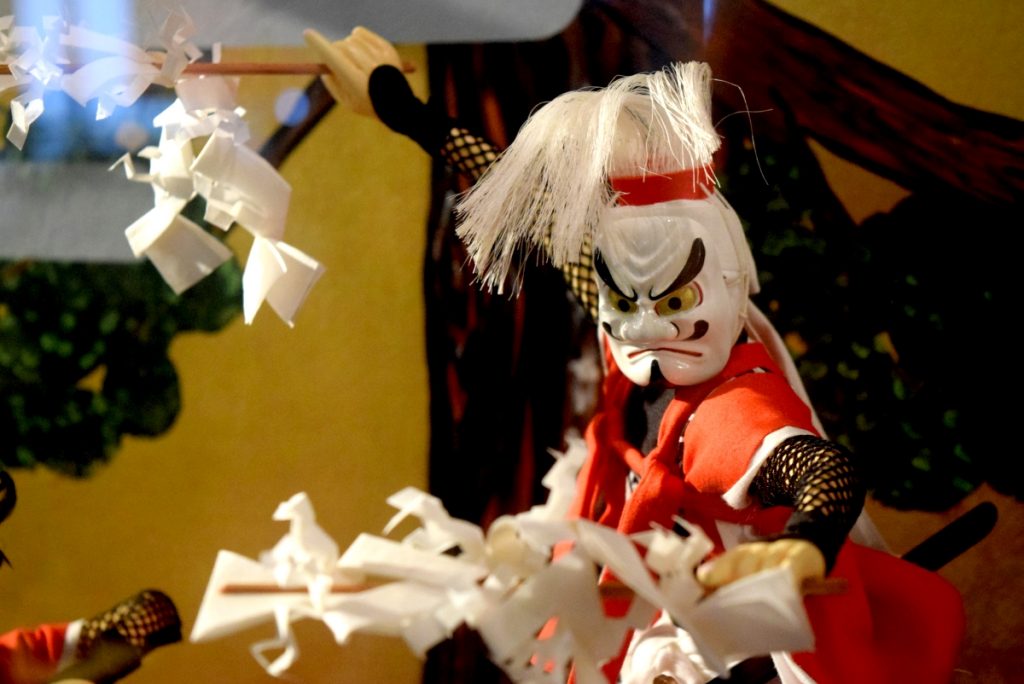 An Onikenbai figure. Local residents dress up in these costumes to perform amazing dances.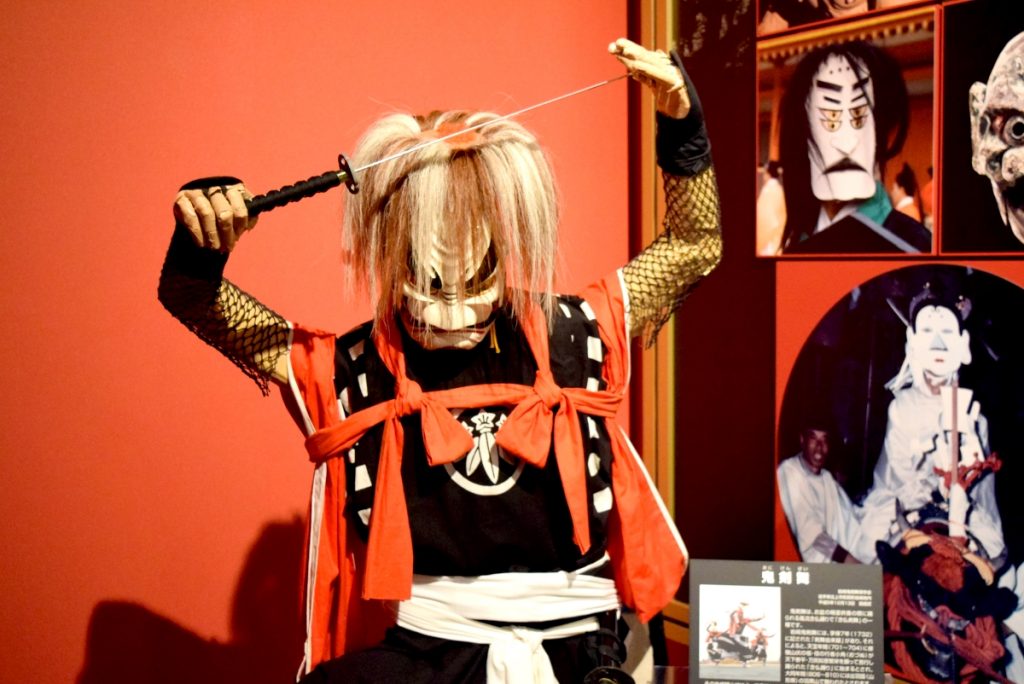 Life-size onikenbai with a sword.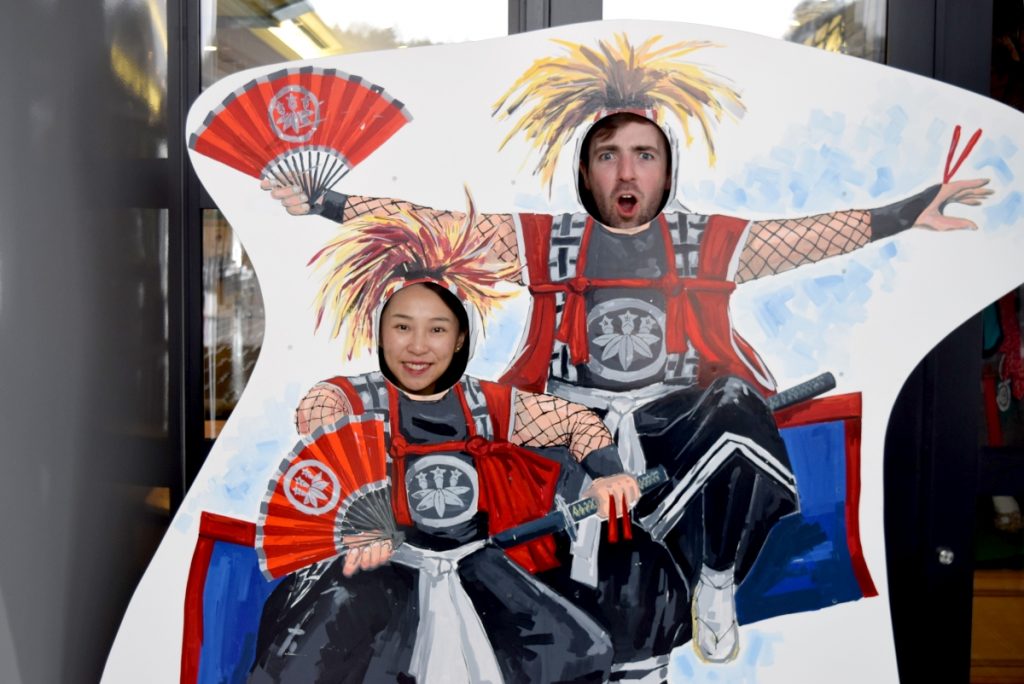 WHOAH!
TAKE THE ONI QUIZ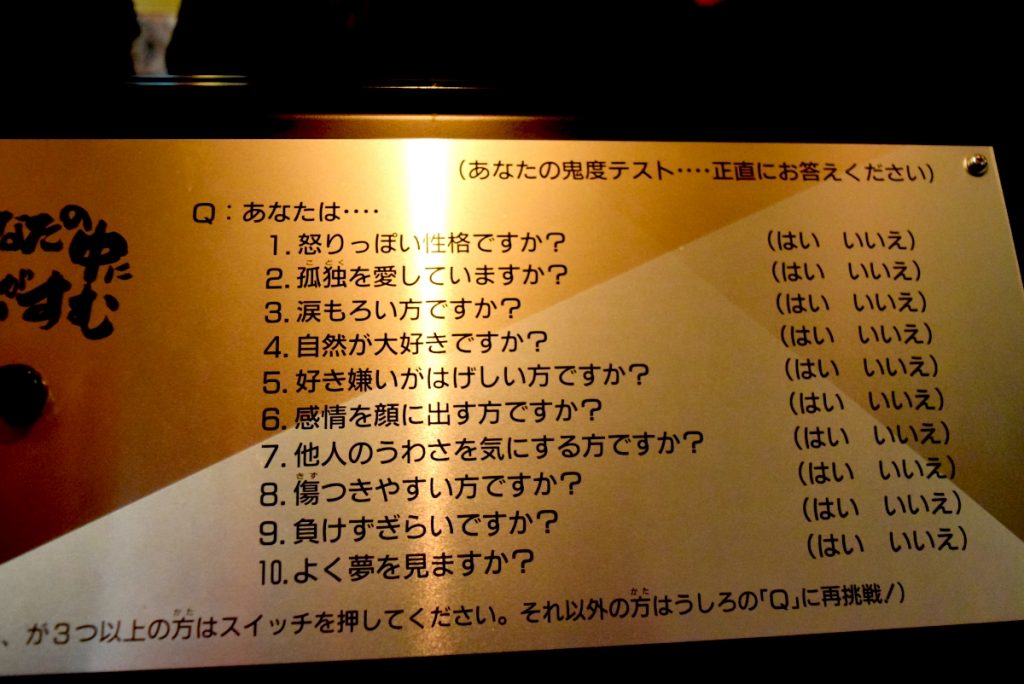 Do you…
1. Get mad easily? Y/N
2. Like solitude? Y/N
3. Easily moved to tears? Y/N
4. Like nature? Y/N
5. Have strong opinions on what you like and dislike? Y/N
6. Show you emotions on your face? Y/N
7. Like to gossip about others? Y/N
8. Get offended easily? Y/N
9. Hate losing? Y/N
10. Have a lot of dreams? Y/N
More than 3 yesses, and you're officially an oni (welcome to the club!!).
If you're in the area for the ILC, you'll definitely want to make the trip to Kitakami City for this unique little museum!
The Oni Museum of Kitakami
Japanese name: Oni no Yakata (鬼の館)
Google maps: https://goo.gl/maps/GnJmpaACniQ2
Access:
(By public transportation)
First, get to Kitakami Station, which is accessible by both shinkansen train and the local JR Tohoku Honsen line. Take a taxi directly from Kitakami Station to the museum. Or you could transfer to the Hotto-Yuda Line, and go to Ezuriko Station, and take a taxi from there (which is a bit closer).
-Get train times at Hyperdia.com
(By car)
From the Tohoku Expressway, get off at the Kitakami-Ezuriko IC exit. The museum is about 15 minutes away (plenty of free parking available).
Hours: 9:00 to 17:00 (closed on Mondays and other select dates; please visit their website before visiting)
Admission: 500 yen for adults, 240 yen for high school students, 170 yen for junior/elementary school students
Website:
・http://www.city.kitakami.iwate.jp/docs/2014052902531/ (Unfortunately, in Japanese only)
・http://www.kitakami-kanko.jp/english/sightseeing.php?itemid=41 (English)
Japanese
北上市の『鬼の館』
伝説の鬼や妖怪を紹介する博物館

今日は、北上についてお話しします。いやっ、ILC建設候補地の北上山地ではなく、北上川でもありません(笑)。もう一つの北上・
「北上市」についてです。

北上市は、ILC建設候補地の北に位置しており、車で約1時間で行ける場所にあります。製造産業が盛んであり、新幹線の駅もあります。そして、とてもクール魅力的な施設があります。それは、『鬼の館』です。

日本の鬼について

鬼は、日本神話によく出てくる怪物であり、海外のオウガー(※1)やデーモン(※2)に似ています。この人間らしき怪物についての伝説が国内に受け継がれており、各地にそれぞれの鬼や伝説が存在しています。一般的に、鬼は赤い皮膚や角を持った怪物のように描かれます(トラ柄のパンツもはいたりすることもあります)。妖怪や魔物と同じように、よく人間を苦しめているものですたりもします。
※1:古くから伝わるおとぎ話(民話や伝承など)に登場する怪物の一種。
※2:鬼神、悪霊、悪魔。

最近は、「来訪神」という鬼が無形文化遺産としてUNESCOに登録されました。来訪神とは、鬼の恰好をしたする人が家を訪れ、幸福をもたらす行事です。また、子供が悪い子にならないように、怖い顔で子供に迎えてを叱ったりします。この習慣は、中央ヨーロッパの「クランパス」(クリスマス時期に家を訪れる怪物)に似ていると思います。

北上市は、「鬼剣舞」の伝統芸能もあり、昔から鬼が尊敬されています。鬼剣舞は重要無形文化財として指定され、各地でパーフォーマンスが開催されています。この習慣があるからこそ、北上市で「鬼の館」がつくられたかもしれません。

鬼の館へようこそ

【写真】
建物に入ると、この巨大な仮面が迎えています。私は背が小さいこともありますが、仮面の目までも手が届きませんでした。

【写真】
鬼仮面

【写真】
一般的な鬼です。 赤皮膚、黒毛、角。

【写真】
「おはようございます!!」

【写真】
手刻みの仮面から、ぬくもりが漂ってきますね。(歯が怖いけど)

【写真】
繊細な仮面。日本の鬼だけでなく、アジアや海外の鬼のことも展示されています。

【写真】
おや、河童がやってきたー!(河童も岩手の有名な伝説から由来しているという)

【写真】
クランパス(※)です!メリークリスマス
※クランパス:オーストリアやドイツなどヨーロッパ中部の民間伝承に登場する怪物。
サンタクロースのモデルである聖ニコラウスの従者として子どもたちのもとへ現れ、悪い子には罰を与えると信じられている。

【写真】
カメラのフォーカスを乱すほど花が長い(高い?)鬼

【写真】
日本各地に鬼の祭りがあるようです。北上市では、みちのく北上芸能まつりが例年8月第1週末に開催されます。

来訪神も

【写真】
無形文化遺産としてUNESCOに指定されたこれらの来訪神という鬼は、日本各地にあります。

【写真】
この来訪神は「スネカ」といいます。スネカは大船渡から来ています。(ちなみに、大船渡観光協会のツイッターがスネカの写真を掲載するたびに、「#みんなのトラウマ」というハッシュタグをつけています。)

【写真】
最も有名な来訪神・なまはげの仮面をかぶっているのは、私アマンダです!(笑)なまはげは、岩手県の隣の秋田県男鹿半島にあります伝わる鬼です。

鬼剣舞

【写真】
鬼剣舞の人形。地元の方もこんな格好をしてインパクトのあるダンスをします。

【写真】
剣持のリアルサイズの鬼剣舞。

【写真】
うぉおおお!

鬼度テスト

【写真】
あなたは…
1. 怒りっぽい性格ですか?(はい いいえ)
2. 孤独を愛していますか?(はい いいえ)
3. 涙もろい方ですか?(はい いいえ)
4. 自然が大好きですか?(はい いいえ)
5. 好き嫌いが激しいかたですか?(はい いいえ)
6. 感情を顔に出す方ですか?(はい いいえ)
7. 他人のうわさを気にする方ですか?(はい いいえ)
8. 傷つきやすい方ですか?(はい いいえ)
9. 負けず嫌いですか?(はい いいえ)
10. よく夢を見ますか?(はい いいえ)

「はい」、が3つ以上の方は鬼なんだそうですですよー。(鬼の世界へようこそ)

ILCの視察等で近くに来る方は、ぜひぜひ北上市のこのユニークな博物館にお越しください!

鬼の館
グーグルマップ: https://goo.gl/maps/GnJmpaACniQ2

アクセス:
(公共交通機関)
新幹線で、JR北上駅にたどり着きます。北上駅から、あるいは、JRほっとゆだ線に乗り継いで最寄りのJR江釣子駅に行ってから、タクシーでお越しください。
時刻表はHyperdia.comへ 。

(車)
•東北自動車道「北上江釣子I.C.」より15分 (無料駐車場あり)

開館時間:午前9時から午後5時まで(休館日は毎週月曜日。他の休館日もあるため、訪問する前にホームページをご確認ください)

観覧料:一般500円、高校生240円、小中学生170円

ホームページ
・http://www.city.kitakami.iwate.jp/docs/2014052902531/ (日本語のみ)
・http://www.kitakami-kanko.jp/english/sightseeing.php?itemid=41 (英語)

【写真】
鬼の館(外)