Like any other red-blooded American millennial, my first real foray into Japanese culture was with the Pokémon games that were released in the late 90's. Ever since, I ventured out to other anime and games, but always kept a soft spot in my heart for those little creatures. After joining the real world, my work brought me to Iwate Prefecture, where I've stayed for many years, working on the International Linear Collider project – a huge particle physics research facility that the science community is trying to build in the Kitakami mountains of the south of the prefecture.
Well, here's a link between those two worlds: in 2012, the Pokémon Company and JR (Japan Railway) teamed up to create the Pokémon With You Train as part of its support of the areas affected by the 2011 earthquake and tsunami. And this Pikachu-themed train runs from Ichinoseki to Kesennuma, right in the heart of the candidate site for the ILC! Could it be fate?
I knew I had to try it one of these days, so I joined up with fellow Triple-A members Anna and Aimi (ie, my fellow Kitakami Times reporters) to check it out.
About the Pokémon With You Train
A Pikachu-themed train that runs on the JR Ofunato Line between Ichinoseki Station and Kesennuma Station. A one way trip lasts 2 hours, and you stop at different stations with enough time to take pictures and collect stamps for your stamp book.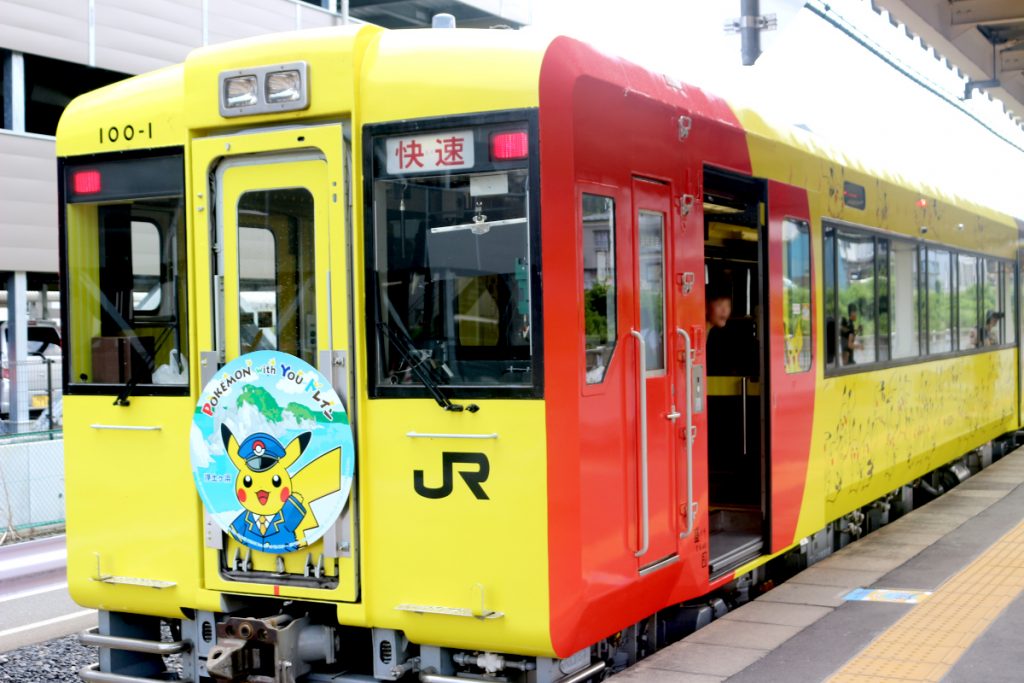 Official website (English): https://www.jreast.co.jp/e/joyful/pokemon.html
Schedule: The train doesn't run every day, but does one round-trip per day during weekends and holidays. A more detailed schedule can be found here.
Time table:
From Ichinoseki to Kesennuma:
Leaves at 11:01, arrives at 12:51
From Kesennuma to Ichinoseki:
Leaves at 14:37, arrives at 16:35
You can choose to take one leg or the whole round-trip, and even get off at other stops in between.
A more detailed time table can be found here.
Fare:
You'll have to pay the normal fare for your journey (ex: Ichinoseki Station to Kesennuma Station is 1,140 yen), plus a special train fare on top of that: 520 yen for adults, and 260 yen for children. Tickets can be bought through JR's Ekinet service online, or you can inquire at your local JR train station or travel agency (Please understand that not every place will carry Pokémon train tickets)
Map of the journey: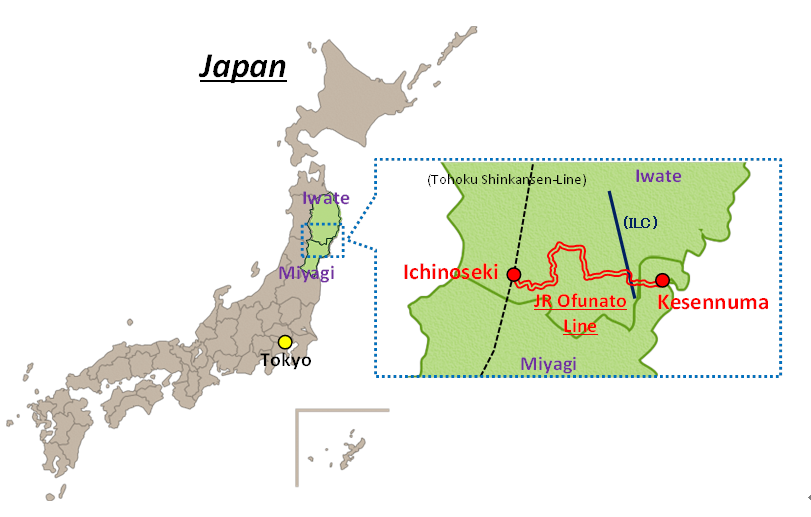 * You can take a Shinkansen train up from Tokyo Station to Ichinoseki Station in about 2 and a half hours.
What's the train like?
The train has two cars: one with seats and one that serves as a play room for the kids. The play room is filled with Pikachu plushies in a number of different sizes, some games, and a few props for taking photos (fantastic for you influencers out there). There are a few stops where you can get off to take pictures with Pokémon statues and collect stamps as well. Periodically, Pikachu jumps on the intercom to chirp its name a few times in greeting.
If you're a Pokémon fan, this would be a fun afternoon for sure! There are lots of small details around the train that were especially interesting to someone who's been a fan of the franchise for two decades. Fair warning though: the train is made for kids, so you'll probably be the only adult on there. I was pretty relieved I had brought my fellow reporters along with me, hah!
It's just a train though…
Yeah, but the train takes you to Kesennuma and Ichinoseki; both gorgeous spots with plenty of places to explore! Kesennuma is right on the coast, which means there's a ton of places to have a great seafood lunch.
More info on Kesennuma (Japan Guide)
Ichinoseki is a great hub to southern Iwate, and you can easily travel to Geibikei Gorge to ride the river boats, enjoy mochi at Genbikei Gorge, or head up to Hiraizumi to check out our World Heritage Sites in Chuson-ji and Motsu-ji Temples.
More info on Ichinoseki (Trip Advisor)
If you're a Pokémon fan and you're in the area, or if you have your kids with you, I totally recommend trying out this train. There isn't anything like it in the rest of Japan, or the world!
By the way…
Did you know that Iwate has its own Pokémon Tourism Ambassador?
Who's that Pokémon? Take a look here.
Japanese
ポケモン・ウィズユー・トレイン in いわて!
一ノ関駅~気仙沼駅の間、ピカチュウと一緒に、ポケモンスタイルで乗りましょう

私は、他の「ミレニアル世代アメリカ人」(80~90年代に生まれたアメリカ人)と同様、90年代後半にリリースされた「ポケット・モンスター(通称:ポケモン)」ゲームで初めて日本の文化に出会いました。その時から、様々なアニメを見て、ゲームをプレイしましたが、もちろん、心の底にあるポケモンへの"愛"は忘れることがありませんでした。それから、リアルワールドに卒業して(つまり、社会人になって)、仕事で岩手県に来て、ここ数年間で、岩手県の北上山地を建設候補地とされている「国際リニアコライダー」の誘致実現に携わってきました。

実は、東日本大震災復興支援事業の一環として、2012年にポケモン社とJRが連携して「ポケモン・ウィズユー・トレイン」を企画し、岩手県の一関駅から宮城県の気仙沼駅の間を走らせています。つまり、私にとって日本に興味を持ったきっかけとなった「ポケモン」と関連した電車が、ILCの建設候補地の真ん中を走っているということです!これはう、う、運命でしょう?

せっかくだから私も乗らなきゃ!と思い、トリプルA(KITAKAMI TIMESのレポーター3名)の私(アマンダ)、アンナさん、とあいみさんが一緒に旅に出ました。

ポケモン・ウィズユー・トレインについて
JR大船渡線の一ノ関駅~気仙沼駅を走る、ピカチュウをモチーフにした電車です。所要時間は片道2時間、5つの駅に停車し、各駅でスタンプを集めたり、写真撮影をしたりすることもできます。

【公式ホームページ(英語版)】 https://www.jreast.co.jp/e/joyful/pokemon.html

【スケジュール】毎日の運行ではありませんが、土日や祝日には、1日1往復走っています。詳しいスケジュールはこちらをクリックしてご確認ください。 https://www.jreast.co.jp/e/joyful/pokemon.html

【時刻表】
一ノ関駅~気仙沼駅
11:01出発~12:51到着

気仙沼駅~一ノ関駅
14:37出発~16:35到着

片道も往復も、途中下車も可能です。

詳しい時刻表はhttps://www.jreast.co.jp/e/joyful/pokemon.htmlでご確認できます。

【料金】
乗車券の他に、指定席料金が必要です。指定席料金はおとな520円・こども260円となります。きっぷのお求めは、JR東日本の主な駅の指定席券売機、みどりの窓口、びゅうプラザ、えきねっと、および主な旅行会社へ(一部お取り扱いしていない箇所がございます)。

【旅の地図】

※ 東京駅~一ノ関駅は、新幹線で約2時間半かかります。

ポケモントレインって、どんな感じ?

ポケモントレインは、2台の車両で構成されており、1台は指定席の列車で、もう1台は子供用のプレイルームとなっています。プレイルームには、ピカチュウのぬいぐるみやゲーム及び写真用のグッズがあります。列車は定期的に駅に停車し、ポケモンのオブジェの写真を撮ったり、スタンプラリーのスタンプを集めたりすることができます。たまに、車内放送で、ピカチュウが自分の名前を喋りながらアナウンスします。

ポケモンのファンなら、この列車の旅は楽しい1日になると思います!20年間ポケモンファンである私にとって、列車内のあちこちに、ポケモンデザインが細かく刻まれていて、とても面白かったです。ただし、この列車は確かに子供向けです。今回は1人ではなくてトリプルAで乗車してよかったです(笑)

じゃあ、ただ電車に乗るだけなのでは・・・?
それはそうですが、電車の終点は気仙沼または一関になります。どちらも、発見が多くきれいな街です!気仙沼は、沿岸にある街で、美味しい海鮮ランチを食べることができます。

気仙沼について (ジャパン・ガイド)
https://www.japan-guide.com/e/e5036.html 

一関は、岩手県南の拠点地であり、そこから猊鼻渓の舟下り、厳美渓のかっこうだんご、それから世界遺産の平泉の中尊寺・毛越寺などを見ることができます。

一関の詳しく (トリップ・アドバイザー)
https://www.tripadvisor.jp/Attractions-g1022875-Activities-Ichinoseki_Iwate_Prefecture_Tohoku.html 

ポケモンファンが来県することがあったら、絶対にこのポケモントレインをお勧めしますよ!日本では、いや、世界では、比べるものがありません!

おまけに
ちなみに、岩手県には、ポケモンの観光アンバサダーがいること、知っていますか?
だーれだ?ここでクリック!
https://soranews24.com/2019/05/15/pokemon-and-iwate-team-up-to-elect-geodude-as-the-tourism-ambassador-to-the-prefecture/