Every year on August 1-4 you will hear the constant pounding of drums throughout the city of Morioka in Iwate Prefecture. That's because the city is hosting its annual Sansa Odori Drum Festival, recognized by the Guinness World Records as the largest drum parade in the world!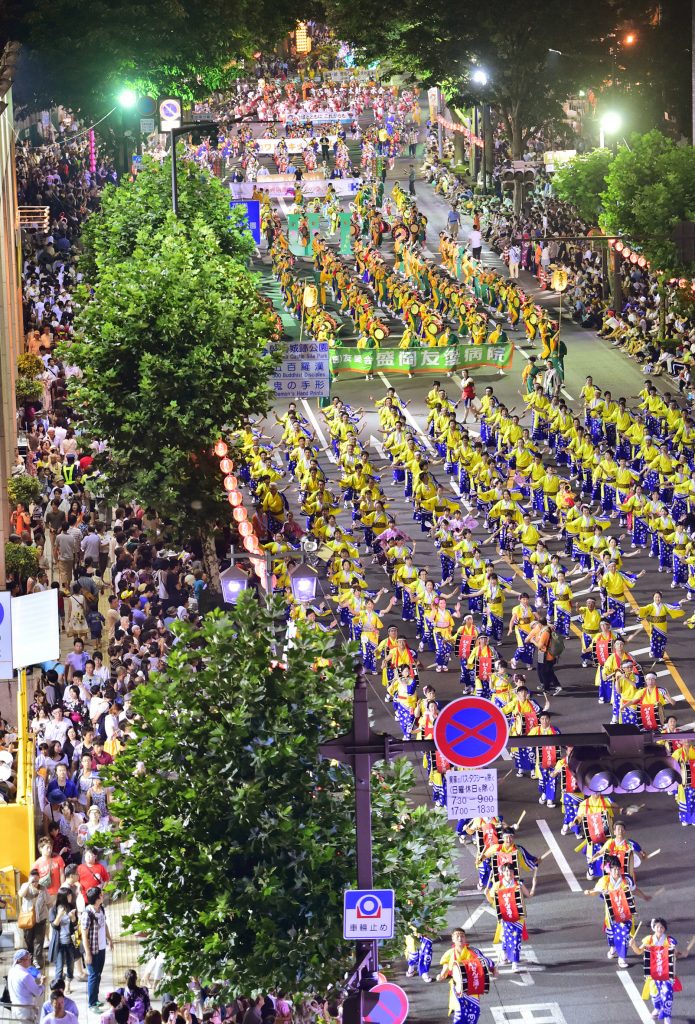 Every day from 6 p.m. to 9 p.m., drum teams march through the city with a distinctive black and red taiko drum hoisted on their shoulders. During the last hour of the parade every night, drummers and parade-goers alike gather in huge circles in the street for the Wa Odori. Anyone can join in and dance with the beat of the drums!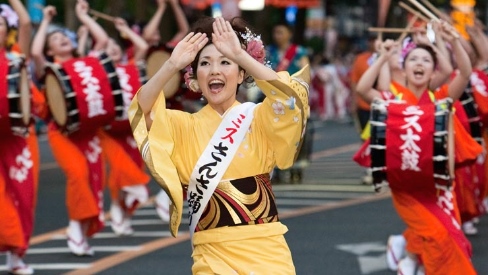 Sansa Odori is very accessible from the Tokyo area, as it takes only about 2 hours by shinkansen train from Tokyo Station to Morioka Station. From there, it's about a 20 minute walk to Chuodori Street where the parade takes place.
If you'd like to arrive early and explore the city, you can also contact the Morioka Goodwill Guides for English-speaking guides. They'll also be wandering around the parade to help out foreign tourists.
Join the parade with Iwate's ILC Office*!
*The Office of ILC Promotion of the Iwate Prefectural Government will be upgraded to the "Bureau of ILC Promotion" on August 1st, 2019. However, for convenience we've referred to it as the ILC Office below.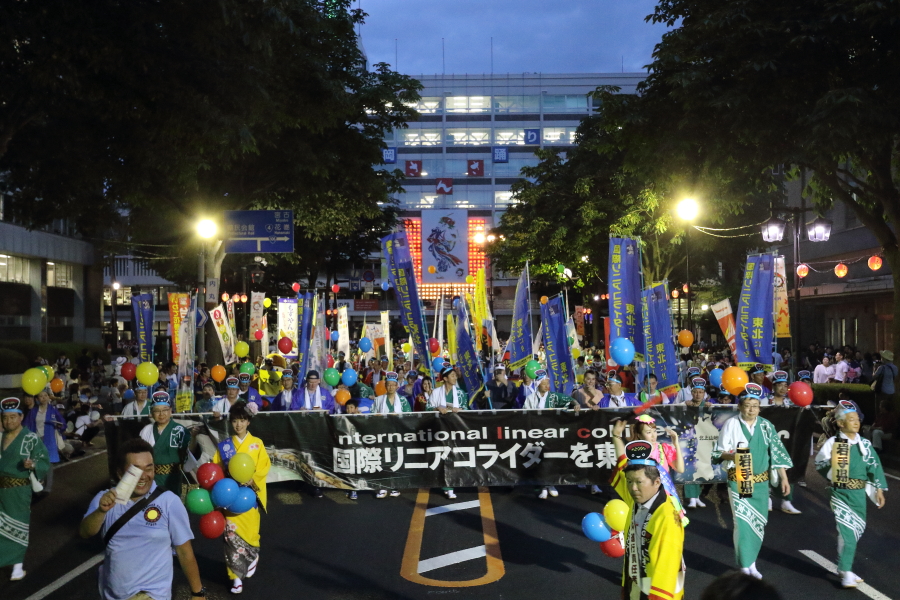 Just as they've done in the past, the Iwate ILC Office is looking for foreign residents to march with them in the parade. Do you live in Iwate? Are you interested in participating in the parade as well as getting to know the people involved with the ILC project?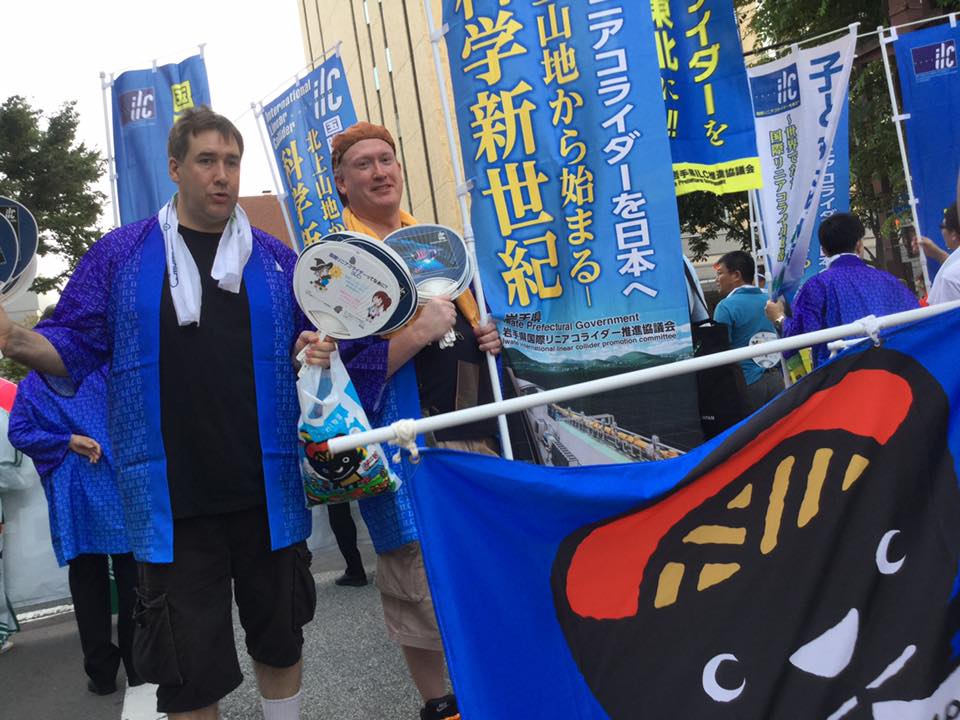 Here's this year's schedule:
Date: August 1, 2019 (Thu)
Time: Arrive by 17:30 at the ILC Office inside the Iwate Prefectural Office in Morioka City. It's on the 8th floor. (Google maps: https://goo.gl/maps/45BeW6rdnHrL5y7J6 ) We'll begin marching at about 19:30, and be done by 20:20.
This is a great chance to participate in the world's largest drum parade for those who are interested! Let us know by sending an email to AB0009(at)pref(dot)iwate(dot)jp !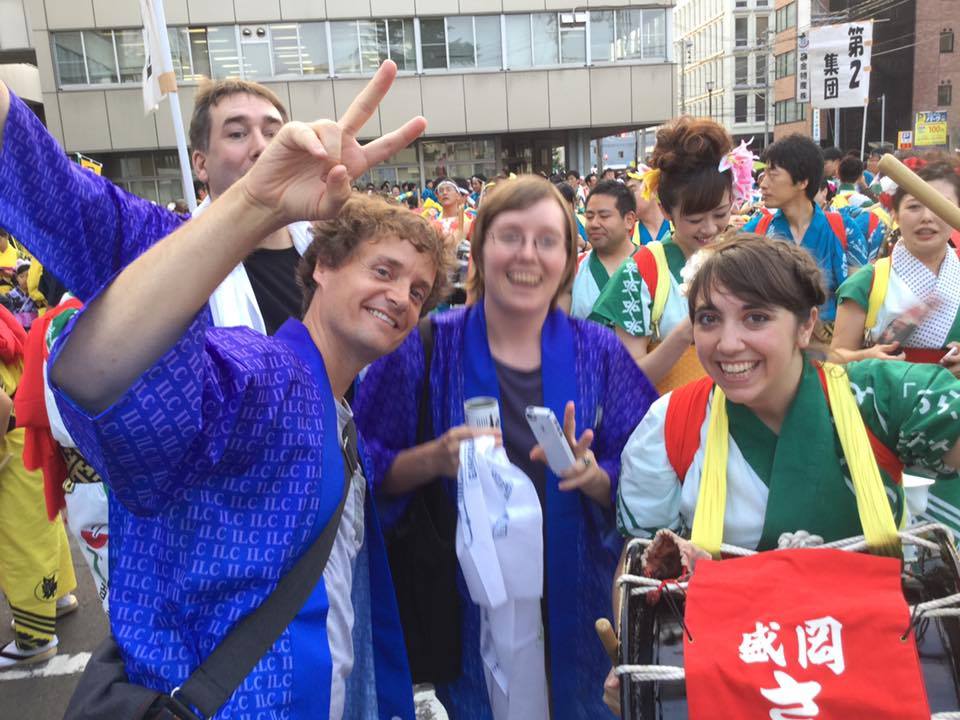 Links
Sansa Odori Drum Festival
https://visitiwate.com/article/4764
http://www.sansaodori.jp/foreign/english.php
Morioka Goodwill Guides
http://www.jnto.go.jp/eng/arrange/travel/guide/list_volunteerGuides.php
http://moriokaguide.amigasa.jp/serviceindex1.html
Check out this video of 2018's Sansa Odori!
Japanese
盛岡さんさ踊り
世界一の太鼓パレード!

毎年8月1日~4日に、絶えずに叩かれる太鼓の音が、岩手県盛岡市の至るところで聞こえます。それは、世界一の太鼓パレードとしてギネスブックに登録されている「さんさ踊り」の音なのです。

【写真】

期間中は18時から21時まで、それぞれの太鼓チームが、独特の赤黒太鼓を肩に持ち上げて、叩きながら進行します。パレードの最後の1時間は、太鼓チームも一般人も道路の真ん中に大きな輪を作って「輪踊り」をします。そして誰でも、太鼓の拍子に合わせた踊りに参加できます!

【写真】

さんさ踊りは、東京エリアからは非常に行きやすい場所で開催されます。東京駅から盛岡駅まで新幹線で向かい(所要時間約2時間)、盛岡駅から徒歩20分で会場である中央通りに着くことができます。

【地図 提供:盛岡さんさ踊り実行委員会】

早く盛岡に到着して街を楽しみたい方は、盛岡善意ガイドの会に連絡のうえ、英語ができるガイドを頼むことができます。さんさ踊り会場を回る盛岡善意ガイドの方もいますので、言葉の壁を忘れて、安心していらしてください。

岩手県ILC推進室(注)と一緒にさんさ踊りをしませんか?
(注) 岩手県ILC推進室は、組織改編により、2019年8月1日から「岩手県ILC推進局」となります。
   以下、便宜上、この文章中では「岩手県ILC推進室」と表記します。

【写真】

例年どおり、岩手県ILC推進室が、さんさ踊りに併せて実施する「ILCパレード」に参加していただける在住外国人の方を募集しています!県内のILC関係者と一緒に参加しませんか。

【写真】

今年のスケジュールは次のとおりです。

日にち: 2019年8月1日(木)
タイムスケジュール:17:30までに盛岡市の岩手県庁ILC推進室(8階)に来てください。(グーグルマップ: https://goo.gl/maps/45BeW6rdnHrL5y7J6
パレード出発は19:30で、解散は20:20を予定しています。

世界一の太鼓パレードに参加する最高のチャンス!興味のある方は、AB0009@pref.iwate.jp にメールでお知らせください。

【写真】

リンク
盛岡さんさ踊りについて
https://visitiwate.com/article/4764
http://www.sansaodori.jp/foreign/english.php

盛岡善意ガイドの会について
http://www.jnto.go.jp/eng/arrange/travel/guide/list_volunteerGuides.php
http://moriokaguide.amigasa.jp/serviceindex1.html

2018年のさんさ踊りの様子を下記の動画でご覧ください。
https://www.facebook.com/1506910249542279/posts/2466941046872523/