In July, electromagnetic horns made by Oshu company Chida Precision Products were featured on "NHK World J-Innovators." I love this story and went to their headquarters to hear the full tale. 
Chida Precision Products and FSW
Chida Precision Products was established in 1979, with headquarters and the Maesawa factory in Maesawa ward, Oshu City, and two other factories in Towa (Hanamaki City) and Otsuchi Town.
With Friction Stir Welding, or FSW, a pin moves between the places you want to join, rotating while moving forward. The materials get softened by the friction but do not melt, and merge together. The depth is adjusted by the length of the pin. Normal welding melts metal pieces and joins them together, but the material, especially thin material, warps from the heat. FSW, on the other hand, softens in just a particular spot, so it doesn't heat and warp up the surrounding area.
Other small to medium size companies were buying patented FSW machines and working with the technology that way. Chida Precision, however, got a technological patent, bought a machine called a "bridge type multi-purpose machine" that was originally for milling, lathe turning, and something called 5 spindle process, made a new head portion and experimented until that machine could perform FSW.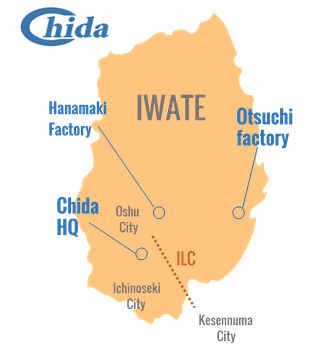 Electromagnetic Horns
Among the many facilities in J-PARC, Ibaraki Prefecture is the "Neutrino Experimental Facility." Protons are turned into a neutrino beam that is measured there, and then at another facility that is 295 kilometers away. As the protons turn into a series of particles on the way to becoming neutrinos, three progressively larger "electromagnetic horns" focus the particles while they still have an electric charge and can be affected.
The smallest horn was apparently small enough to make in-house, but Chida Precision Products was in charge of making the new medium and large horns. The horns are made of five separate parts, each one cut down into a rounded shape and then joined together using FSW. The medium horn has a diameter of 1 meter and is 2 meters long, while the large horn has a 1.5 meter diameter and is 2.5 meters long, yet both are only 3 millimeters thick (except for the joins, which are 4.5 mm).
Imagine being in charge of something much larger and more fragile than you are, that took the blood and sweat and tears of 1 1/2 years but was only as thick as two pennies.
The horns were the responsibility of Chida Precision Products until they rolled into J-PARC. As often happens with large parts, the company hired a carpenter and bought some wood and made a custom-made case to hold the horns during the long drive down. Both horns snuggled together in one large box, wrapped up and buffered by cardboard boxes, and arrived safely in J-PARC in January 2015.
Do Technicians Dream of Electromagnetic Horns?
The story of how Chida Precision Products was entrusted with making the horns started at an expo in Tokyo. KEK was looking for a way to have the electromagnetic horns be manufactured entirely in Japan for the first time and asked another company to make the blueprints and search for someone that could perform FSW. This company met Chida Precision Products at an expo and had them make some parts using the technology. Then, the electromagnetic horn blueprints came out.
Chida Precision Products had worked on flat surfaces many times, but the horns were curved and three dimensional. How would this work on such a big, curved thing? How would they make the clamps? How would they make sure that big of a product didn't move around, and yet keep the places that needed to be joined accessible? How would they design the jig?
Director Yukie Chida recounted as follows: "The first blueprint came, and when [our employees] looked at it, they said, 'We don't think we can do this. No matter how you think about it, it's not possible.' But our president (Ms. Chida's father) is not the kind of man who likes to say, 'we can't do it.' So we said yes."
Making the horns took 1 and a half years. There were lots of sleeplessness nights. Everyone on the project, machine operators and otherwise, were experienced top level technicians, but "they really, really struggled with this, to the point where you wonder if they're going to stop coming to work. 'We can't sleep at night. When we close our eyes, we see the horn.' They were driven to the point of saying, 'we don't know how to make these,' but they accepted the order, so they had to make it."
Now 1 1/2 years later, after the completed horns were safely in J-PARC, Ms. Chida reflected on the experience with gratitude to her employees. "No product up to now has been this much of a challenge. It's our workers, but I really think they did a good job.
Made in Otsuchi
The horns themselves were actually not manufactured inland, but at Chida's coastal Otsuchi factory.
The factory is 3 kilometers away from the ocean and remained unharmed 17 years later during the 2011 Tohoku Earthquake and Tsunami, but some employees lost their lives. Most had lost their homes. The Otsuchi factory was opened up as an emergency shelter, at the most housing about 80 people, including company employees as well as local people from the area.
In that same factory, in January 2015, a proud employee stood next to the completed horns. It's just one more example of science and industry coming together to rebuild what was lost.
Japanese
地元企業の挑戦 ~電磁ホーンの製造について~

千田精密工業は、岩手県の奥州市に本社があり、花巻市と大槌町にも工場がある地元の企業です。同社は、ILCの技術開発を進めるKEK※が運用する加速器実験施設「J-PARC」(茨城県東海村)において、「ニュートリノ」の生成に用いられる電磁ホーンの製造を担当しました。

電磁ホーンの製造には、高度な切削加工と接合技術が求められ、同社は幾度も試行錯誤を重ね、摩擦撹拌接合(FSW)の機械を開発しました。

機械のオペレーターらは、経験豊富な技術者でしたが、開発には大変苦労し1年半かかりました。受注した以上は作りあげる、それが使命でした。 

1年半後、完成した電磁ホーンが無事にJ-PARCに届き、平成27年1月には、工場の従業員が完成した電磁ホーンの隣で誇らしく立っていました。同社のILCにも通じる高度な技術への挑戦は、ILCの実現にも大いに役立つでしょう。

※高エネルギー加速器研究機構、茨城県つくば市