This article was written by the Morioka Regional Development Bureau of Iwate Prefecture, and translated by Amanda Wayama.
Right now, the mountains are full of the leaves all starting to turn fall colors, but once you start to see the autumn leaves in the city, the mountains will already have seen their first dusting of snow.
1. Skiing
Iwate's winters are cold, with lots of snow. But that's why we have so many things to look forward to in the wintertime – for instance, skiing. In Iwate, there are a number of ski resorts, including some that are very popular with foreign guests including Appi Kogen, Shizukuishi, and Geto Kogen.
From Morioka City, the capital of Iwate, the closest ski slope is the Shizukuishi Ski Resort, about 40 minutes away by car. That's right – here in Iwate, you only need a day trip to enjoy the slopes. For someone who loves to ski or snowboard, this is a wonderful place to live –people have even moved here in order to ski to their heart's content!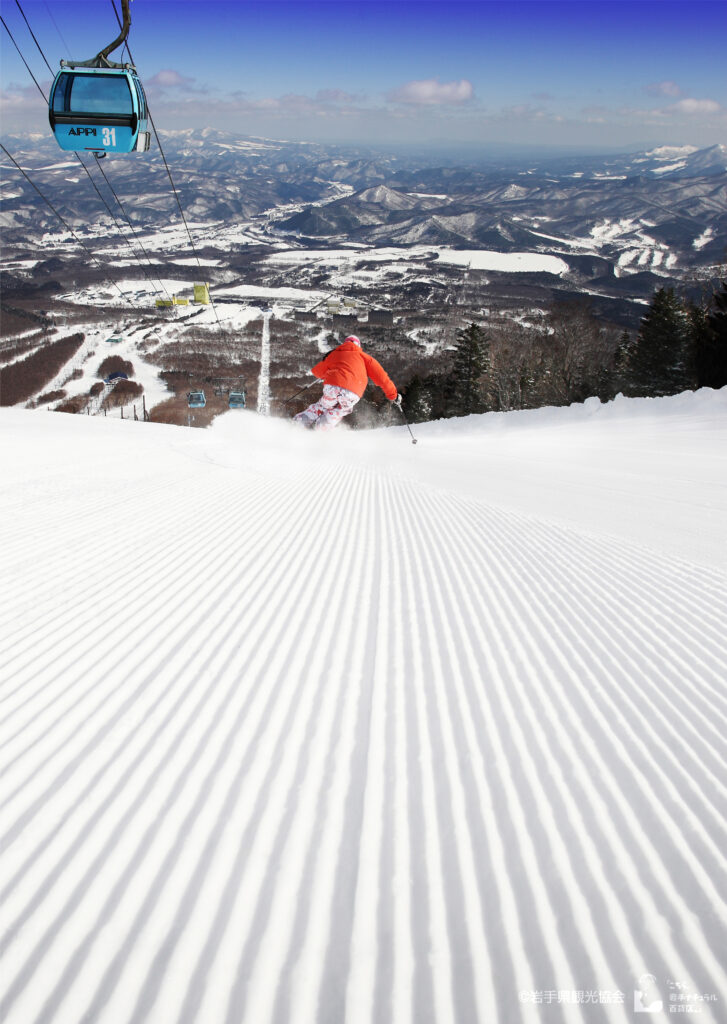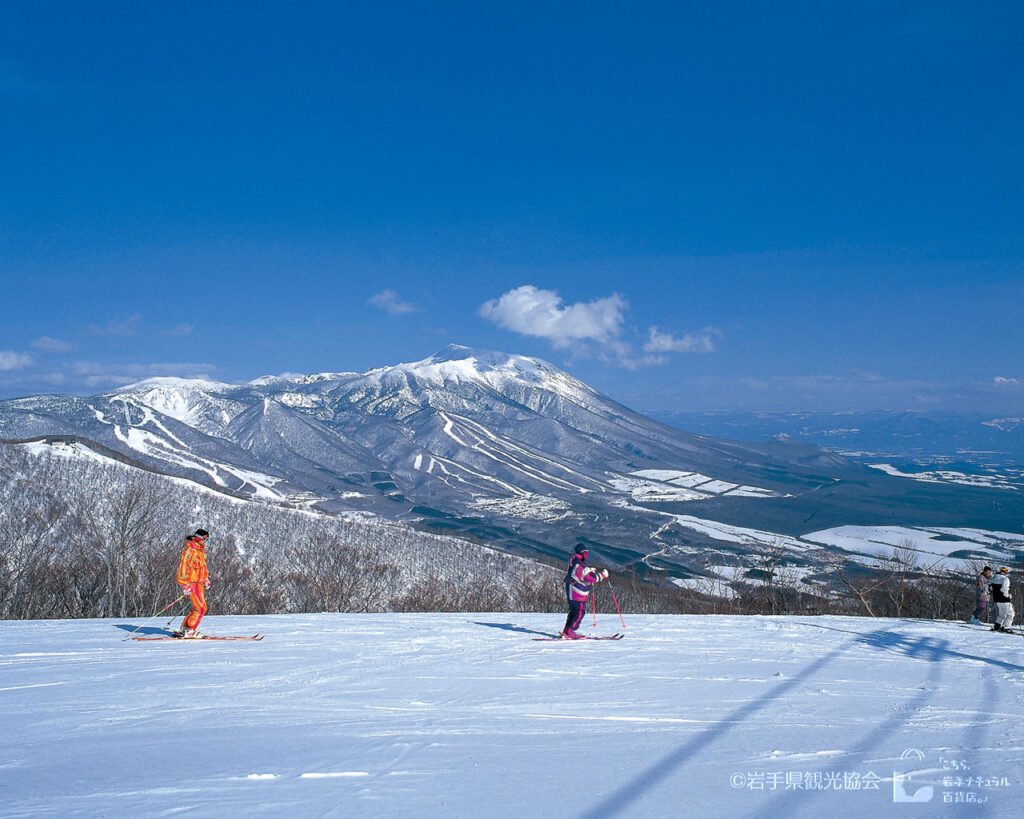 (Pictures: (Up) Appi Kogen Ski Resort in Hachimantai, (Down) Shizukuishi Ski Resort in Shizukuishi Town)
What we're most proud of is our powder snow. It is the best feeling in the world to ski down one of these slopes, the wind in your face, and this powdery winter wonderland stretching before your eyes.
While of course there are many beginner courses, there's plenty for advanced skiiers to enjoy – like non-compacted snow and tree run zones. You can rent equipment at the ski resorts, so if you visit Iwate in the winter, how about trying out some of the best our slopes have to offer?
These resorts also have great food, like some world-class ramen noodles. It's also a fantastic idea to pop into the hot springs after your ski to soothe any aching muscles.
2. Snowshoe Trekking
If you enjoy mountain hikes and walks, then you can try the trekking courses on our winter mountains.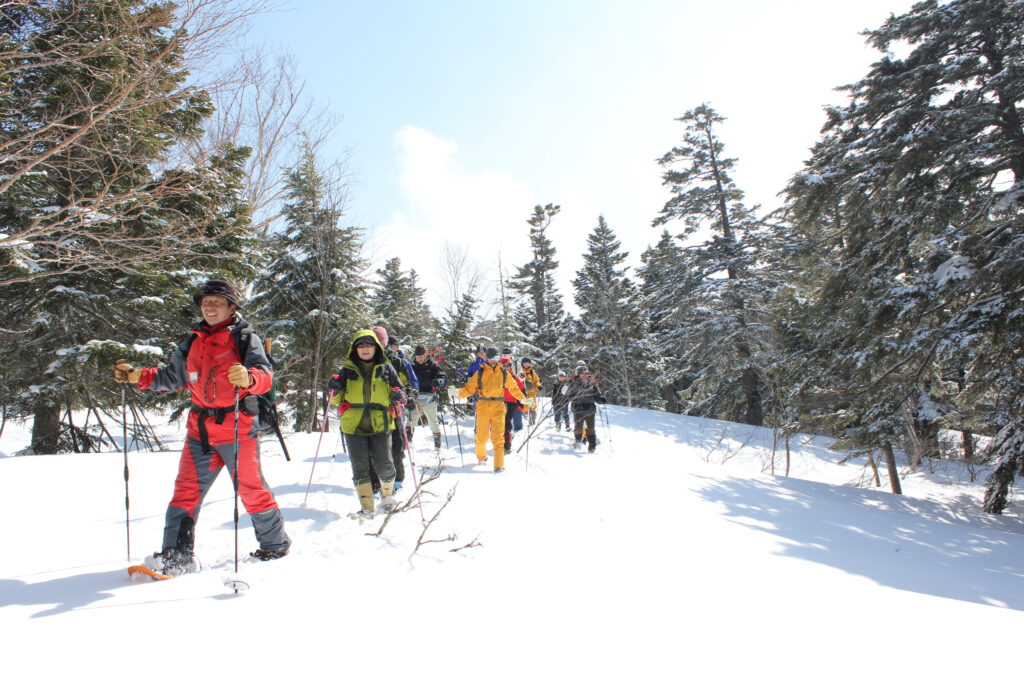 (Picture: Appi Kogen Snow Trekking Course)
Normal boots and shoes will sink into the snow, which is why we use walking skis or snowshoes (or even traditional Japanese snowshoes called "kanjiki").
The weather can change on a dime in the winter mountains, so you must prepare yourself – beginners should go with experienced friends or a guide. (The ski resorts have guided tours available)
3. Awesome photos for your Instagram
In the mountains of Iwate, you'll be treated to these winter sights: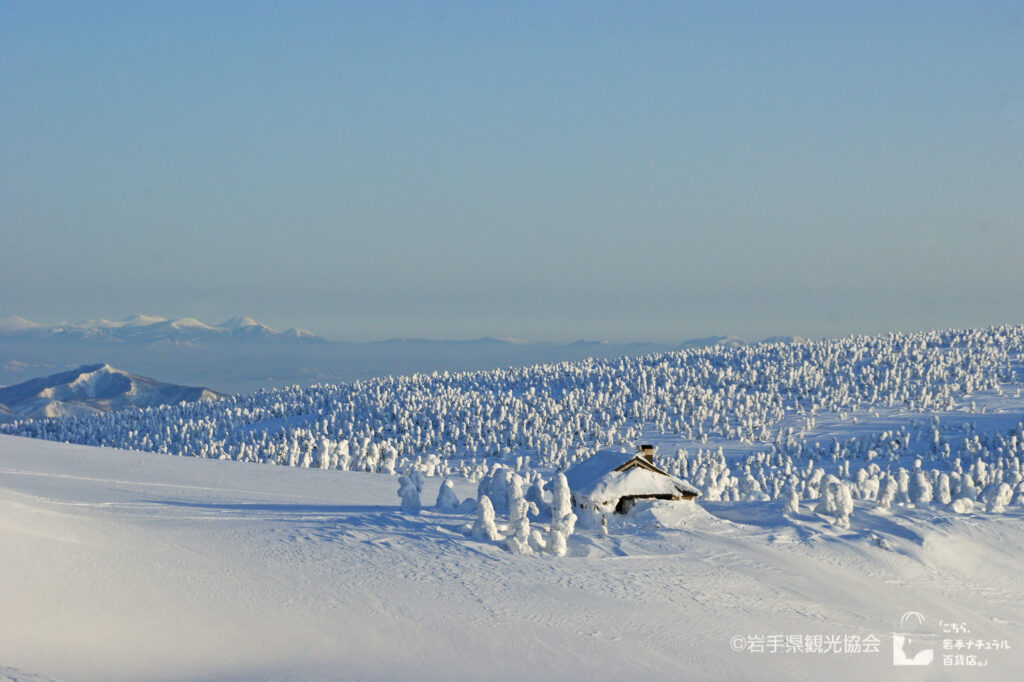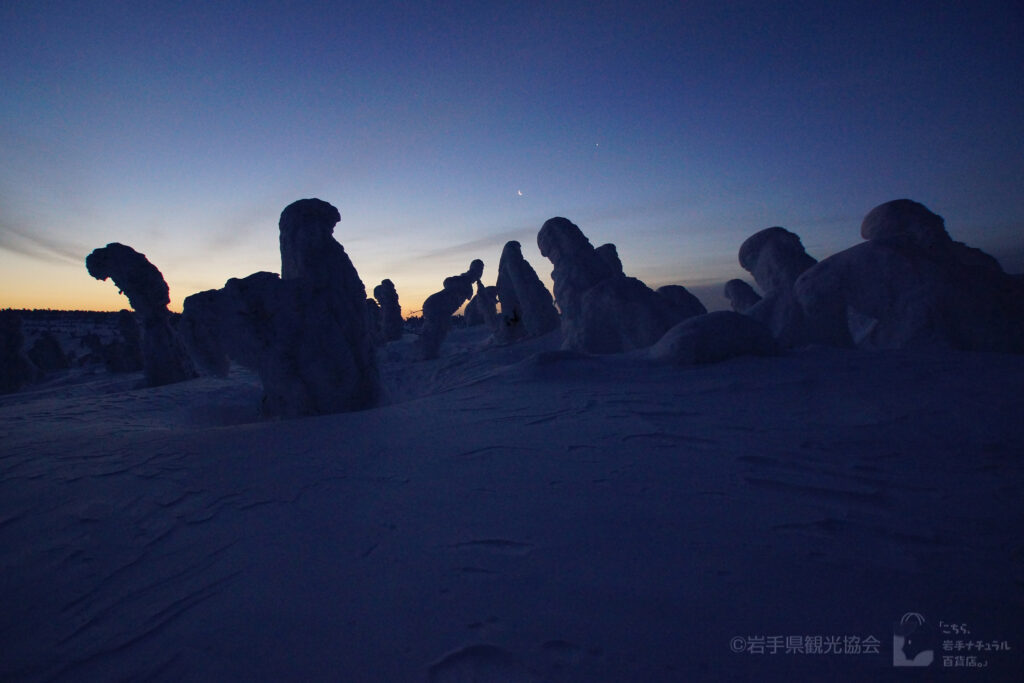 (Pictures: "Snow monsters" in Hachimantai at noon and night)
These mysterious figures kind of look like white cacti having a party, or dinosaurs marching in step with each other. This is natural phenomena called rime ice, where water vapor from the atmosphere clings to trees and then freezes. Those white cacti are actually trees. Pretty interesting, right?
Iwate's winters are cold, but as I've shown, there's so much to enjoy during the season.
I hope you'll get to experience it yourself one day!
Ski Kingdom Iwate (Iwate's ski resorts) *Sorry, in Japanese only
http://www.iwate-ski.gr.jp/index.html
Visit Iwate (Iwate's multilingual tourism portal)
Japanese
「寒い寒い冬の山のお楽しみ」

 紅葉は、山から里に降りてきます。紅葉が街中で見られるようになると、山は雪化粧を始めます。
 岩手の冬は寒く、雪もたくさん降りますが、雪があってこその「冬のお楽しみ」の一つが、スキーです。
 岩手には、安比高原、雫石、夏油高原など、外国人にも人気のスキー場があります。
県庁所在地の盛岡市から一番近い雫石スキー場は、盛岡駅から車で40分。地元では、日帰りでもスキーを楽しみます。スキーがしたくて移り住む人もいるほど、好きな方には素晴らしい環境ですよ。

(写真左:安比高原スキー場(八幡平市)、写真右:雫石スキー場(雫石町))

自慢は、何といってもパウダースノー。眼下に広がる銀世界を、風を感じながら滑り降りるときの気分は、最高です!
 初心者はもちろん、非圧雪やツリーランゾーンなど上級者向けのコースが用意されているスキー場もあります。道具のレンタルも可能ですので、冬の岩手に来た際は、一度チャレンジしてみてはいかがでしょうか。
 スキー場には、ご自慢のラーメンをはじめそれぞれ名物料理もありますし、スキーの後は、温泉入浴がお勧め。寒さでこわばった体が溶けてしまいそうになり、癒されます。
 山歩きが好きな方には、冬山のトレッキングコースもあります。

(写真:安比高原のスノートレッキングコース)

 雪の上を靴で歩くと足が埋まってしまうので、歩くスキーやスノーシュー(かんじき)をはいて雪山を歩きます。
 冬の山は天候が急に変わることもありますので、準備を十分にし、初心者は経験者やガイドと一緒に行ってください。スキー場などでは、ガイドツアーも開催されています。

 冬の山は、こんな光景も創り出します。

(写真:八幡平市の樹氷(昼、夜))

 真っ白いサボテンがお祭りをしているような、恐竜が首を並べているような、不思議な光景です。
 大気中の水蒸気が樹木に付着して凍るとできる、「樹氷」と呼ばれる現象です。写真の白いサボテンの中身は、木なんです。面白いですよね。

 岩手の冬は寒いですが、今回紹介した他にも、寒いからこそのお楽しみがたくさんあります。
 ぜひ皆さんにも体験していただきたい、冬ならではのお楽しみです。

スキー王国いわて(岩手県のスキー場紹介サイト) ※日本語のみ
http://www.iwate-ski.gr.jp/index.html

「いわての旅」(岩手県の観光ポータルサイト)
https://iwatetabi.jp/index.php