About an hour and a half from the ILC candidate site in the Kitakami mountains lies the city of Kamaishi on the Pacific Coast of Iwate. Kamaishi is known for its iron and steel manufacturing base, its delicious seafood, and its history as a rugby town (it served as home base for a successful team in the 70s and 80s). With its mix of history and culture, it's a fantastic choice to spend a weekend, and they've also been working hard to make the city more user-friendly for foreign tourists.
I've had a ball every time I've been to Kamaishi, but this time, I knew I had to try out their rental bicycles!
Renting a bike in Kamaishi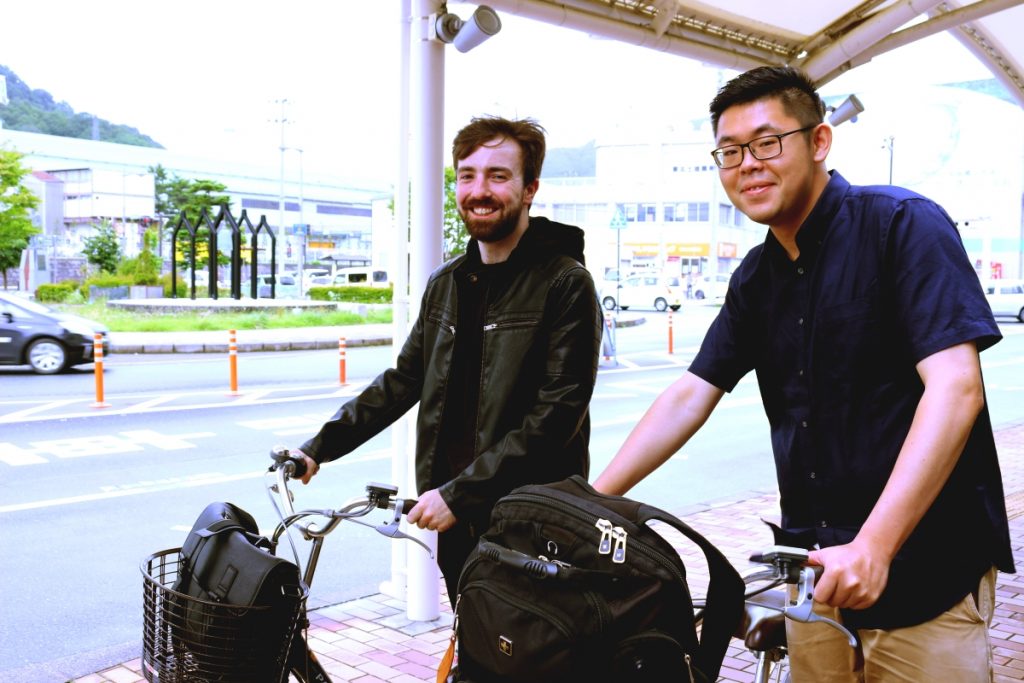 There is public transportation available in Kamaishi, but you can also rent a bicycle with an electric-power assist function that will allow you to zip around town. Kamaishi has quite a few hilly roads, but the electric battery will kick in to give you some extra oomph to climb those inclines. It was much easier than expected to get through town!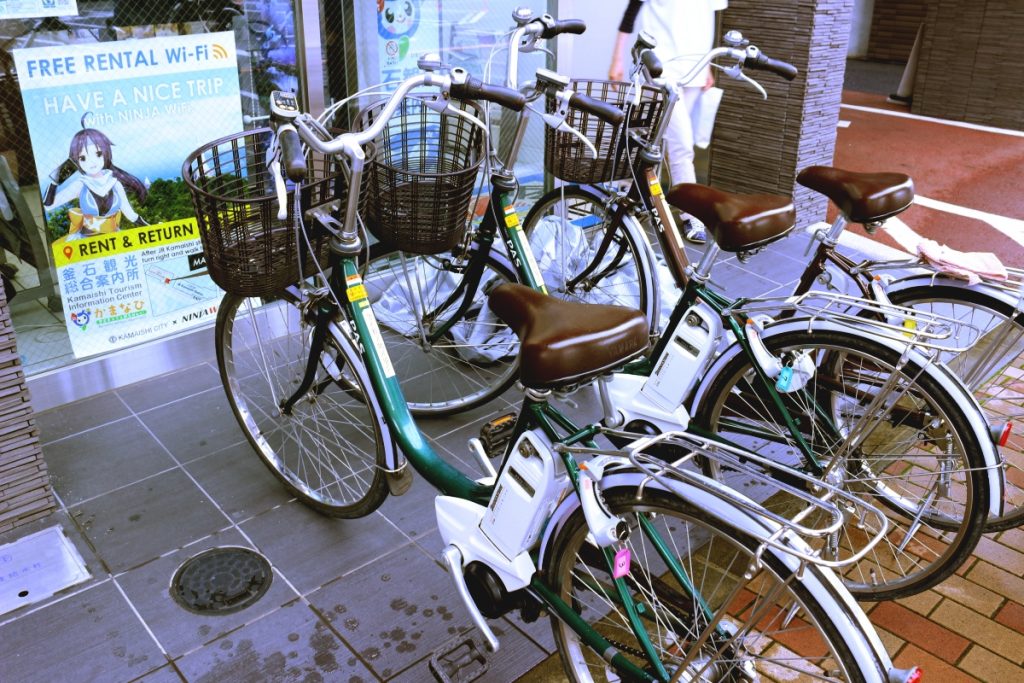 Where: Kamaishi Tourism Association (right next to Kamaishi Station). The Tourism Association is located next to the entrance to the Hotel Folkloro Sanriku Kamaishi.
Google maps: https://goo.gl/maps/mbDYqQM9Q8E7HNjK6
How much: 500 yen to rent the bike for the whole day (anytime between 9:00-17:00)
Reservations: You don't need to reserve ahead of time, but they only have about 8-9 bikes available, so you can contact them ahead to make sure you get one.
TEL: 0193-22-5835
Email: kamaishi-kankou@bz04.plala.or.jp
Some places to check out by bike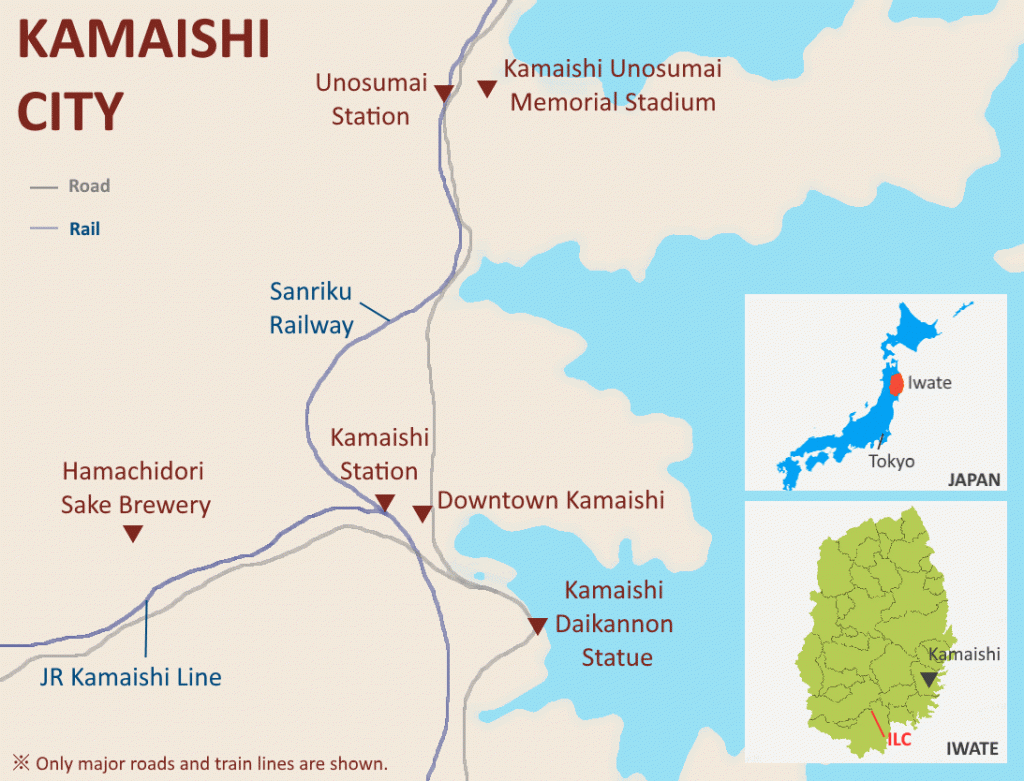 Once you've hopped on the bike, here's a few places to check out in the city.
Kamaishi Daikannon Statue
(30 min by bike)
Google maps: https://goo.gl/maps/GVTWSSbVnEKeEpWHA
Daikannon is the name of a protective Buddhist deity, and this statue is perched on top of a cliff, overlooking and protecting the bay of Kamaishi. There are stairs inside that will take you up to the top – one of the highest views in the city!
Admission: 500 yen
More information: https://visitiwate.com/article/4744
Downtown Kamaishi for lunch
(10 min by bike)
Google maps: https://goo.gl/maps/WMRw25KBG68s18gc7
This area is a short jaunt away from the station, and has lots of restaurants serving things like Kamaishi-style ramen, kaisen-don (rice topped with fresh seafood), and even a Miffy café dedicated to the famous rabbit character.
Hamachidori Sake Brewery
(30 min by bike)
Google maps: https://goo.gl/maps/BHdAviFg15LEKE836
Kamaishi's own local sake brewery. Hamachidori has won numerous awards domestically and internationally, but has never forgotten its roots as a sake maker beloved by the people of Kamaishi.
More information: https://www.japansake.or.jp/tourism/contents/ja/iwate/8362.html
(Sorry, information on tours are in Japanese only for now. However, the brewery does have an English-language video available to explain sake-making to foreign guests. You can try reaching them directly at info(at)hamachidori(dot)net )
Unosumai Tomosu Park (near Unosumai Station)
(1 hour by bike)
Google maps: https://goo.gl/maps/LQQ37nd3yZW4VW1G7
This area, right next to Unosumai Station on the Sanriku Railway, has a museum dedicated to the 2011 tsunami disaster, as well as a park and store carrying local goods and souvenirs. It's also only a few minutes' walk from the Kamaishi Unosumai Memorial Stadium, home to the Rugby World Cup 2019™.
More information: https://unosumai-tomosu.jp/ (Sorry, in Japanese only)
…and speaking of the Rugby World Cup:
Rugby World Cup 2019™ – Matches in Kamaishi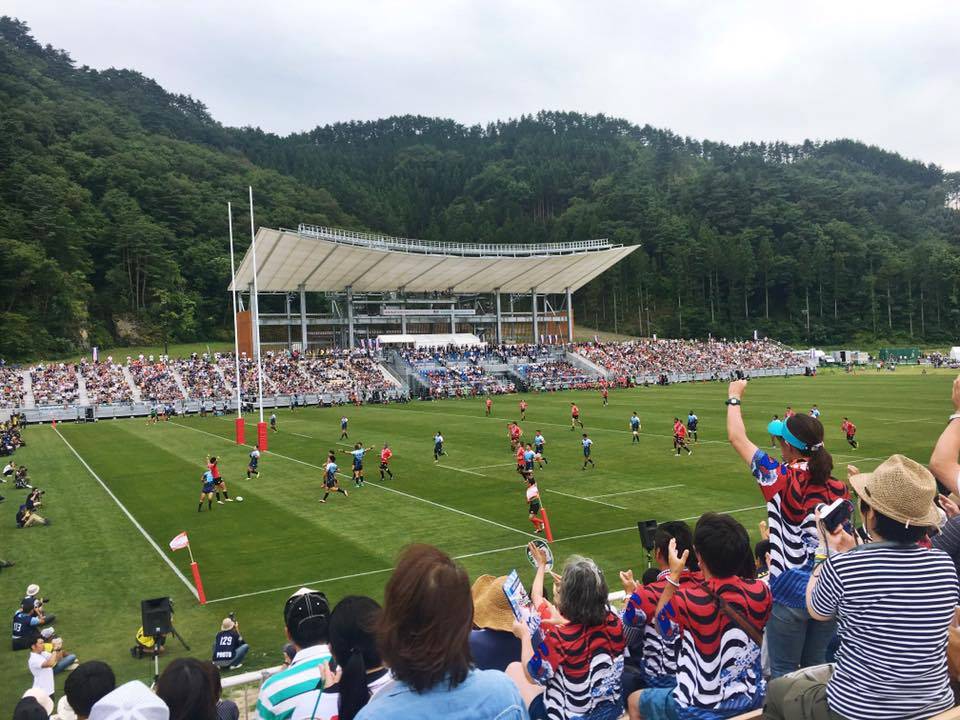 Kamaishi has been selected as one of the host cities for the Rugby World Cup 2019™, and the city is buzzing with energy as it prepares for the games. Join us for the scrum this autumn!
Learn more:
https://www.rugby-iwate.kamaishi.pref.iwate.jp/en/index.html
Matches:
1) September 25, 2019 (Wed)
Fiji vs Uruguay
2) October 13, 2019 (Sun)
Namibia vs Canada
Japanese
釜石で「自転車でGO!」
ラグビーワールドカップ2019開催期間中、そしてその後も、電動アシスト付き自転車をレンタルしていきましょう!

ILC建設候補地の北上山地から1時間半離れているのが、「自然に恵まれた魚の街」「近代製鉄発祥の街」そして「ラグビーのまち」として知られている、岩手県沿岸部の釜石市。近年、釜石市は外国人観光客の受入態勢の整備にも取り組んでおり、文化と歴史が色づいている釜石で、楽しいウィークエンドを過ごしませんか?

私は、釜石に行くたび、毎回楽しく時間を過ごしていますが、今回はぜひレンタル自転車をトライしてみたいという気持ちで、足を運ばせていただきました。

釜石で自転車をレンタル

釜石では、公共交通機関の他に、電動アシスト機能付きの自転車をレンタルし、素早く街中で移動することもできます。市内の道路にはきつい坂道がありますが、その際、電動アシストが機能し、登るための力を貸してくれます。思ったより、簡単に走らせました!

【レンタル先】 釜石観光物産協会(釜石駅周辺)※当協会は、ホテルフォルクローロ三陸釜石の入り口の隣にあります。
【グーグルマップ】https://goo.gl/maps/mbDYqQM9Q8E7HNjK6
【価格】1日/500円(9:00~17:00)
【予約について】 予約は不要ですが、自転車が8~9台しかないため、確保するために事前に予約しましょう。
【TEL】 0193-22-5835
【Email】kamaishi-kankou@bz04.plala.or.jp

自転車で行くおススメ場所

【地図】

自転車に乗ったら、次の場所に行ってみませんか?

【釜石大観音】
(自転車で30分)
グーグルマップ: https://goo.gl/maps/GVTWSSbVnEKeEpWHA
釜石湾を一望する高台に立つ、釜石大観音。中の階段で展望台まで上がると、釜石市の景色を一見でご覧できます。
入場料:500円

もっと知りたい! https://visitiwate.com/article/4744

【釜石市街地でランチ】
(自転車で10分)
グーグルマップ:https://goo.gl/maps/WMRw25KBG68s18gc7
釜石駅から数分離れている市街地です。ここには、釜石ラーメンや海鮮丼が食べられる上、ミッフィーカフェも楽しむことができます。

【浜千鳥酒蔵】
(自転車で30分)
グーグルマップ:https://goo.gl/maps/BHdAviFg15LEKE836
浜千鳥は、釜石の地酒です。国内外で多くの賞を受賞した、釜石市民に愛されている酒です。

もっと知りたい! https://www.japansake.or.jp/tourism/contents/ja/iwate/8362.html
(酒蔵のツアーの情報は、日本語のみですが、実際足を運んでいただくと、酒造りについて外国人観光客向けに英語による動画があります。詳しくは、このメールアドレスでお問合せ下さい: info@hamachidori.net )

【うのすまい・トモス(鵜住居駅周辺)】
(自転車で1時間)
グーグルマップ: https://goo.gl/maps/LQQ37nd3yZW4VW1G7
三陸鉄道の鵜住居駅周辺に、「いのちをつなぐ未来館」、「釜石祈りのパーク」及び特産品等を取り扱っている「鵜の郷交流館」があります。また、ラグビーワールドカップ2019™の開催地である、釜石鵜住居復興スタジアムもすぐ近くにあります。

もっと知りたい! https://unosumai-tomosu.jp/ (日本語サイト)

さて、ラグビーワールドカップと言えば…!

ラグビーワールドカップ2019™ 釜石開催

ラグビーワールドカップ2019™の開催地の一つとして、釜石市が決定されましたので、試合に向けて一生懸命準備に取り組んでいます。今秋、岩手と一緒にスクラムを組みませんか?

もっと知りたい!
https://www.rugby-iwate.kamaishi.pref.iwate.jp/en/index.html

試合について
① 2019年9月25日(水)
フィジー対ウルグアイ

② 2019年10月13日(日)
ナミビア対カナダ