Nestled in a residential area about 15 minutes away from the Iwate Prefectural Government building in Morioka is Tenmangu Shrine. Versions of this Shinto shrine can be found throughout Japan, and exist to deify the historical figure named Sugawara no Michizane, a scholar, poet, and politician of the Heian period of Japan. As a scholarly deity, people come to Tenmangu to pray to pass tests or other types of certifications. The most famous of these shinres is Dazaifu Tenmangu in Fukuoka in southern Japan, but Morioka has its own version – along with its own idiosyncratic guardian deities.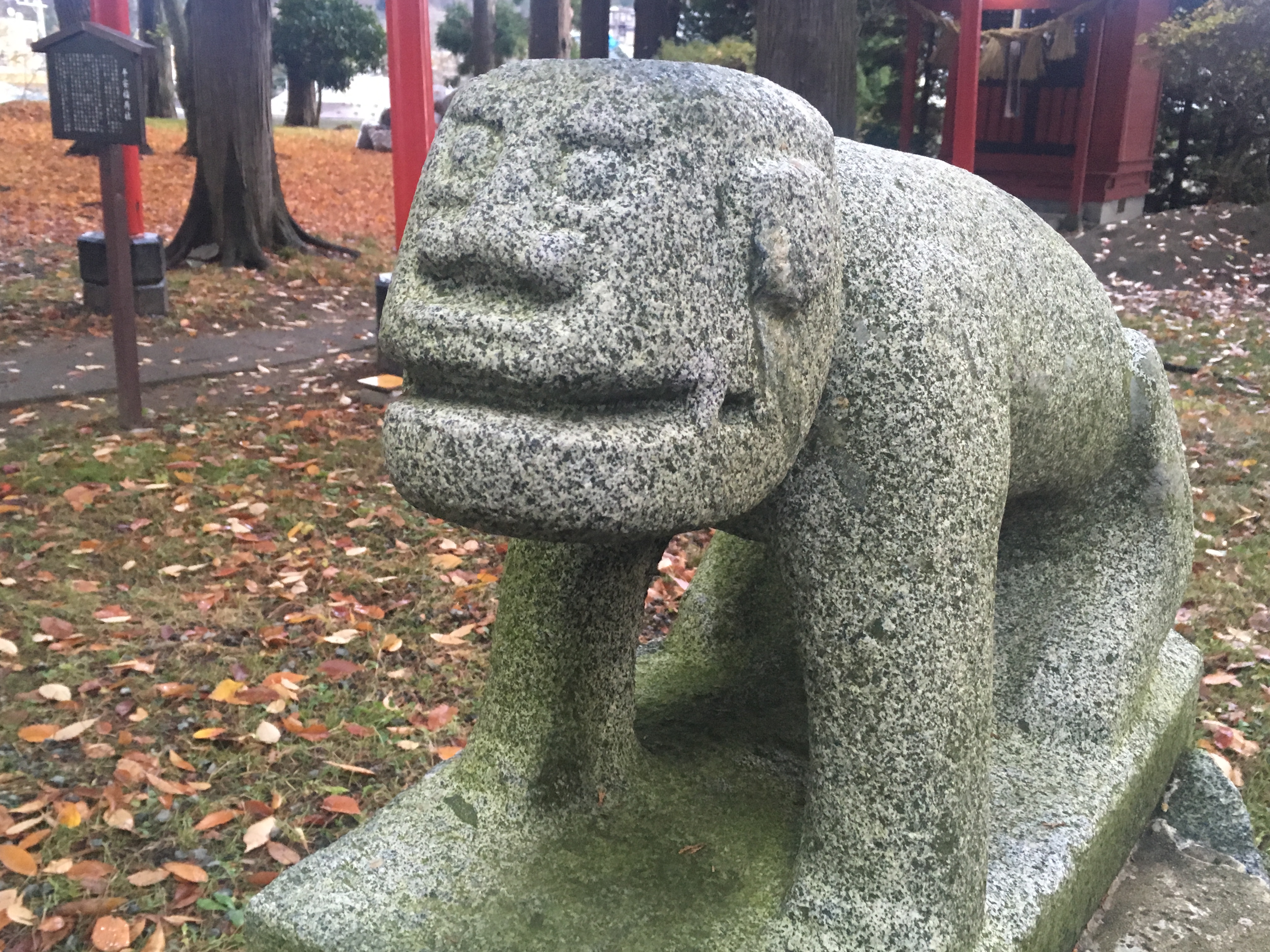 This is Agyo, with an open mouth. He represents the beginning of all things.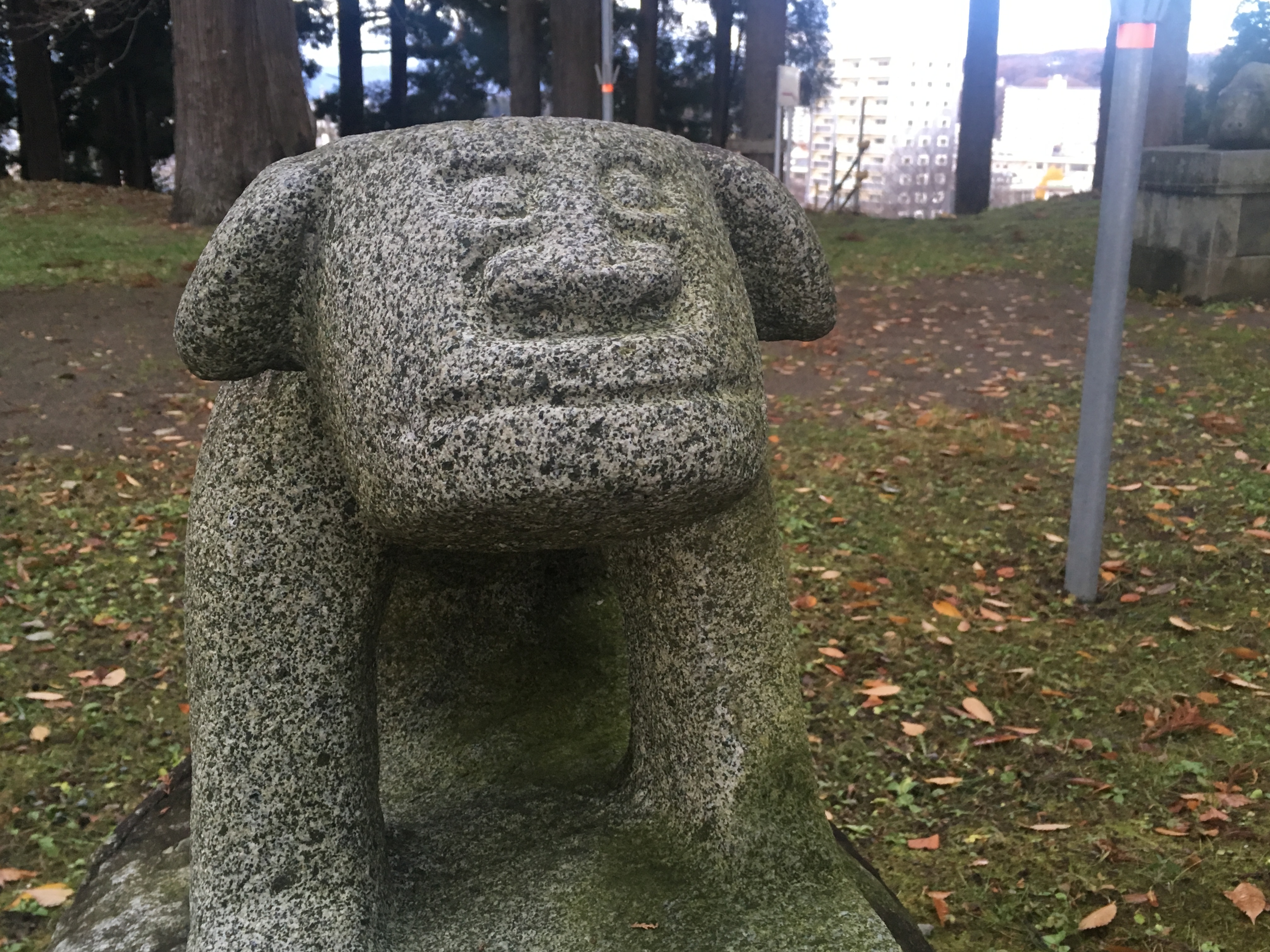 This is Ungyo, with a closed mouth. He represents the end.
You need both in this life.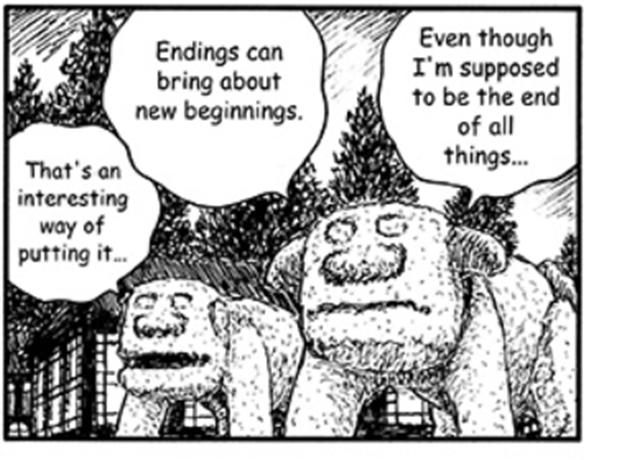 (read right to left)
From "Agyon and Ugyoh" by Oda Hideji
Read in English here: https://comiciwate.jp/foreign/agyonn_en/
These two dog statues guard over Morioka Tenmangu day and night. In fact, Agyo and Ungyo are the names of any pair of guardian statues in front of a Shinto shrine or Buddhist temple. Usually they're represented by towering swole dudes, but at Morioka Tenmangu they're just two strange little doggos.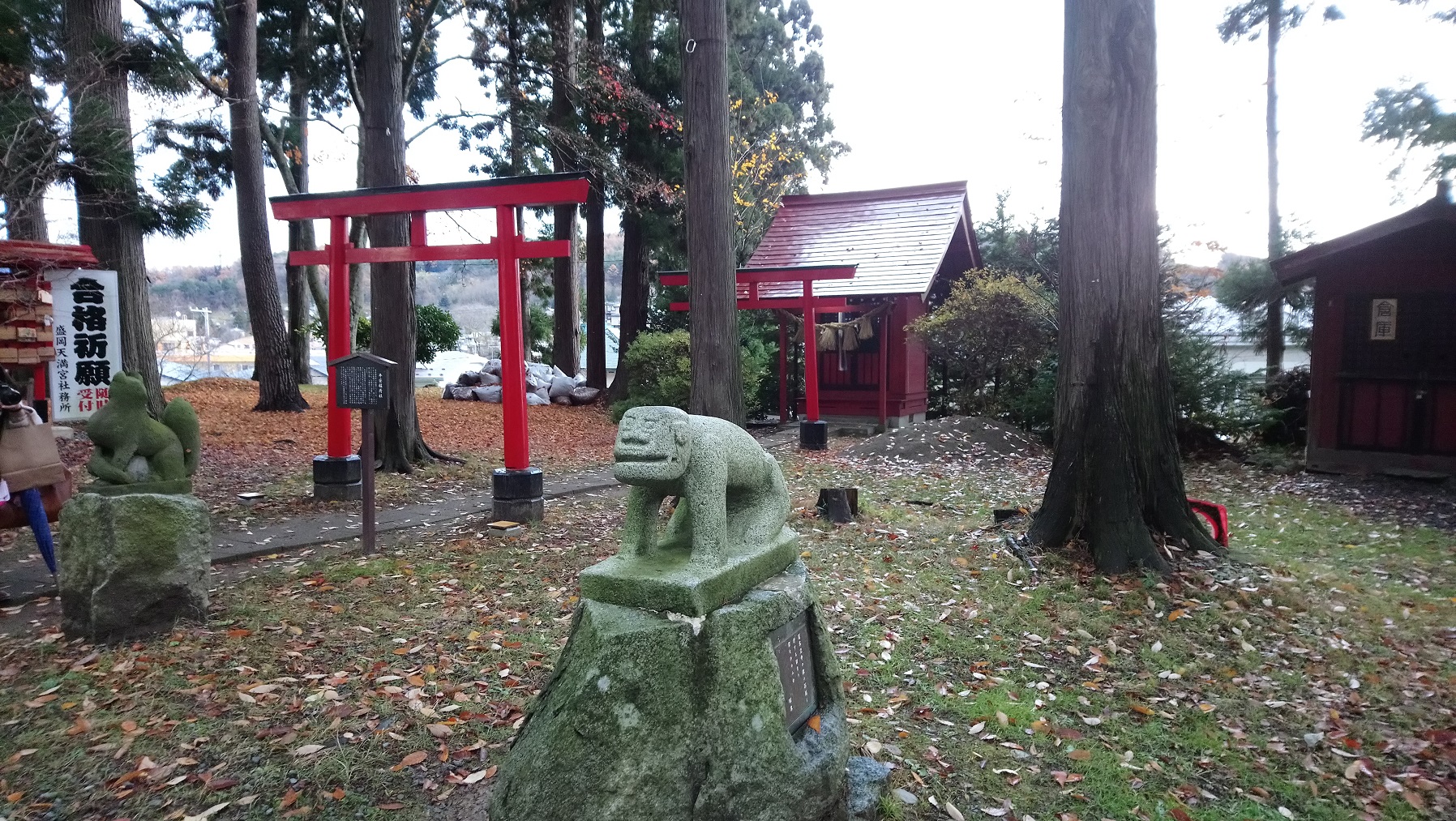 They were carved by a stonemason named Takahata Genjiro, who created them in 1903 as thanks after he healed from an illness. Even though these statues are more than a century old, they'd be right at home in any anime airing these days.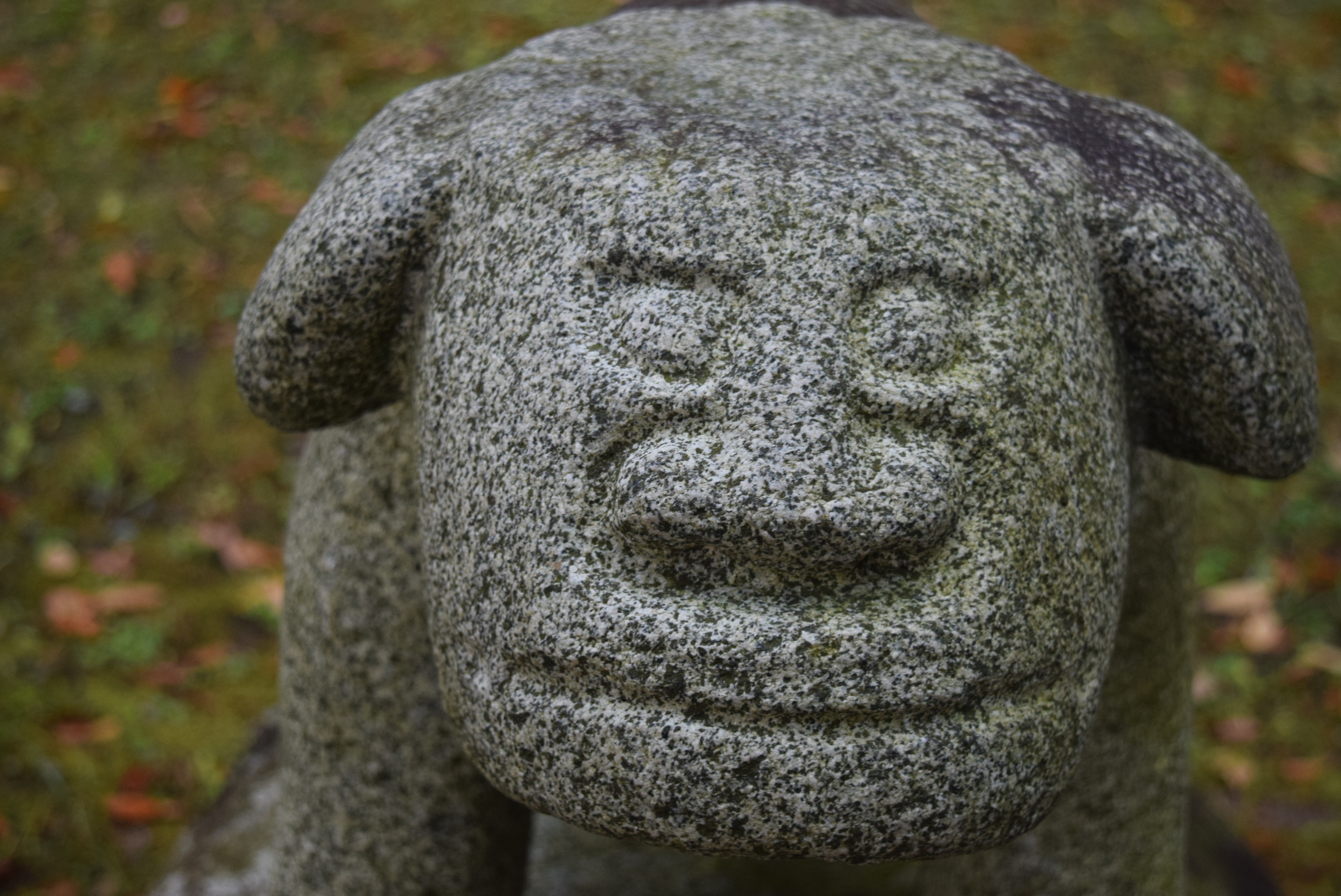 Caption: I…I love him…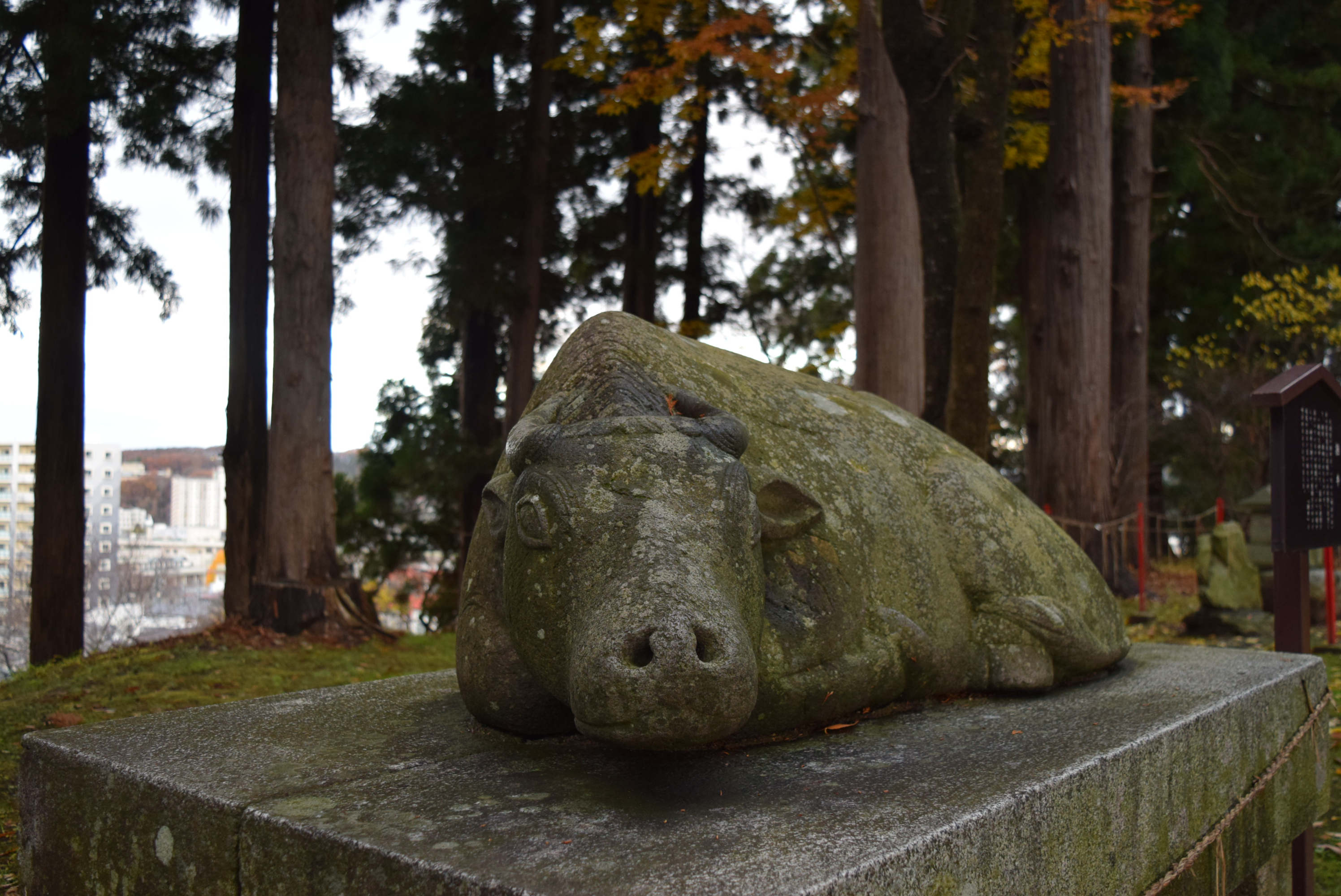 Right next to A-Un is a resting oxen statue. If you rub its back, it means your dreams will come true. All I know is that I used today's good-boy-pat to wish for the ILC. Here's hoping the ILC comes to fruition soon!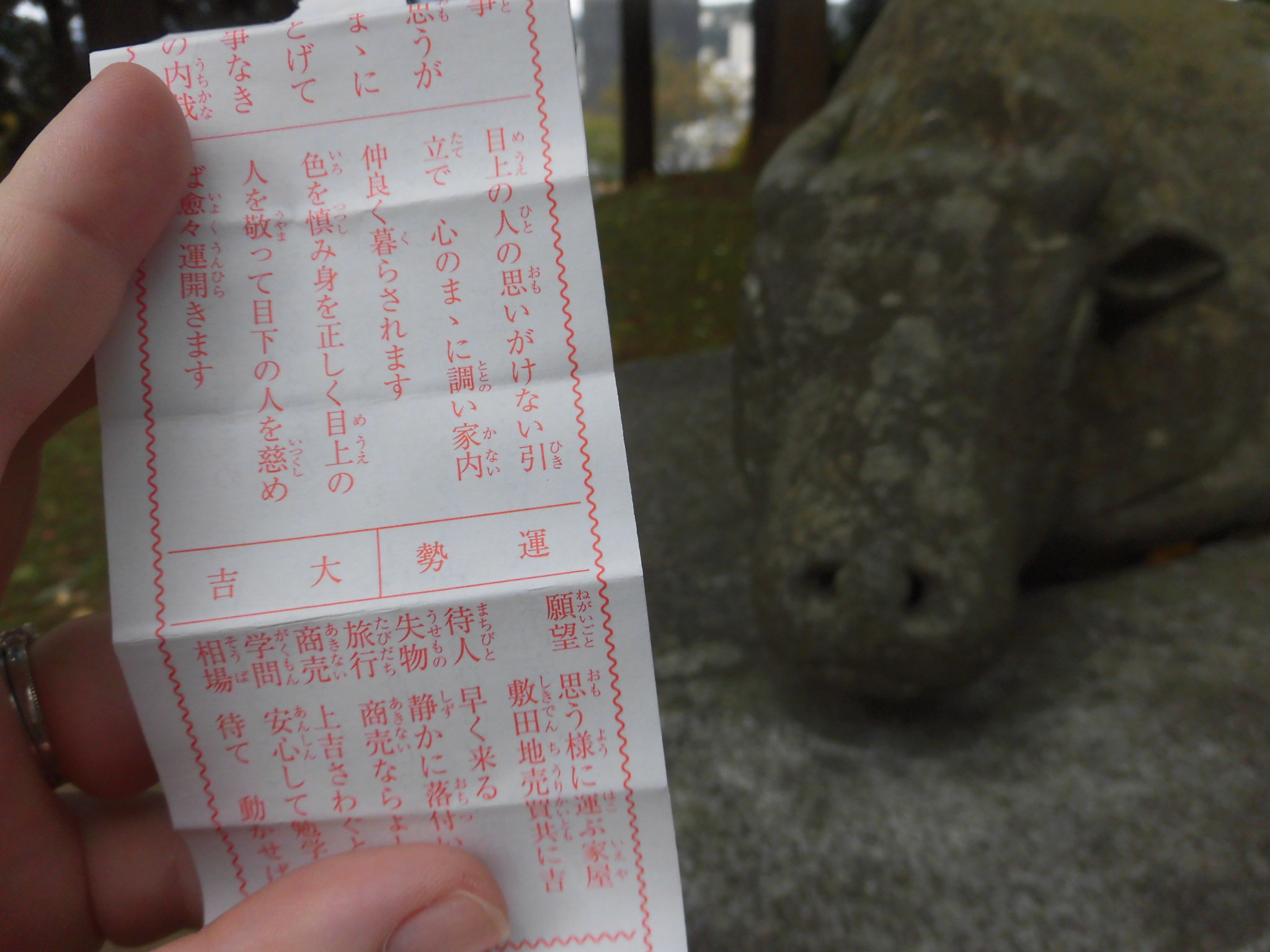 Caption: I got the best fortune possible from the shrine's fortune box, so there's something!
These sorts of small shrines, temples, and other ancient culture can be found everywhere in Iwate, and are truly one of my favorite parts about living here. I found Tenmangu just when I was out and about running one day. (It's a famous shrine, but I just had never heard of it…) Just think of the treasures you'll find in Iwate one day.
Japanese
盛岡天満宮でILCの実現を願う
「阿形」が幸運を招いて、「吽形」が幸運を逃さない

盛岡市の岩手県庁から約15分間離れた、ごく普通の住宅地には、「盛岡天満宮」がある。「天満宮」は全国各地に見られ、日本の平安時代の学者、詩人、政治家である菅原道真という歴史上の人物を神格化するために存在します。学問の神様として、人々は試験やその他の種類の資格の合格を祈願するために天満宮にやって来ます。これらの神社の中で最も有名なのは、日本の南部にある福岡の太宰府天満宮ですが、盛岡にはもう一つのバージョンがあり、独特の守護神があります。

【写真:阿形】
この口が開いているものは、阿形(あぎょう)。「万物の始まり」を表すものだと言われています。

【写真:吽形】
口を閉めているものは、吽形(うんぎょう)。「万物の終わり」を意味すると言われています。
この世には、二つも必要です。

【画像:『アギョンとウウンギョ(著:小田ひで次)』】
コミックいわてで続きを→ https://comiciwate.jp/foreign/agyonn_en/ (英語版)

この狛犬は、盛岡天満宮を絶えずに守っています。ちなみに、「阿吽」という守護神が日本各地の神社・神宮・寺院の入り口に立つことが多いですが、普段は、金剛力士等、ちょっと怖い形をしています。それに対し、盛岡天満宮にはこの不思議な狛犬。

【写真】
1903(明治36)年に高畑源次郎という方が、病気の回復の祈りが叶えられたお礼に、
自分でこの狛犬を彫って奉納したと伝えられているので、100年以上も前の狛犬なのですが、
この狛犬は、高畑源次郎という方に1903年(明治36年)に、病気の回復の祈りが叶えられたため、彫られたものです。100年以上前に作られたにもかかわらず、現代のアニメ(異世界等)に登場してもおかしくないのではないでしょうか。

【写真】
キャプション:大…大好き…

【写真:牛】
盛岡天満宮の阿吽のそばに、牛の彫刻があります。背中を撫でると夢が叶うと言われています。本当かどうかは知りませんが、今回私が撫でたときに、ILCの実現を願いました。すぐに日本誘致を…!

【写真:おみくじ】
キャプション:おみくじで「大吉」を引いたから、いいことにつなぐと思います!

このような小さな寺院や神社が岩手各地にあり、私にとって、毎日の生活に特色を出しています。私自身は、ある日ランニングしたときに盛岡天満宮を"見つけた"のでした。(天満宮はかなり有名な寺ですが、私が単純に勉強不足でした)
読んでいる皆さんに岩手でこのような発見ができるように願っております。