About Olivia Lee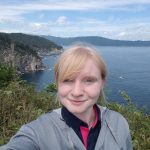 Olivia Lee
Coordinator for International Relations, Ofunato City
Olivia moved to Iwate from Seattle in 2018. She fell in love with Iwate's nature at first sight, and loves exploring the prefecture's mountains and coastline in her free time. Most of all, Olivia enjoys trying new things. The diversity of experiences that Iwate offers has allowed her to pursue this, and she's taken to snowboarding in the winter and swimming in the ocean during the summer.
March 2020
03.12.20 Surrounded by camellia flowers!
September 2019