A commenter from the JET Ladies + group on Facebook (a group for women in a work exchange program called JET) gave me this great idea for a question:
"[Before coming to Japan] I had this image of Japan/Japanese people being really formal/ closed off all the time and was super worried about workplace (and personal) interpersonal communication. Especially since the Japanese language has way more levels of formality than English does. I was super terrified of accidentally offending someone."
Just how formal is Japanese culture?
…Very!
I'm going to use an example near and dear to the researchers who have come to visit the ILC candidate site. The local government knows that Japan can be a challenging place to live in for foreigners, so they'd like to hear directly from foreign researchers about what sorts of services they'd need for their lives in Japan. Therefore, whenever a foreign researcher visits Iwate, our government customarily holds something called an "iken koukankai (意見交換会)."
I would usually just translate this term as "dialogue" or "discussion," but the truth is, this is much more formal than a casual chat. This is an event. Time schedules are devised, questions are prepared weeks in advance about everything under the sun, and there's even an emcee leading the procession.
"We would now like to start the opinion exchange between Iwate Prefecture and Prof. X," a be-suited government worker will announce to a researcher who thought we were just having a coffee klatch.
I've participated in so many of these events that I forgot that they're kind of weird for a Westerner. It can feel uncomfortable. You haven't prepared any talking points of your own. It feels like you're getting a spotlight shown on you. A more informal atmosphere would allow us to let down our guards so we can have a deeper discussion. To a foreign person, sometimes all this formality just feels like a lot of pomp and circumstance, like theater.
However, I've come to appreciate this culture of formality in the way it "lubricates" the wheels of Japanese society.
A Script for Almost Everything
Many people tend to frame Japanese formality in terms of language, as Japanese is (in)famous for having different forms of politeness that change depending on your relationship with someone. You need to use different language with your brother, your colleagues, your bosses, your clients, etc. However, I'm just going to leave that discussion to by Mami Suzuki at Tofugu.com, which has an awesome in-depth article about it that you can read here.
Instead, I'd like to talk about the general formality of interpersonal exchange here.
There seems to be a prescribed way to do almost any kind of interaction you can think of, from meeting someone for the first time, to holding meetings, and even for parties. For instance, the classic "self-introduction":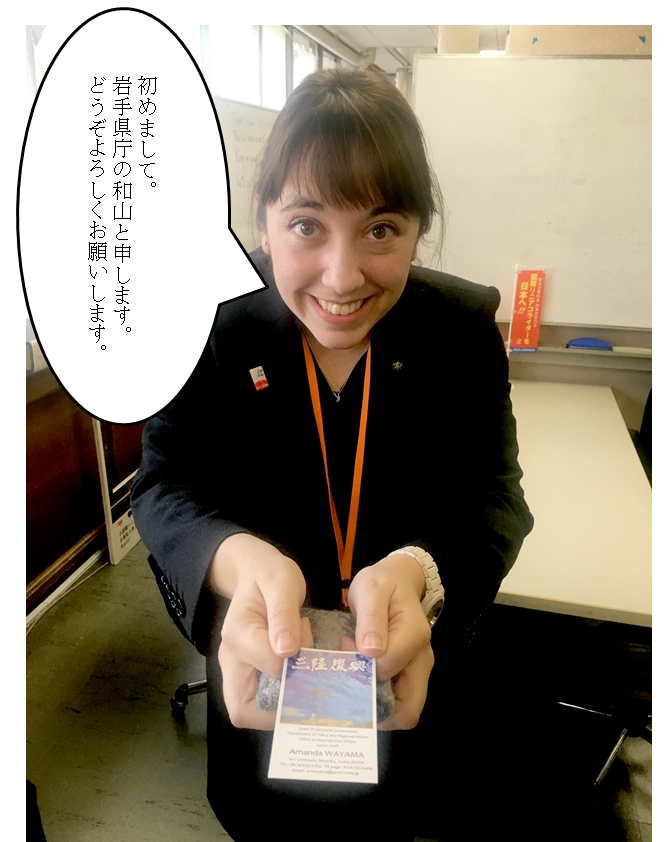 "Nice to meet you. I'm with the Iwate Prefectural Government, and my name is Wayama. I look forward to working with you."
(greeting, state your affiliation (first), state your last name (only), then bow as you give another greeting)
This is THE way to greet someone in a business context. There's no other way to do it! Then you exchange a business card. This is just the way it's done.
Even for work parties and receptions, there are formal opening and closing greetings, speeches from all the big-wigs, and don't forget that you can't drink until everyone cheers "kampai!" It can feel quite unnatural to have so many scripts to memorize, even more so when everyone seems to know the script but you. It takes more time and effort to get things done. Sometimes there's more of a focus on how something is being said instead of what is being said.
No Offense Taken
The good thing is that matching Japanese formality levels are not really something visitors have to worry about. I have never met a Japanese person who would get upset or offended at a foreigner for making a formality faux pas. In fact, I've been here ten years and I still mess up literally every day. If I get a reaction at all, it's a kind correction or amused smile. While politeness and formality are valued in Japan, *effort* is valued even higher, and you get a lot of points for just trying to meet people on their level.
One caveat: It is annoying to Japanese people when a foreigner (who can speak Japanese) purposely speaks informally with everyone in a noble attempt at "equality." It's seen as trying to force a friendly relationship that doesn't exist yet, or even worse, as showing disrespect. You don't need to be a formal Japanese master; just strive to speak in the most neutral form of the language (ie, "desu/masu" form).
Personally, I've grown to like the formality of Japanese society because I'm Socially Awkward, and knowing the "script" helps me out. I don't find that formality equals a barrier to deep friendship and connection either. Speech politeness levels don't really have a bearing on what two people can talk about. I remember being worried that I've never be able to be friends with someone I wasn't on "equal" terms with, but now? I have close friends that I still call LastName-san. Conversely, there are people I can use informal Japanese with yet we still only talk about the weather. The only real barrier to a deep relationship here is if you feel that spark of connection, and that remains the same no matter where you go.
So don't worry too much about formality. If you strive to be polite and kind, and to go with the flow as much as you can, then I can guarantee you will have no issues.
But don't just take my word for it! Let's get the Japanese take on things.
Opinions from a Japanese director
-In Japan, there are many different kinds of meetings that could be entitled "iken koukankai."
-The first is of course a more informal meeting geared towards discussion. These are often held in order to get ideas for new projects.
-The second would be like what Amanda-san described. These events have a number of higher-ranking individuals come together to give opinions backed on their experience on a new plan, policy, or issue going on within the government. The organizer would then take those opinions and reflect them within the indicate policy, etc. Rather than an "iken koukankai (opinion exchange)" we should really call it something more like "iken choushukai (gathering opinions from experts)." I think it's best to put together your opinions first before attending this type of meeting.
-In conclusion, aside from those events described in my second point, Japanese people are not worried about formality, but are using the "iken koukankai" as one part of the decision-making process, so that they can gather a number of different opinions.
-As Amanda-san said, the name of these meetings and content don't really match. So please try asking questions beforehand to the Japanese staff about what kind of goals are being aimed for in the meeting you have been invited to.
Japanese
「日本文化ってやっぱり"形式"にこだわっていますか?」
こんなに多くのルールに慣れない!

先日、日本に住んでいる外国人女性向けのFacebookグループで、皆さんに来日前に心配したことを聞いてみたところ、下記のようなコメントがありました。

「(日本に来る前は、)日本文化や日本人が形式尊重のイメージがあったので、職場や特に私生活での人間関係がうまくいくかどうか、とても心配していました。また、尊敬語及び謙譲語のような丁寧語が英語にないものであるため、言葉遣いを間違えると誰かの気分を害するかなと非常に心配していました。」

日本文化ってやっぱり形式にこだわっていますか。

…外国人からすると、
そうとも!

例えば、建設候補地周辺の行政機関は研究者が望む生活サービス環境を整えるために、ニーズを把握する目的で海外の研究者が来県するたびに、よく「意見交換会」というイベントを開催しています。

意見交換会を英語にしても、ちょうどいい表現が思いつきません。そのため、通例「dialogue(会話)」や「discussion(議論)」に訳しますが、問題は「意見交換会」の「会」です。「会」となると、何週間前から質問を考えて、次第など多くの資料を用意して、そして司会を決めて臨みます。

つまり、「意見交換」そのものは海外に存在するのに、「意見交換"会"」は海外にないものです。

そのため、
「ただいまから、岩手県と〇〇教授との意見交換を始めさせていただきます」と、スーツ姿の公務員がアナウンス、し始めると
ただの意見交換を想定していた外国人が少しびっくりしたかもしれません。

【写真】
典型的な「意見交換会」

私自身は、意見交換会に何度も参加したので慣れてしまっていますが、欧米人にとってちょっと独特な集まりであるかもしれません。私の経験からすると、何も準備していないなかで質問をされ、いきなり注目を浴びて「自分が答えを用意すればよかったのかな」と恥をかくことがありました。本来の目的がディスカッションなのであれば、もっとインフォーマルな雰囲気にしてもらえると、警戒を緩めて、率直な意見を言いやすいと思います。そのため、外国人にとっては、ここまで形式があるものになると「劇」のように見えます。

しかし、形式のこだわりが、日本社会を回している、ということが徐々に分かるようになってきました。

どんな状況においても「台本」があります

海外では、日本の「形式のこだわり」の話になると、「丁寧語(という言語の種類)」の説明になることが多いです。相手との関係によって、尊敬を見せるために語彙や表現を変えていく、という日本語の特徴が海外においてもよく知られています。弟と使う日本語と、同僚や上司、顧客と使う日本語は、それぞれ違います。(詳しくは、Tofugu.comのスズキ・マミさんの記事を読んでください)

次に、この場を借りて、対人交流の形式についてお話させていただきます。

初対面の出会いから会議やレセプションまで、他人とのあらゆる交流においては、所定の方法があるように感じています。例えば、「自己紹介」のとき。

【写真】
「初めまして。岩手県庁の和山と申します。どうぞよろしくお願いします。」
(挨拶、所属、苗字、お辞儀しながらまた一つの挨拶)

自己紹介をするときに、上記のセリフをそのまま言い返せば、間違いないでしょう。というか、みんながこの形式を使っています。そして、名刺交換をします。やり方が決まっています。

【写真】
キャプション:欧米では、握手しながら名前を述べて終わりです

職場の宴会も、開会のあいさつ、目上の人からのスピーチ、そして、乾杯の音頭をするまで待っているなど、決まった形式で開催されます。外国人としては、多くの"台本"を覚える必要があり、不自然に感じることがあります。自分以外は、誰もがセリフを覚えていることもまさに不思議です。また、こんなに形式にこだわると、何かを達成するために、より時間や努力が必要に感じます。時々、言っている「内容」よりは、「どのように」言っているかが重視されているような気がします。

でも、間違えてしまっても気分を害していません!

ここまで日本の「形式」の話をすると、心配してしまうかもしれませんが、外国人に対しては、日本人ほど形式にこだわることがあまり期待されていません。形式の間違いに対して、怒る日本人に会ったことすらありません(いるかもしれませんが)。逆に言えば、私は10年も住んでいるのに、いまだに毎日間違いをしています。相手がそれに対して反応をしたとしても、親切な訂正あるいは楽しそうな微笑みをしてくれます。日本においては礼儀正しさや形式が大切ですが、それより大切なのが、「努力の姿勢」です。人並になるために努力をすれば、大抵の人にとってそれが十分です。

一つご注意:日本語ができる外国人が、「平等さ」を狙って誰に対しても「ため口」で話してしまうと、日本人でもイライラします。馴れ馴れしい態度で捉えるか、あるいは、あえて失礼な行動をしているように見えますので、やめたほうがいいです。一方、敬語のマスターにならなくてもよいです。普通の「です・ます」系で話しましょう。

個人的には、人付き合いが下手な人間として、次第に日本文化の「形式」や「台本」があるとありがたくなりました。また、形式があったとしても、それが友情関係を深める障害になるとは感じていません。丁寧語でもため口でも、話す内容はそんなに変わらないと思います。私も、日本に来る前に、「ため口」で話せない人と本当に仲良くなれるのかと戸惑っていましたが、「○○さん」"さんづけ"で呼んでもすごく仲のいい友達が沢山います。一方、ため口を使えば仲が良くなるかと言えば、いまだに「お天気」の話しかできていない人もいます。どの国でも同じだと思いますが、深い関係を築けるかどうかへのポイントは、相手と本当に気が合っているかどうか、ということだけになります。

だから、日本では「形式」がありますが、「形式」についてあまり気にしなくても大丈夫です。親切に、礼儀正しく行動することを心がければ特に心配をする必要はありません。

<参考:日本人ダイレクターの意見>

・日本では、「意見交換会」という名称の会議でも、いくつか種類があります。
・一つ目はいわゆる、議論(ディスカッション)を目的とした、インフォーマルな打ち合わせで、新規事業の実施に当たってアイデアを求めることをゴールとしている場合が多い。
・二つ目は、アマンダさんが取り上げたように、ある程度の役職の人を参集し、主催者が提示した行政機関の計画や方針、あるいは行政の課題について、自分の仕事の経験等から意見を述べ、主催者はそれらの意見について、提示した計画等に反映させることを目的としています。ですから「意見交換会」という名称よりも、専門家からの「意見聴取会」と名づけた方がいいかもしれません。この会議の場合には、事前に自分の意見をまとめて参加する方がいいと思います。
・まとめると、議論を目的とした意見交換(の会合)でない場合は、日本人は「形式」を意識しているわけではなく、意思決定プロセスのひとつとして、「意見交換会」を開催しており、多様な意見を聴取していることになります。
・アマンダさんが指摘しているとおり、名称と会議の内容が一致していないのはそのとおりなので、事前に、廻りの日本人スタッフに対し、会議の主催者が意図する目的やゴールについて質問してみてください。