Tokyo and many other places of Japan have called on people to stay at home due to the spread of COVID-19,  and teleworking has been encouraged as an alternative. I myself have been ordered to reduce my visits to the office by 30%, so I've had a lot more opportunities to work at home. Once you get used to it, working online is very convenient. It has also shown us many possibilities outside of work as well. I'd like to show you a real-life example using one of my favorite things – apples.
Japanese apples
When you hear "Apple" you may immediately think Apple the company, but when you ask a Japanese person where apples are produced, I think they'll pretty much all answer Aomori Prefecture (which incidentally, is where I am from).
Apples are grown all around the world, from China to the US to Europe. In Japan, 60% of apples are produced in Aomori Prefecture, which is close to the Kitakami candidate site for the ILC. (Of course, Iwate Prefecture, which is home to the candidate site, is also a big apple producer) Apple growing techniques were brought to Japan in the 1800s from the US and France, and there a number of different varieties that have been developed in Japan.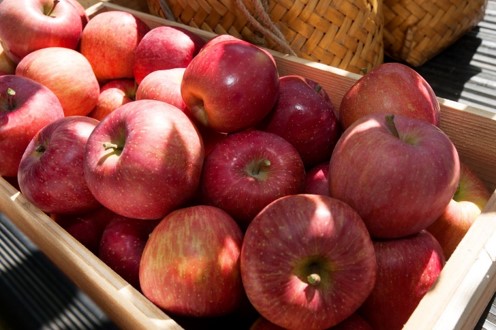 My grandfather was an apple farmer. Every autumn,
I'd receive so many apples that it would be impossible to eat them all.
The most produced apple in Japan
By the by, my personal favorite variety of apple is the Fuji apple. It's got a great crunch with the right mix of tartness and sweetness. It's a very balanced apple. Around half of the apples produced in Japan are Fuji apples, which shows how popular it is.
Also, the "Fuji" in Fuji apples doesn't stand for Mt. Fuji. These apples were developed in Fujisaki Town in Aomori. So you can see why everyone equates apples with Aomori in Japan. (This is a rare trivia fact – not even many Japanese people know this!)
Apples in crisis
As you can see, apples are quite beloved in Japan, but the industry is in danger. The first threat is the diversification of the food market. In the past twenty years, apple production has reduced by 15-20% in both Europe and Japan. Even my sons say that they prefer oranges. "It's much easier to peel the skin off them," they say. (My sons may be a little lazy)
Climate change is another huge issue. If things continue as they are, by the end of this century, the average temperature of Aomori could reach current-day temperatures in Tokyo (which is about 700 km to the south). Apples need a cool climate, so many are growing worried that we won't be able to grow apples here in the future. There's also the problem of the farmers growing older with no one to replace them.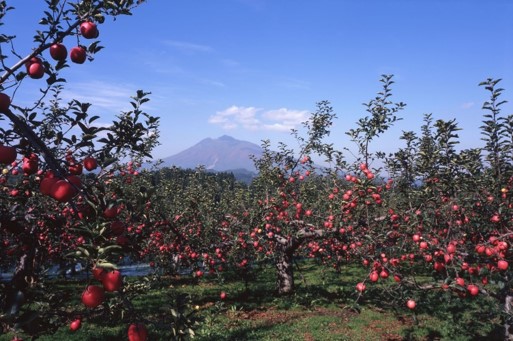 You can see Mount Iwaki in the distance behind the orchard.
I love this view, but there may come a day where I won't be able to see it anymore.
Recruiting apple tree owners through  crowdfunding
While I was working at home during the COVID crisis, I took a break to surf the internet and found a crowdfunding project where you can become the owner of an apple tree through donating. It used to be that you would just buy apples at the supermarket and that would be it. But by becoming the owner of an apple tree, you can join in periodic Zoom meetings to see the field and tree conditions, and learn more about apple farming. Then at the end, you get sent a bunch of tasty apples in the autumn.
My sons were fascinated by this. We applied for this crowdfunding project (using Dad's meager allowance). Well, it's quite reasonable if it's something that contributes to my sons growing to love apples.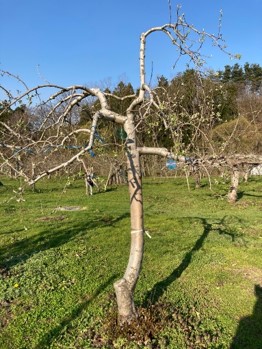 This is my tree, that I'm the owner of. I kind of feel a paternal instinct for it.
The first Zoom meeting
We had our first Zoom meeting the other day. The project runner showed us the apple orchard and was a great teacher, telling us about the process of apple production.
Next was Q&A, and my sons had tons of questions.
The project runner was explaining how they think that Fuji apples are the most delicious because of their balance of tart and sweet (I think so too), when my sons started typing in the chat.
"Isn't the sweetest, most tart apple the best?" Pretty typical kid questions, but the project runner's answer was both professional and easy-to-understand. "If apples are too sweet, they go rotten too quickly. If that's the case, then they can't be sold. So usually we can't eat those types of sweet apples."
Although, even if they're too delicate to be sold, they'd definitely be tasty…I'd love to try (they're called Eikoga apples).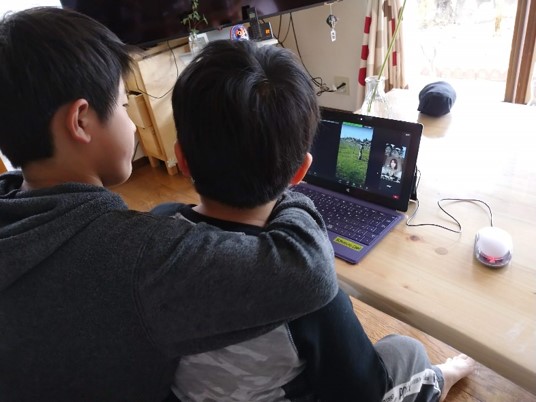 My two sons participating a ZOOM meeting. "This is really fun!" they said.
May is for apple flowers
They also tell us about our apple tree on Facebook periodically. May is when apple flowers bloom. "So pretty…" Our job is done with that simple comment, but at the apple farm, they now have to pollinate these flowers. They raise bees to help them. Once the flowers bloom, in order to concentrate the most nutrients in one place, they leave one flower in the center of the bunch and pluck off the rest. They explained this just as clearly as everything else.
COVID has led to the changes of many things, but in the Norita household, my children and I are able to travel to the apple orchard from in front of our computer. That might be the biggest change of all.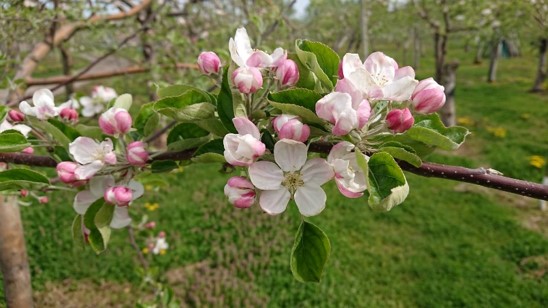 Cherry blossoms in Japan are of course quite pretty,
but these flowers blooming on the apple trees in the orchard are breathtaking.
Reference
Jinpachi Apple Farm's Facebook:   https://www.facebook.com/jinpachiapple
Apple University: https://www.ringodaigaku.com/english/
Japanese
オンラインで気軽に学ぶ、日本のりんご

新型コロナウイルス感染症の影響により、日本では東京はじめ各地で外出が制限され、テレワークが推奨されています。私も、出勤比率3割削減を命じられ、自宅で仕事をする機会が増えてきました。慣れてみるとオンラインでの仕事はとても便利です。また、仕事以外にも、私たちに色々な可能性を示してくれました。今日は、大好きなりんごを例に実体験をご紹介します。

日本のりんご
 アップルと言われれば、GAFAのアップル社を思い浮かべますが、日本人にりんごの産地を聞けば、青森出身の私としては、青森だと答える人が多いと思っています。
 中国、米国、ヨーロッパはじめ世界中で生産が盛んなりんご。日本の場合は、収穫されるリンゴの6割が、北上サイトに近い青森県で栽培されています(ちなみに、北上サイトのある岩手県もりんごの産地です)。日本のりんご栽培技術は、1800年代にアメリカやフランスから導入されたそうで、日本独自の品種改良が行われてきました。

[写真①]
私の伯父もりんご農家でした。秋になると食べきれないほどもらったものです。

日本で生産量NO.1のりんごとは?
 ちなみに、私が一番好きなりんごの品種は「ふじ」です。程よい硬さの触感と、甘みと酸味の調和。バランスがいいりんごだと思います。日本で生産されるリンゴの半分が「ふじ」です。人気の高さが分かりますね。
 ちなみに、「ふじ」は「富士山」の富士ではありません。青森県の藤崎町で生まれたので「ふじ」なんです。やっぱりりんごと言えば、青森なんですね。たぶん、日本人でも知らない人が多いはずの、豆知識です。

りんごの危機
 こんなに大好きなりんごですが、じわりじわりと危機が迫っています。まずは、食の多様化です。20年前に比べ、ヨーロッパでも日本でも、りんごの消費量は15~20%減少しています。うちの息子も、みかんの方が食べやすいと言います。「皮をむくのが楽だから」と。なんと面倒くさがりなやつでしょう!

気候変動も大きな問題です。このままでは、今世紀末には、青森の平均気温は今の東京並みになると予想されています。りんごには冷涼な気候が適していると言われています。「将来、りんごが栽培できなくなるのでは」という不安が広がっています。りんご農家の高齢化、担い手不足も大きな課題です。

[写真②]
りんご畑の向こうに岩木山。私の大好きな風景ですが、
見られなくなる日が来るのかもしれません。

クラウドファンディングでりんごの木のオーナーに
 コロナ禍の在宅勤務、ホッと休憩中にインターネットで見つけたのが、クラウドファンディングでりんごの木のオーナーになるプロジェクトでした。今までスーパーで買うだけの存在だったりんご。りんごの木のオーナーになることで、定期的にZOOMミーティングで農作業や生育状況を教えてもらい、十分にりんごのことを理解したうえで、秋にはおいしいりんごが届く仕組みです。
 これには息子も興味津々でした。お父さんのなけなしのお小遣いから、クラウドファンディングに申し込みました。まあ、子供がもっとりんごを好きになってくれるなら安いものです。

[写真③]
私がオーナーになった木です。なんとなく親しみがわきます。

1回目のZOOMミーティング
 先日、1回目のZOOMミーティングが行われました。主催者の方に、りんごの園地を見せていただき、りんごができるまで、を丁寧に教えてもらいました。
 質問タイムでは、息子の素朴な質問がさく裂しました。
酸味と甘みのバランスが取れた「ふじ」が一番おいしい(私もそう思う)という説明に対し、チャート表の中で、「一番すっぱくて、一番甘いものが一番おいしいのでは?」。なるほど、子供らしい欲張りな質問です。
 これに対する回答はプロフェッショナルな分かりやすいものでした。「甘すぎると腐るのがはやい。腐るのがはやければ、市場に流通しないので、普通は食べられない」と。
ただ、たぶん、このような市場に流通しないものほど、おいしいんでしょうね…食べたくなりました(栄黄雅という品種です)。

[写真④]
息子2人がZOOMミーティングに参加。とても楽しい!と言われました。

5月はりんごの花が咲く
 りんごの状況は、その都度、Facebookで教えてくれます。5月はりんごの花が咲く時期。「きれいだなあ」。今まではそれでお終いでしたが、りんご農家には受粉作業があります。ハチを飼育し、受粉を手伝ってもらいます。花が咲けば、栄養分を集中させるため、中心の1つを残して残りの花は摘み取ります。こんなことも、現地から丁寧に教えてくれます。
 コロナ禍をきっかけに、色々なものが変わろうとしていますが、我が家では、子供と一緒に、PCの前でりんご畑に通うことができています。いまのところ、これが一番大きな変化でしょうか。

[写真⑤]
日本の桜もきれいですが、畑一面に咲き誇るりんごの花も、圧巻ですよ。

参考
甚八りんご農園Facebook   https://www.facebook.com/jinpachiapple
りんご大学 https://www.ringodaigaku.com/english/