I'm writing this article just as the first half of the COP27 conference in Egypt is about to end. I'm imagining chief editor Amanda yelling at me, "You are WAY over deadline!" (Editor's note: I would never yell at Norita-san)
Anyway, there were remarks made at COP about the energy crisis we find ourselves in because of Russia's invasion of Ukraine. I think we are all ruminating about our world's dependence on fossil fuels, but Japan has declared it will be carbon-neutral by 2050, and people are growing more aware of ways we can get away from our carbon spewing ways. I'd like to take this issue of the KITAKAMI TIMES to think about de-carbonization efforts near the Kitakami site for the ILC, as well as other science and technology projects.
18% of Japan's energy comes from renewables (6th in the world)
So how does Japan's renewable energy look when compared with the rest of the world? Japan's Agency for Natural Resources and Energy's research shows that 18% of Japan's energy comes from renewables, ranking it 6th in the world. It seems like it should be higher when you think of the scale of Japan's economy. You can also see Japan's nuclear power is comparatively a low share, but ever since the Great East Japan Earthquake and Tsunami in 2011, Japan has been very cautious about restarting its nuclear power reactors. When you look at other countries, Japan's ratio of fossil fuels is very high. Our overreliance means we're directly affected by this current energy crisis.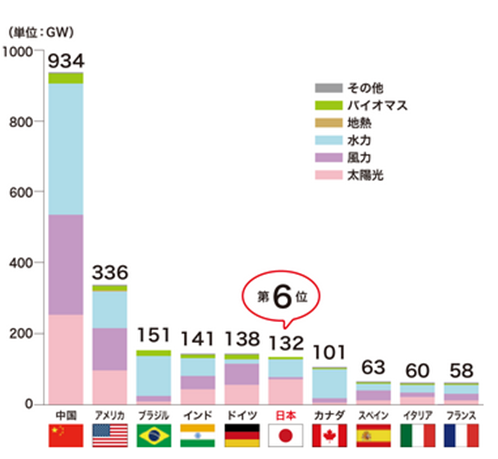 Breakdown by type of renewable energy
How about the breakdown of types of renewable energies? Again, according to the Agency for Natural Resources and Energy, Japan clearly has a high percentage of solar and hydro electric generation going on, but it's a little concerning that we don't have much wind power compared to other countries.
The national government is of course trying to increase the percentage of renewable energy vs all energy generated, but they've begun to concentrate on one method – offshore wind power. Right now, we have close to zero power being generated by this method, but they have a plan to increase it to 10.7 billion kwh by 2030. Going from zero to 10.7 billion seems quite far away.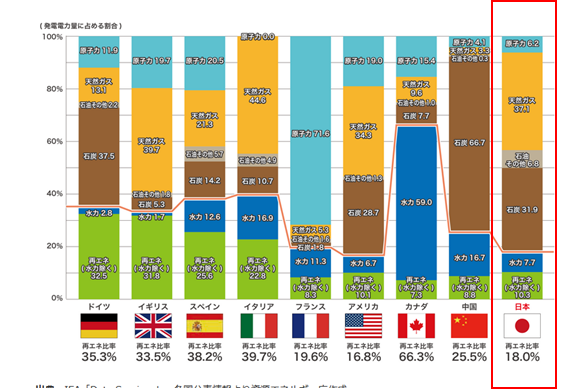 Comparisons of the ratio of renewable energy to other energies
A place being recognized for its offshore wind power
 Offshore wind is being implemented in a number of countries, including the UK, Denmark, the Netherlands, Germany, Belgium, Sweden, etc. Compared to onshore wind generation, offshore has better wind conditions, no land restrictions, and you don't have to worry about blocking someone's view or causing noise pollution. There are a lot of merits for these projects, but there's a cost in building offshore. You need to lay cables on the ocean floor, and the ocean water will continually cause damage to the facility that you'll need to repair.
One place in Japan being recognized for offshore wind power is …NEAR…the Kitakami site! The first commercial implementation of offshore wind in Japan will start in Akita Prefecture to the west. It'll probably already have started by the time this article is uploaded (December 2022). Lots of eyes are on Akita and the Sea of Japan shore of Tohoku, as it's got a lot of potential for renewables – not just offshore wind, but also onshore wind, hydropower, geothermal energy, solar, and more.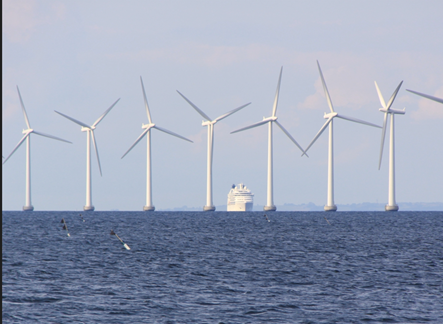 The photo is for illustrative purposes only
Consider making ESG (Environmental, Social, and Governance) investments in the Tohoku region of Japan
Right following the COVID-19 pandemic, the world now faces the Russian invasion into Ukraine. Because of confusion in the supply chain and fluctuations in the exchange rate, some companies in Japan are now returning their overseas hubs to Japan. On the other hand, in Tohoku, we are quickly progressing in building up our offshore wind and other renewable energy sources centering on the Sea of Japan side. Lots of companies are now considering making ESG investments. We have to make Tohoku into the perfect place for these investments from outside sources.
With renewable energy, science, and technology, we can anticipate the next generation
 Let's look a little farther to the future. We have the ILC Project on the Pacific side of Tohoku, but we also have the ITER project, the next generation synchrotron radiation facility "Nanoterasu", Fukushima's Innovation Coast Concept, along with other future-oriented science and technology projects. The Pacific projects can use the renewable energy generated on the Sea of Japan side to progress forward. Radical innovation will radiate outwards from Tohoku to the world… I hope we can use that positive cycle and resulting dream jobs to connect us to the next generation!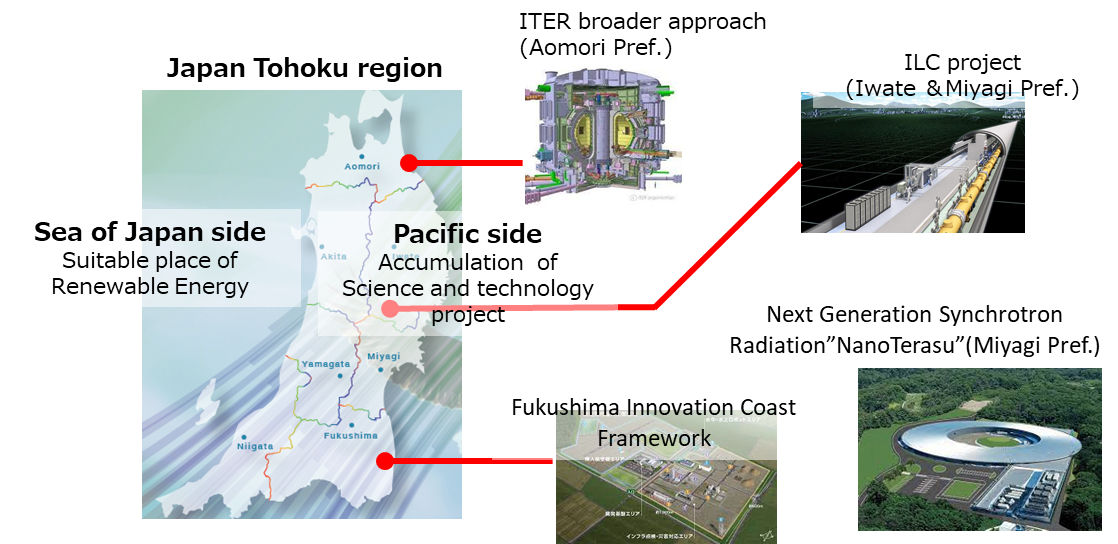 Japanese
再生可能エネルギーと科学技術プロジェクト


私がこの記事を書いているのは、エジプトで開催されたCOP27が前半戦を終えた頃。「とっくに締め切りを過ぎてるよ、遅い!」。アマンダ編集長の叱責が目に浮かびます。
それはさておき、COPでも指摘されましたが、ロシアによるウクライナ侵攻をきっかけとしたエネルギー危機は、化石燃料に依存する世界のエネルギー事情について、改めて、深く考えさせられます。日本でも、カーボンニュートラル2050が宣言され、脱炭素に向けた意識が高まってきました。今回は、北上サイト周辺の脱炭素と科学技術プロジェクトについて、考えてみたいと思います。

日本の再生可能エネルギーは発電量の18%(世界6位)
 日本の再生可能エネルギーって、世界的に見てどうなんでしょうか。日本の資源エネルギー庁の調査では、発電量に占める再生可能エネルギーの比率は18%で世界6位。日本の経済規模を考えると、ちょっと物足りないでしょうか。また、東日本大震災以降、日本は原子力発電の再稼働に慎重です。化石燃料の割合が、諸外国と比べてとても高いんですよね。だから、現在のエネルギー危機の影響をダイレクトに受けています。
【画像】
内訳はどうなんでしょう。これも、資源エネルギー庁の資料によると太陽光発電、水力発電が圧倒的に多いですね。諸外国に多い「風力発電」が少ないのが、少し気になります。
 政府は発電量に占める再生可能エネルギーの割合を高めることはもちろんですが、ある手法に注目しています。それが、洋上風力発電。いま、発電量はほぼゼロですが、2030年までに107億kWhに増やす計画です。ゼロから107億って、気が遠くなりますね。
【画像】

洋上風力発電で注目されているところ
 この洋上風力発電、イギリス、デンマーク、オランダ、ドイツ、ベルギー、スウェーデン…諸外国では導入が進んでいるそうですね。陸上よりも…風が良い、土地の制約がない、景観や騒音があまり問題にならない。色々メリットがあるようですが、海に造るコストもありそうです。海底ケーブルも必要ですし、潮風で劣化しそう。
 洋上風力発電が日本で注目されている場所、それが北上サイト!…の近くです。日本初の商業運転は、北上サイトの西側、秋田県でスタートします。この記事がアップされる頃には、スタートしているでしょう。2022年12月開始ですから。洋上風力発電に限らず、秋田県をはじめ東北の日本海側は、風力や水力、地熱、太陽光など、再生可能エネルギーの可能性が高い地域として、注目されています。
【画像】

ESG投資をするなら東北に。
 コロナ禍に続き、ロシアによるウクライナ侵攻。日本企業の中には、サプライチェーンの混乱や為替レートの変動などから、海外拠点の一部を、国内に戻す動きがあります。一方で、東北では、日本海側を中心に、風力発電など再生可能エネルギーが急速に進みつつあるわけです。ESG投資、どこの会社も意識していますよね。日本国内でESGを意識すれば、自然と東北が最適な場所になるー、そういう場所にしていかなければいけません。

再生可能エネルギーと科学技術で次世代を見据える。
 もう少し先を見据えましょう。東北太平洋側には、ILC計画をはじめ、ITER計画、次世代放射光施設ナノテラス、福島イノベーションコースト構想など、複数の未来志向の科学技術プロジェクトがあります。日本海側で作った再生可能エネルギーを使って、太平洋側のプロジェクトが進む。東北から世界に向けて、Radical Innovationが巻き起こる-。そんな好循環、夢のある仕事を次世代に繋いでいきたいですね!
【画像】