It's the end of February in the Tohoku region; there's still snow on the ground, and temperatures are brisk. Then we hear a ring from our Aiphone intercom*. We've gotten our annual package of scallops from my parents in Aomori.
I usually think of scallops as a summer treat, but just when is the season for scallops? With that question in mind, I did some research on scallops with my sons, and I'd like to share with you my results.
*Incidentally, "Aiphone" is the largest intercom manufacturer in the country, and is pronounced the same as the "iPhone" in Japanese. Apple had to receive special permission from Aiphone to use this trademarked name in Japan.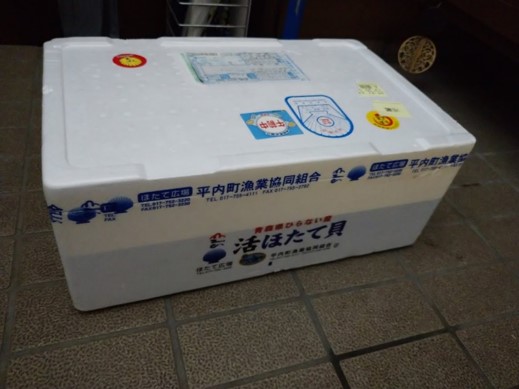 They bought us scallops from the local market and sent it by refrigerated shipping.
There were about 10kg of scallops inside!
Scallops Season
Scallops are in season twice a year. The first is summer, where the water gets warm and the scallops can eat a lot of plankton to grow large and plump. My thought process: "Okay, that's why we all think of scallops as being a summer food, where you grill it on the barbecue. I get it."
The second time they're in season is winter. The scallops grow large in preparation to lay eggs. "Oh yeah, in Japan, that's when we tend to throw scallops in the hot pot and simmer 'em."
So yeah, Now I know why I got them in the winter! In the next issue of THE KITAKAMI TIMES …!
…Just kidding. Our editor Amanda would get mad at me if I ended it there. I decided to research some more.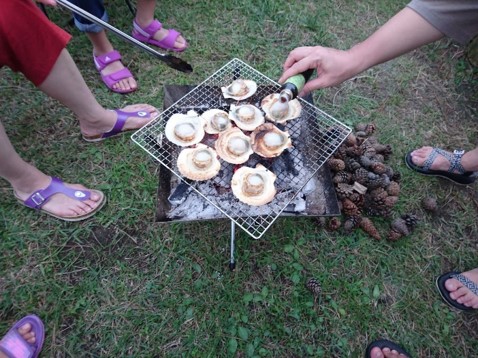 This picture is from around three years ago – a barbecue by the beach.
I hope COVID calms down soon so we can do this again…
Who has the largest catch of scallops?
Well, I'm sure everyone can guess that it's China. They catch around 1.8 million tons per year, and scallops are a staple in Chinese cuisine.
I always try to tell my children who's number two – no matter what it is. The no.2 tallest mountain is K2. The no.2 largest lake is Lake Superior. And the no.2 largest catcher of scallops in the world is… Japan! (at 500,000 tons)
Let's learn some more about scallops
I also try to tell my children to try to further research the things that interest them or catch their eye.
Japan's largest producer of scallops is Hokkaido at 400,000 tons. Hokkaido is surrounded on all four sides by the ocean, and has a ton of delicious seafood and produce. The nature is wonderful, and the people are easy-going. That's the image we have of Hokkaido. It's a good place.
… But don't forget the second largest producer!! No.2 is Aomori, my home prefecture (at 80,000 tons). Aomori is right next to Hokkaido, so I'm confident its scallops are just as delicious.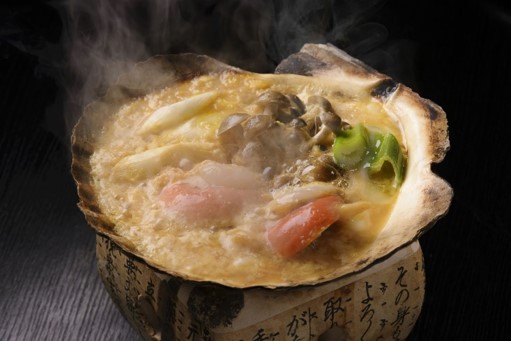 Aomori's famous "Kaiyaki Miso (fried shellfish in miso)."
It's important the scallop shell serves as a plate.
Exploring the depths of knowledge
One of my sons will enter middle school this year, so I like to encourage him to research even further. That's what I'd like to talk about now.
So, the scallop catch. Hokkaido (400,000 tons); Aomori (80,000 tons). What brought this about? We decided to analyze further. Hokkaido's catch of scallops consist of natural scallops (340,000 tons), and human farmed scallops (60,000 tons). Most of Aomori's scallops are farmed.
"Oh, Aomori is the largest farmer of scallops, isn't it?" I was pumping my fist in celebration, but my son's reaction was different.
"It's because we can't catch any scallops naturally, because of global warming." Ah… you sure are learning a lot in school…
Researching further, the ideal water temperature for scallops is about 18-20 degrees Celsius. That's why the waters from Hokkaido to Aomori are so hospitable to them. However, according to the newspaper, growing water temperatures have lead to a mass death of scallops, and there are years where we can't catch any. I'm worried, but that's exactly why we need to properly manage our resources (like through human farming).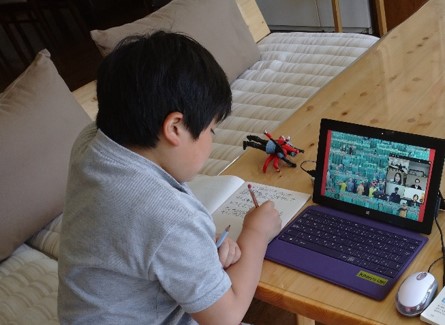 We can use the internet to look up everything these days.
Remote schooling has come a long way, and my sons have grown accustomed to it.
An aside
I've mainly talked about the AMOUNT of scallops, but Iwate Prefecture, the home of the Kitakami ILC candidate site, is also famous for its scallops. Actually, I've heard that the scallops that fetch the highest price on the market are the ones from Iwate. In Japan, the scallops from Hokkaido and the Tohoku region are known as the best, both in quality and quantity. So let's leave it there.
Quantity is important, but so is quality. Enjoying our food is important, but so is learning about where it comes from. That's what I wanted to teach my sons, but I was surprised just how multifaceted their view points were. Our children really grow up right before our eyes, whether we notice it our not.
Japanese
Scallops is in season during Summer,and Winter.

2月末、東北地方にはまだ雪が残る、肌寒い冬の日。「ピンポーン」と我が家のアイホン(※)が鳴る。今年も青森の実家から、ホタテが届いたのだ。
私は、ホタテと言えば夏のイメージがあったのだが、ホタテの旬はいつなんだろうか?そのような疑問から、息子たちと少しホタテをリサーチしてみた。本日は、その結果をご紹介したい。
※アイホンはアイホン株式会社の登録商標です。同社はインターホン業界トップの日本企業であり、iPhoneの商標は同社の許諾を受けて使用されています。
【写真①】市場で買ったものを、クール便で届けてくれます。中身は10kgのホタテでした。

ホタテの旬
 ホタテは1年に2回、旬がある。1度目は、温かくなりプランクトンをたくさん食べて、貝柱が大きくなった夏。そうか、だからホタテと言えば夏、バーベキューのイメージがあるんだな、と納得。2度目は冬。産卵準備のため卵が大きくなる時期。なるほどな、日本では煮物にする時期だな。そうか、納得した。よし、今回はこれで終わり!
...これではKitakami times編集長のアマンダさんに叱られます。もう少しリサーチを続けることにしました。

【写真② バーベキュー】
この写真は3年くらい前。海辺でバーベキューをした時の写真です。早くコロナ化が収束して、またバーベキューができるといいな。

ホタテの漁獲量、No.1はどこか?
 これは皆さんの予想どおり、中国です。年間180万トン、中華料理でもホタテは定番ですからね。
 さて、私は子供たちに、2番目もしっかり覚えるように伝えています。世界で2番目に高い山はK2、世界で2番目に大きい湖はスペリオル湖。そして、世界で2番目にホタテが獲れる国は...日本(50万トン)です。

もっとホタテについて調べよう
 私は、子供たちに「気になったことは、もう少し、調べてみよう」とも伝えています。
 日本の中でホタテが最も獲れるのは北海道です(40万トン)。四方を海に囲まれ、海の幸、山の幸も豊か、自然も素晴らしい、人もおおらか。そんなイメージです。北海道、いいところです。
...2番目も大事ですよ?2番目にホタテが獲れるのは、私の故郷、青森県(8万トン)です。北海道の隣が青森です。同様に、おいしいホタテが獲れるんでしょう、きっと。

【写真③貝焼きみそ】青森名物「貝焼きみそ」です。ホタテの貝殻を皿に使うのが、みそです。

知の深化(Exploration)
 私の息子は、今年、中学生になります。「調べたことを、もう少し深掘りしてみようか」。これからはそう話そうと思っています。
 ホタテの漁獲量。北海道(40万トン)、青森(8万トン)。この背景には、何があるのか。もう少し分解してみました。北海道のホタテは、天然ものが34万トン、養殖が6万トン。青森のホタテは、そのほとんどが養殖でした。
 「おっ、養殖では青森が1番じゃないか」と私は思わずガッツポーズをしましたが、息子の反応は違いました。「地球温暖化で天然ものが獲れなくなっているんじゃないか」。おお、学校でよく勉強しているじゃないか(汗)
 調べてみると、ホタテの生息に適する温度は18~20度。北海道から青森の近海が当てはまります。ただ、新聞記事では、高水温によるホタテの大量死等、不漁の年もあるようです。心配ですが、だからこその資源管理(養殖)が重要ですね。

【写真④】今はインターネットで何でも調べられます。リモート学習が進み、子供たちもすっかり慣れました。

おまけ
 量のことばかりお話してきましたが、北上サイトのある岩手県もホタテが有名です。実は、市場で最も高値で取引されるのは岩手県のホタテなんだとか。日本では北海道・東北のホタテが、量も質も最高だ。そういうことに落ち着けましょう。
 量も大事だけど、質も大事。おいしく食べるのも大事だけど、その背景を学ぶのも大事。そういうことを教えるつもりだったんですが、今回は、息子も、意外と多面的な視点を持っていることに驚きました。知らない間に、子供は成長しているんですね。