Every May, Japan enjoys a long string of national holidays. Well, I say "long," but it's only about a week to ten days, so perhaps it's not as impressive as the vacation periods seen in other countries.
We call this period "Golden Week," and everyone really looks forward to it. This past Golden Week, I took my sons to some Disaster Memorial Facilities on the coast.
The Disaster Memorial Facilities of the Great East Japan Earthquake and Tsunami
March 11, 2011 – the day the Great East Japan Earthquake and Tsunami struck Japan. The Disaster Memorial Facilities are the former sites of buildings destroyed by the tsunami, and have been left to teach future generations about the tragedy of that day and the lessons we learned. The coast of the Tohoku region, which includes the ILC Kitakami site, is home to around 300 disaster memorial sites.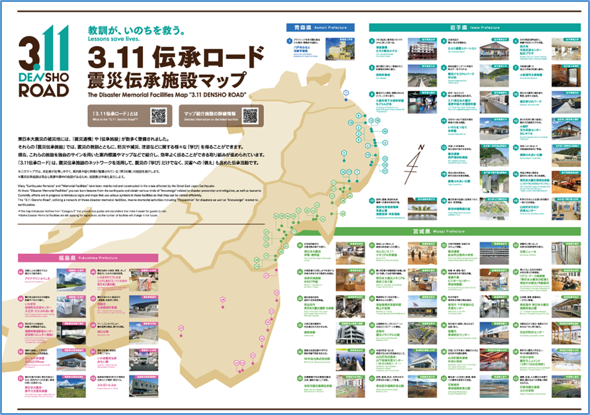 But, Dad! It's Golden Week…
"C'mon Dad. It's Golden Week – aren't you going to take us anywhere?"
"Dad's tired."
This kind of conversation happens all over Japan – those no-good Japanese businessmen!
A report showed that within families where the father does zero chores/childcare, 90% have only one child. But in families where the father helps over 6 hours a week with chores/childcare, 90% are blessed with a second child. There are a lot of fathers in Japan who don't help with childcare or chores on their days off. That's why we have a declining birthrate. I've gotta help more with childcare myself!
To the former Ukedo Elementary School
If we're going to go somewhere, it should have an educational element as well. (That's what we call in Japanese: "oya-gokoro (parental love)"). So we chose to visit the disaster memorial facility of Ukedo Elementary School in Namie Town, Fukushima Prefecture.
Ukedo Elementary is around 6km from the nuclear plant in Fukushima, and 300 meters from the coastline. There is nothing else around. However the building remains to show what it looked like on 3.11. The tsunami waves reached the 2nd floor of the building, but some 100 students and teachers were able to take refuge in the hills a kilometer back, and the whole school population was saved.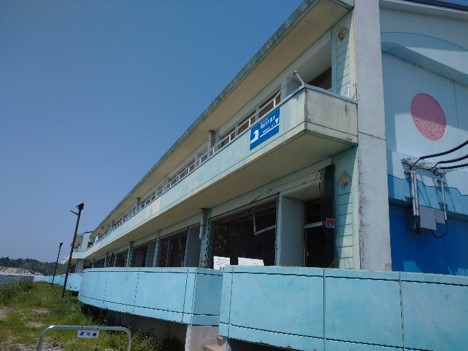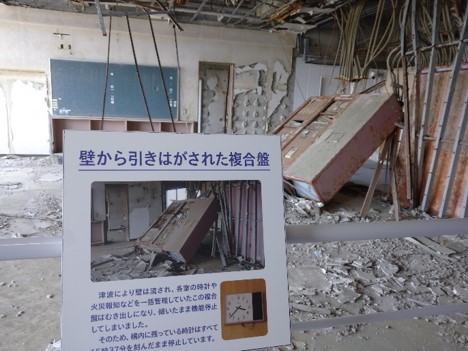 The new memory for the Norita family
I thought I'd have a lot to write about so I prepared myself, but actually, while we were at the school, a tv reporter interviewed us. I figured I should just post that, as it would probably be easier to understand.
"It's written here that they held their graduation ceremonies in this auditorium. I saw that, and I wondered if the students who went to this school were able to receive their graduation certificates."
Japanese elementary students graduate in March – and the tsunami on March 11th was right before their ceremony. When we asked after the interview, the staff were relieved to say, "We weren't able to have a ceremony, but we were able to give everyone their certificates."
Towards the end of the interview, my son said this: "This day will always remain in my memory." I was glad that I brought them.
And that was the memories we made this Golden Week in the Norita family.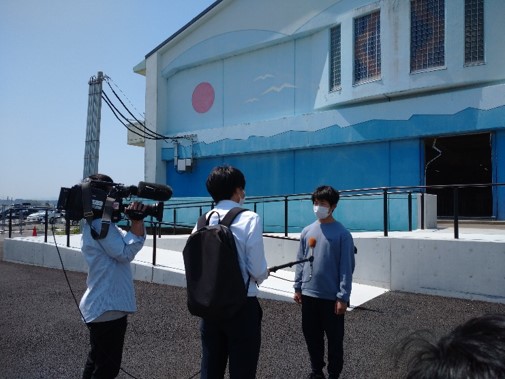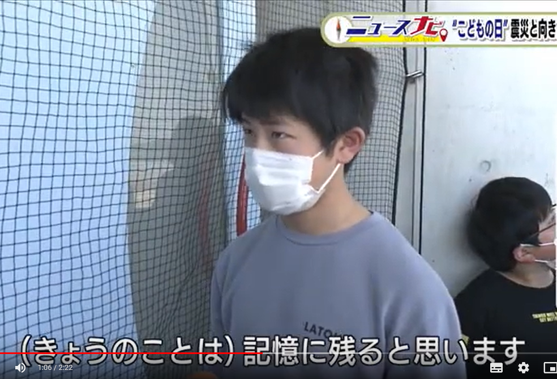 Japanese
東日本大震災の「震災遺構」を訪ねて

日本には、毎年5月に大型連休があります。大型、と言っても1週間~10日程度なので、皆さんが思いっきり休息を取るvacationと違い、ささやかなものですが。
それでものその連休を日本人はゴールデンウィークと呼び、とても楽しみにしているのです。今回は、ゴールデンウィークに、私が息子と訪ねた「震災遺構」のお話です。

東日本大震災の震災遺構
 2011年3月11日に日本を襲った東日本大震災。その悲惨さや教訓、未来への想いを伝える施設が「震災遺構」です。北上サイトが含まれる、東北地方の沿岸部を中心に、約300の震災遺構があります。

せっかくのゴールデンウィークなのに
 「お父さん、せっかくのゴールデンウィークなのに、どこにも連れて行ってくれないの?」「えっ、お父さんも疲れてるんだよー」。このやり取りは、典型的な、ダメな日本人ビジネスマンの姿です。
 ある調査では、休日に夫が育児・家事に全く関与していない場合、第1子のみである場合が9割だそうです。逆に、休日に6時間以上家事・育児に関わった場合、9割が第2子に恵まれているそうです。休みの日に育児・家事をしないお父さん、日本にはたくさんいるんですよ。少子化の原因です。私もしっかり子育てしないと!

震災遺構「請戸小学校へ」
 せっかく出かけるなら、勉強になるところに連れていきたい、日本語で言う「親心」です。そこで私たちが選んだのが、福島県浪江町にある震災遺構「請戸小学校」です。
 請戸小学校は、福島第一原子力発電所から約6km、海岸線から300メートル。いまはもう、校舎として機能していません。周辺には、何もありません。ただ、校舎のみが当時の様子を物語っています。津波は校舎の2階まで到達しましたが、約100名の児童・先生は1km先の裏山に避難し、全員が無事でした。

家族の思い出 
 色々書こうと思って準備したのですが、実は、TVのインタビューを受けたんです。それを載せたほうが、ずっと分かりやすいな、と思い直しました。長男がインタビューでこんな風に応えました。
 「体育館に卒業証書授与式、と書いてあるのを見て、小学校に通っていた児童が、卒業証書をもらうことができたのか、気になりました」
 日本の小学校は3月に卒業式。3月11日はちょうど卒業式の直前でした。インタビューの後でスタッフの方に聞くと、「卒業式はできませんでしたが、卒業証書は皆さんに渡すことができました」と聞き、とても安心した顔をしていました。
 インタビューの最後、彼はこう言いました。「今日のことは記憶に残ると思います」。連れてきてよかったな、私はそう思いました。これが我が家のゴールデンウィークの思い出です。