What kind of foods come to mind when you think about Japanese cuisine? Of course, there's lots of delicious foods like sushi, tempura, and sukiyaki, but there's also the star of this article – soba (buckwheat noodles).
〇 What is soba?
Soba is what we call the Japanese noodle dish that is made from the flour ground from the seeds of the buckwheat flower. But soba can be prepared in so many different ways: there's zarusoba (chilled soba noodles served on flat basket), kakesoba (served hot in a soy sauce based broth), as well as tempura soba (kakesoba with tempura on top), kitsune soba (soba with fried tofu simmered in a sweet broth on top), and many more. You'll have trouble picking a favorite when you head to the soba shop.
Most Japanese people equate the word "soba" with the soba noodle dishes, but there are other ways to eat soba besides thin noodles. In Iwate Prefecture in the past, people would use make a dough out of soba flour and water and roll it into dumplings called "hatto." They would also stretch the dough out into flat sheets called "kakke" as well as knead hot water into the dough to make a stretchy dumpling called "sobagaki." Right before the Edo Period (1603-1868), the thinly-sliced soba noodles called "sobakiri" came into style, and that's what most people refer to when they say "soba."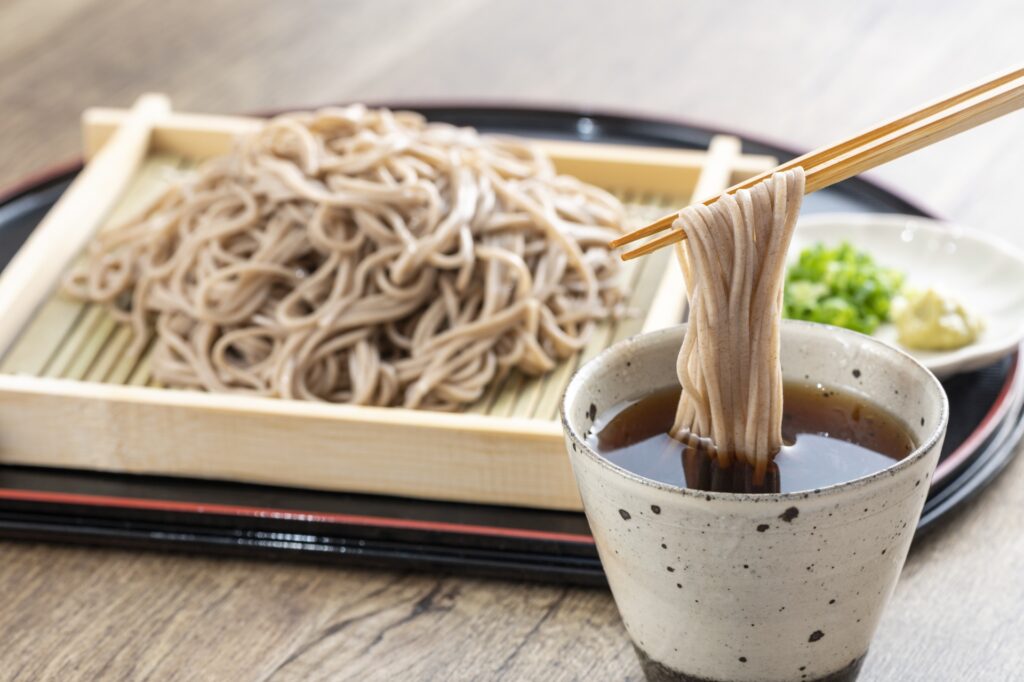 【Zarusoba】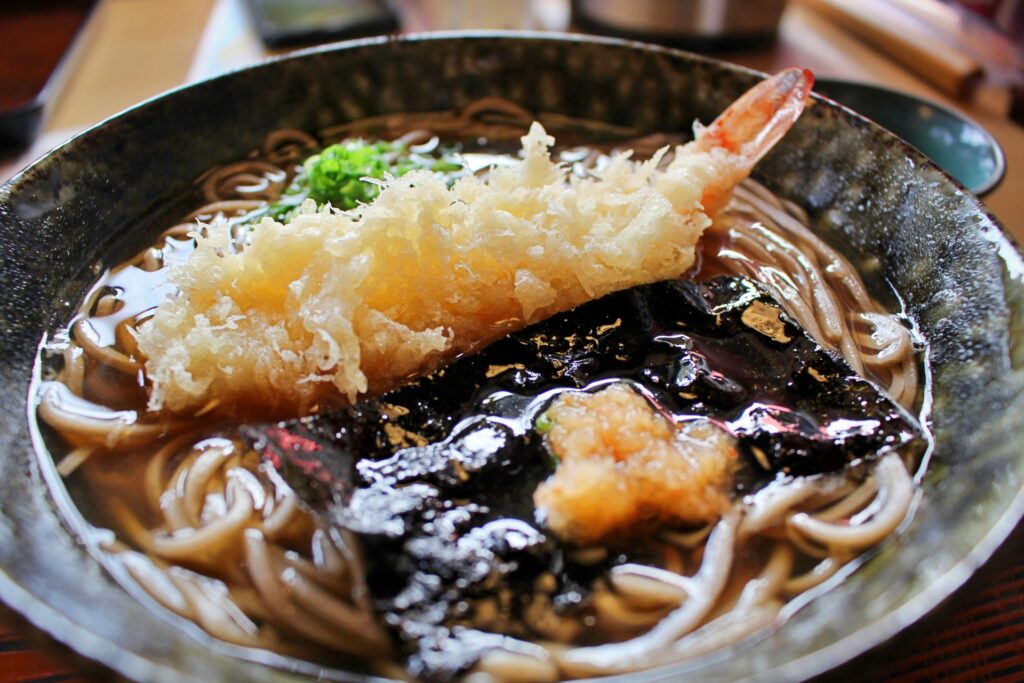 【Tempura Soba】
〇And what is Wanko soba?!
We've talked about Wanko Soba before, but they're one of the three famous noodle dishes of Iwate Prefecture: Reimen, Jajamen, and Wanko soba. Many people call these the Three Great Noodles of Morioka, but I'll just stick to talking about wanko soba for this article.
First, for a history lesson: Wanko soba was first devised as a way to show off the depth of the Iwate's hospitality. Now you can get soba noodles anywhere, from supermarkets to convenience stores, but in the past it was made at home for festivals and celebrations. You'd have to ground up the buckwheat seeds in a giant mortar-like "usu" and then take the soba flour and make it into noodles… It would take a great deal of time and effort to make enough for everyone to eat, so we only ate it on special occasions. But we took that soba, something we could only eat very rarely, and served it to hungry guests, offering them as many bowls as they wanted in order to convey our joy at their visit. That's where the tradition of wanko soba was born.
Wanko refers to the "owan" bowl that the noodles are served in, which is how these particular noodles came by their name. Most of the time you eat chilled soba noodles on a flat basket called a zaru and mix it into a bowl of broth, or you serve it in a big bowl with hot broth. However, these wanko bowls are brought by a server and can only serve a small amount at a time. Each wanko has around one bite of soba noodles, with ten bowls equaling around 1 adult serving of noodles. If you order it wanko soba style, you also get a bunch of condiments and other things to eat your noodles with. You can vary the taste with some sliced green onions or grated daikon.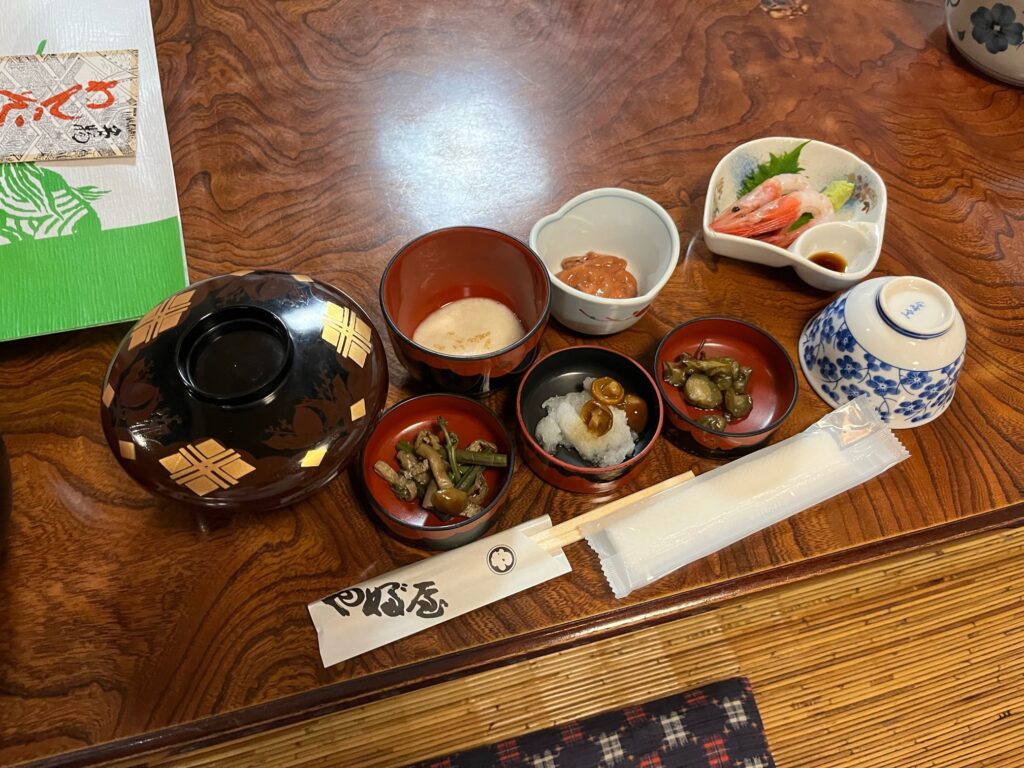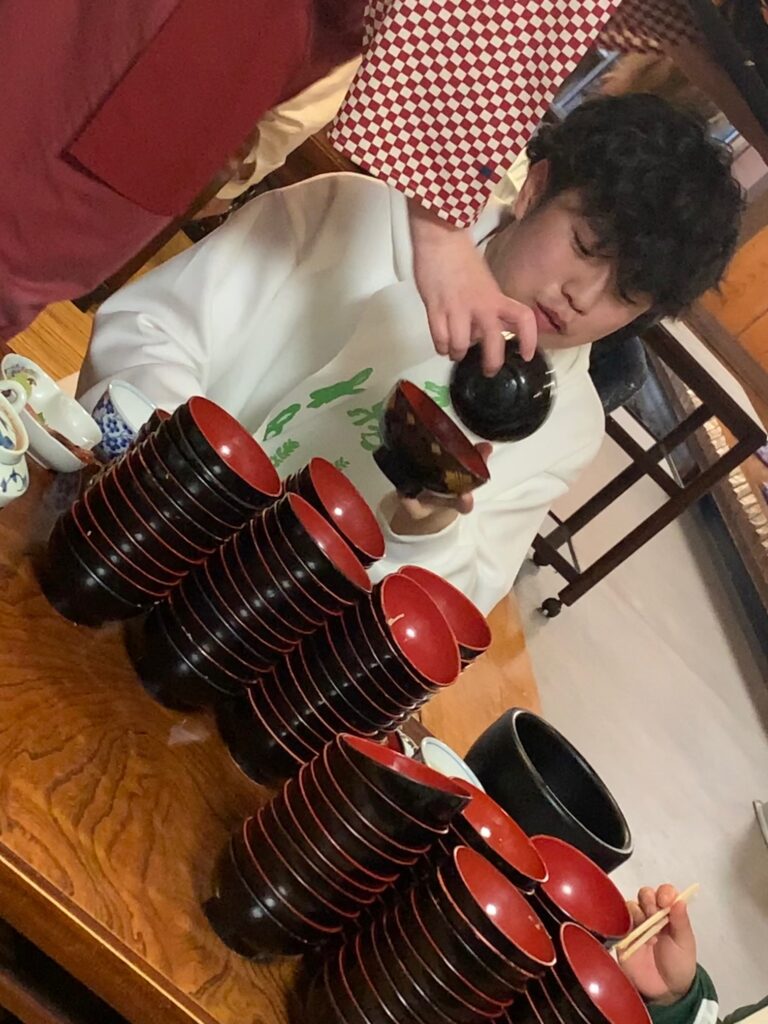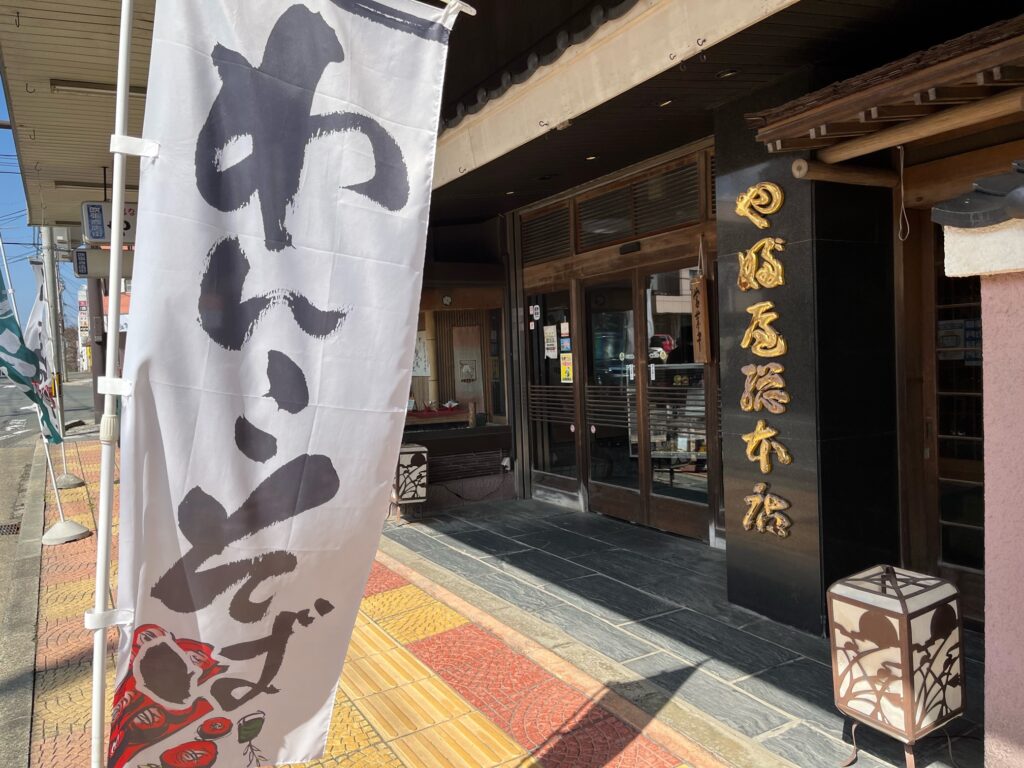 【A classic session of Wanko Soba】
Wanko Soba at Yabuya (in Futsupari-cho, Hanamaki City)
At this restaurant, you get assigned a sumo rank depending on how many bowls you eat. If you eat over 100 bowls, you'll get the highest sumo rank of "yokozuna" so please, try it out yourselves when you visit Iwate Prefecture. Every February 11th, we hold a national Wanko Noodle Competition in Iwate Prefecture, so if the timing is right, you should try competing for the prize!
Japanese
盛岡三大麺のひとつ「わんこそば」

 日本食と言えば何を思い浮かべるでしょうか。寿司やてんぷら、すきやきなど美味しい食べ物がたくさんありますが、その中でも今回はタイトルにもあるとおり「そば」についてご紹介します。

〇そばとは
 そばとはソバの実を原料として作られるそば粉を加工して作られる日本の麺料理です。そばと一言で言ってもそば料理は豊富にあります。「ざる蕎麦」や「かけ蕎麦」、かけ蕎麦にてんぷらを乗せた「てんぷら蕎麦」、甘く煮詰めた油揚げを乗せる「きつね蕎麦」などそば屋に行くとどれを選ぼうかとても悩ましいものです。
 そばというと日本では麺状のものを思い浮かべる人がほとんどですが、これは「そば切り」と言われていました。昔の岩手県ではそば粉を水で練り平らな団子状にしてゆでた「ハットウ」や薄く延ばして煮た「カッケ」、お湯をかけ粘り気が出るほど混ぜ塊上にする「そばがき」などで食されることが普通でした。江戸時代(1603~1868年)の少し前から現在の細い麺の形となり、そば切りができましたが、一般に普及しこれが現在のそばとなったのです。

【写真① ざる蕎麦】          【写真② てんぷら蕎麦】

〇わんこそばとは
 以前の記事でも紹介しましたが、岩手県で有名な麺料理が3つあります。「冷麺」、「じゃじゃ麺」、そして今回の記事のメインとなる「わんこそば」です。これらは総称して盛岡三大麺と呼ばれておりますが、今回は「わんこそば」を実際に食べてきたのでご紹介します。
 まずはわんこそばの歴史についてです。現在のわんこそばが作られたのはおもてなしの精神がきっかけだといわれています。今ではそばというとスーパーやコンビニでも見かけるようになり、手軽な食べ物のように考えていますが、家で作って食べていたころはお祭りや行事の日に食べるものでした。それはソバの実から臼で挽いてそば粉にして…、とそばを麺にして食べるというのは大変な手間がかかるため、特別な日にしか食べなかったからです。そのため、あまり家では食べられなかったそばをお客さんに腹いっぱい食べてもらおうと、何杯もお代わりを勧める気持ちからわんこそばが生まれたといわれています。
 わんことはお椀のことを指しており、そばをお椀で食べることからわんこそばと呼ばれるようになりました。一般的にそばを食べるときはざるに盛られたそばをそばつゆにつけるもの(ざる蕎麦)か、どんぶりに盛ったそばに熱いつゆをかけたもの(かけ蕎麦)を食べますが、わんこそばはお椀に給仕の方から小出しによそられたものを食べていく形になります。お椀に盛られた1杯は1口で食べることができ、およそ10杯で一般的なざる蕎麦1人前分になるそうです。また、わんこそばを注文すると薬味も付きます。ネギやとろろなどで味を変えることでさまざまなそばを楽しむことができます。

【写真③,④,⑤ わんこそばの様子】わんこそば やぶ屋(花巻市吹張町)

このお店では相撲の格付けにちなんだ称号がもらえるのですが、100杯食べると最も位の高い横綱の称号がもらえるので、ぜひ岩手県に訪れた際には「わんこそば」にチャレンジしてみてください。また、岩手県で毎年2月11日に全国大会が開かれておりますのでタイミングが合えばそちらにも参加してみてはいかがでしょうか。